Fundraising effort launched to support MHP trooper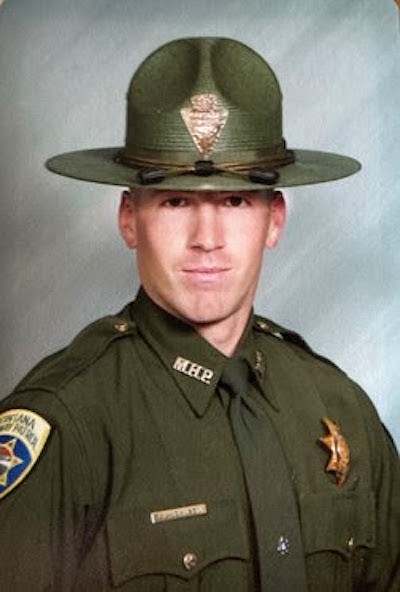 Montana Highway Patrol Trooper Lewis Johnson
by
SCOTT SHINDLEDECKER
The Western News
|
February 18, 2023 5:00 PM
The Montana Highway Patrol trooper who was grievously injured during an incident involving a four-time convicted felon in northern Lincoln County earlier this week has been identified and a fundraiser has been launched to support him and his family.
Trooper Lewis Johnson, who is stationed in Eureka, has been on the job with MHP for eight years. He was seriously injured on Thursday, Feb. 16, while trying to arrest 41-year-old Rexford resident Jason A. Miller after Lincoln County Sheriff's Office deputies sought him for absconding from parole following convictions for criminal possession of methamphetamine and two counts of theft.
"The Montana Highway Patrol family is united in the support of Trooper Lewis and his family. He remains in our prayers. We are thankful for the outpouring of support we've received from Montanans and the law enforcement community during this time," MHP Colonel Steve Lavin said.
According to the verified GoFundMe for Johnson's medical expenses, https://gf.me/v/c/5pn7/support-for-trooper-lewis-johnson-family, his injuries include a punctured lung, damaged liver, head injury, broken ribs, broken arm, broken leg and severe spinal trauma.
"It's nothing Lewis and his family can't handle together with our love and support," Nina Stefani wrote on GoFundMe. "Please help us fundraise so they can devote their time and energy where it belongs, his health."
A message on the GoFundMe page reported Lewis remained stable, resting and surrounded by family on Saturday night. It also provided some good news.
According to a message from Kate Johnson, "Miracles happened today! He was extubated at 2 p.m. He was groggy but followed every order given and the tube was removed quickly with little discomfort. He was able to speak softly immediately. By 4 p.m. he was eating ice chips and sipping on water. At 6 p.m. the deputy who was on the pursuit incident with Lewis came to visit. Those two chatted for an hour and Lewis remembered every little detail of the event. He's in great spirits and gives a strong handshake to everyone who visits. Nothing much for sensation below his waistline, some tingles on the upper right leg."
As of Monday morning, more than $147,000 had been raised.
"Due to the unwavering support and overwhelming generosity of our friends, families, community and strangers from around the world we have shattered our original goal of $50,000!" wrote Stefani.
Lewis' wife Kate is also a state trooper working out of Eureka.
Lewis, a native of Chester, Montana, graduated from the state Law Enforcement Academy in 2014 with Kate. He is a Law Enforcement Torch Run (LETR) volunteer and an avid outdoorsman with a love for hunting and fishing, according to the GoFundMe page.
The current goal is $150,000 for Johnson's medical expenses.
"Considering the long term care that will be required for Trooper Johnson's recovery, we have increased the fundraising goals," Stefani wrote. "It is our hope, that we can completely relieve the burden of finances on the Johnson family, so they can solely focus on recovery.
"Thank you to those who have prayed, sent notes of encouragement, donated money and shared Trooper Johnson's story."
---