Gladys Anderine Sather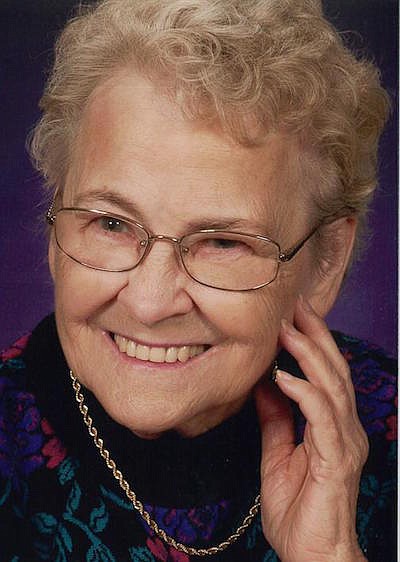 |
February 7, 2023 7:00 AM
Gladys Anderine Sather, 98, of Libby, passed away Thursday, January 26, 2023, at Cabinet Peaks Medical Center of natural causes.
She was born Sept. 8, 1924, in Lakeside, Montana, to Vern S. and Emma (Harrison) Asbridge. Gladys attended Lakeside School and Somers High, graduating from Flathead High School in Kalispell in 1942.
In her youth, Gladys was a proud Girl Scout. As a teenager, she worked as a soda jerk at Kussoff's Candy Kitchen and at Woolworth's, both in Kalispell.
Gladys met her future husband, Alfred Sather, at a barn dance in Lakeside. As teenagers, Gladys and Al won a jitterbug contest at the Grange Hall, taking home prizes of a pound of butter and a dozen eggs. Because her fiancée was in the Army Medical Corps and stationed at Camp Ellis in Illinoise, Gladys made the decision to go to Wisconsin to find work. She worked at the Edgerton Shoe Factory in Edgerton, making shoes for the United States Navy.
On Feb. 5, 1944, Gladys married Alfred Sather in Edgerton, Wisconsin. They spent about a month together at Camp Sibert in Alabama before Alfred was sent overseas. Gladys lived there for a few months before returning to Lakeside to stay with her parents, awaiting the birth of their son and the homecoming of her husband after the war.
Gladys and Al lived in Somers until 1948, when they moved to Libby to build their home and raised their children.
Gladys was a life-time member of the United Methodist Church, where she enjoyed helping with various activities and valued the fellowship she found there. She and Al loved camping, music, dancing, and working on home projects together. Gladys also enjoyed reading, knitting, cryptograms, Sudoku and jigsaw puzzles. Her greatest joy came from being with family and friends.
She was preceded in death by her husband of over 50 years, Alfred; her parents; two brothers, Norman and Ralph; and a sister, Hazel.
Survivors include her four children: Marvin Sather of Libby, Andrine (John) Haas of Glendive; Jerry (Annette) of Irvine, CA; and Lynn (Roger) Diller of Libby; grandchildren Kelli (John) Harrison of Missoula, Joel (Carmin) Sather of Ennis, Heather Haas of Dillon, Amy (Rob) Nash of Belgrade, Olivia (Kevin) Johnson of Inglewood, California, Patrick Sather of Bellevue, Nebraska, Elizabeth Sather of Los Angeles, California, Leilah (Lance) Isaacson of Spokane, and Alan (Shannon) Beatty of Kill Devil Hills, North Carolina; great-grandchildren Kira, Molli, Gavin, Riley, Sam, Jack, Sean, Cailyn, and Natalie; brother, Jack Asbridge of Castle Rock, Colorado; sister, Frances Emory of Creedmore, North Carolina; sister-in-law Donna Sather of Helena; and many nieces, nephews, cousins, and wonderful friends.
Memorials can be made to the Methodist Church in Libby, or to a charity of your choice.
Services will be held at a later date to be determined. Arrangements are under the care of Schnackenberg Funeral Home & Crematory of Libby. Online memories and condolences may be shared by visiting www.schnackenbergfh.com.
---