Virginia Anna (Wolfram) Sluiter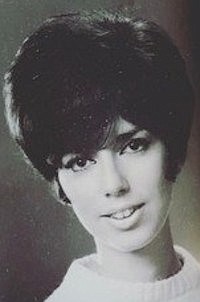 |
February 3, 2023 7:00 AM
On July 3, 2021, Virginia Anna (Wolfram) Sluiter, 80, shook off her earthly body to most likely teach math in the afterlife.
Born April 24, 1941, near Dewey, Oklahoma, she spent her childhood attending Catholic school and helping around the family farm until they moved into Bartlesville. She attended Oklahoma State University to pursue a degree in mathematics at a time where she was most likely the only woman in the classroom.
A favorite photograph of her daughter's was taken the day she graduated with her master's degree surrounded by her sisters and mother. Her shocking black hair in a classic retro style, black eyeliner lining the most beautiful eyes, her elegant hands folded neatly in her lap. She was a double whammy of beauty and brains.
Her early teaching career took her around the world. It was on those travels she met the love of her life, Thomas G. Sluiter, in Germany. They returned to the United States with her teaching kindergarten in Baton Rouge, Louisiana, and Thomas pursuing higher education at Louisiana State University.
Eventually they made their way to Dutton, Montana, and were married in a small ceremony on Sept. 30, 1970. A couple years later they made their home in Hingham, Montana, where they both taught for the Kremlin-Gilford communities and were well loved.
In 1976 a son, Marcus, was born and in 1978 their daughter, Kristen, joined the mix. They passed on their love of travel taking their children to Japan in 1984 on a new teaching assignment. Eventually they returned to Montana after their beloved cabin in Polebridge, Montana, burned in the Red Bench Fire of 1988.
There are not quite adequate words to capture the magic that was Virginia in the classroom. Privately, she was a classic introvert, but in front of a classroom she was pure magic. She wrapped up her teaching career at Montana State University-Northern in Havre, Montana.
A lover of classical music and art, a very sharp and dry wit; she was the best champion her husband, children, and students could ever ask for. She had a grace about her such that you knew when this woman spoke, to listen.
Her mind was a rich resource of curiosity and wonder and she never tired of learning. She had a very rich inner life and was a measured, fair giver of advice. She survived breast cancer, but it left her with memory loss which was an especially hurtful way for such a brilliant mind to go. Even so, in her last years, she retained her lovely manner and wit often having laughing fits with her daughter.
She is survived by her daughter, Kristen M. Sluiter, of Bremerton, Washington, and her sisters, Helena Sloan of Bartlesville, Oklahoma, and Mary Minton of Little Rock, Arkansas. She was preceded in death by her husband, Thomas, and her son, Marcus as well as her parents, Benjamin and Sarah Wolfram of Bartlesville, Oklahoma.
---