Pre-evacuation warning for homes near Stryker, Olney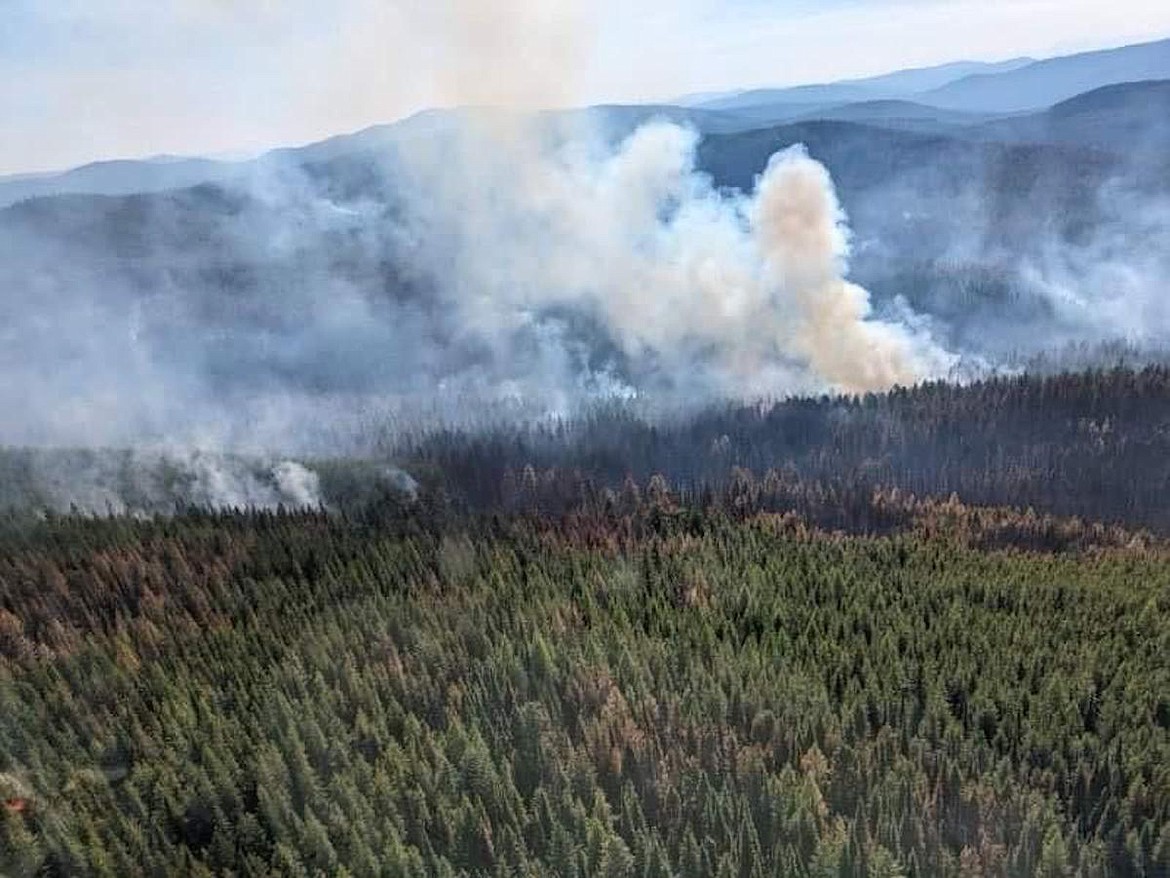 Smoke being produced from interior pockets of the East Fork Fire on Aug.14. (InciWeb photo)
by
The Western News
|
August 17, 2023 8:00 PM
Residences near the East Fork Fire south of Stryker were placed under a pre-evacuation warning Thursday evening as winds whipped up fire activity.
According to reporting by the Daily Inter Lake, Flathead County Sheriff Brian Heino issued the warning after the fire expanded to 2,600 acres. The pre-evacuation area includes U.S. 93 beginning at mile marker 142 south of Olney and goes north to the county line.
The lightning-caused wildfire, which fire officials reported was up to 3,000 acres Thursday night, is south of Stryker and west of Olney on the Kootenai and Flathead forests. It was burning in heavy timber and difficult terrain, and was considered 40% contained Thursday.
Critical fire weather was expected to affect the area through Friday night with gusty winds and low humidity.
A pre-evacuation warning means there is a possibility of the fire spreading into the area. Residents were advised to make plans for their home, pets, livestock and family. Residents, landlords, hotels and businesses in the area should have an evacuation plan ready, Heino said.
Sheriff's Office personnel from both counties planned to notify residents by going door to door on Thursday. The Flathead County Office of Emergency Services can be reached at 406-758-2111.
A shelter at the Columbia Falls Junior High School is available for people affected by the evacuation. The Red Cross can be reached at 1-800-733-2767.
Fire managers said Flathead and Lincoln counties, the Montana Department of Natural Resources, Bonneville Power, Montana Department of Transportation and BNSF Railway are cooperating to provide information, help with structure protection and any necessary public safety needs.
Fire managers requested a complex incident management team to support firefighting efforts with a surge of additional resources. According to Kootenai National Forest officials,
A detailed list of addresses affected by the evacuation warning can be found at https://flathead.mt.gov/department-directory/oes/emergency-management/east-fork-fire-information.
Also, Lincoln Electric reported it and Bonneville Power Administration were asked to attend a planning meeting Thursday night with the USFS fire incident command for the East Fork Fire.
In a Facebook post, both Lincoln Electric and BPA aren't planning on de-energizing any of their facilities unless they receive a specific request to do so by incident command in the interest of safety.
At the planning meeting, the USFS said it established an action point for the East Fork Fire. If fire activity reaches the action point, LEC and BPA would be placed on standby. At that time, LEC would provide updates on its Facebook page and send automated calls to its members to be prepared for the potential of a system-wide outage. Length of the possible outage would be based on fire conditions and a damage assessment.
Lincoln Electric said if an extended outage is anticipated, Lincoln County Emergency Management would work to coordinate sheltering and critical facilities, as well as provide updates when available.
---