Fisher River Valley wildfire threatens residences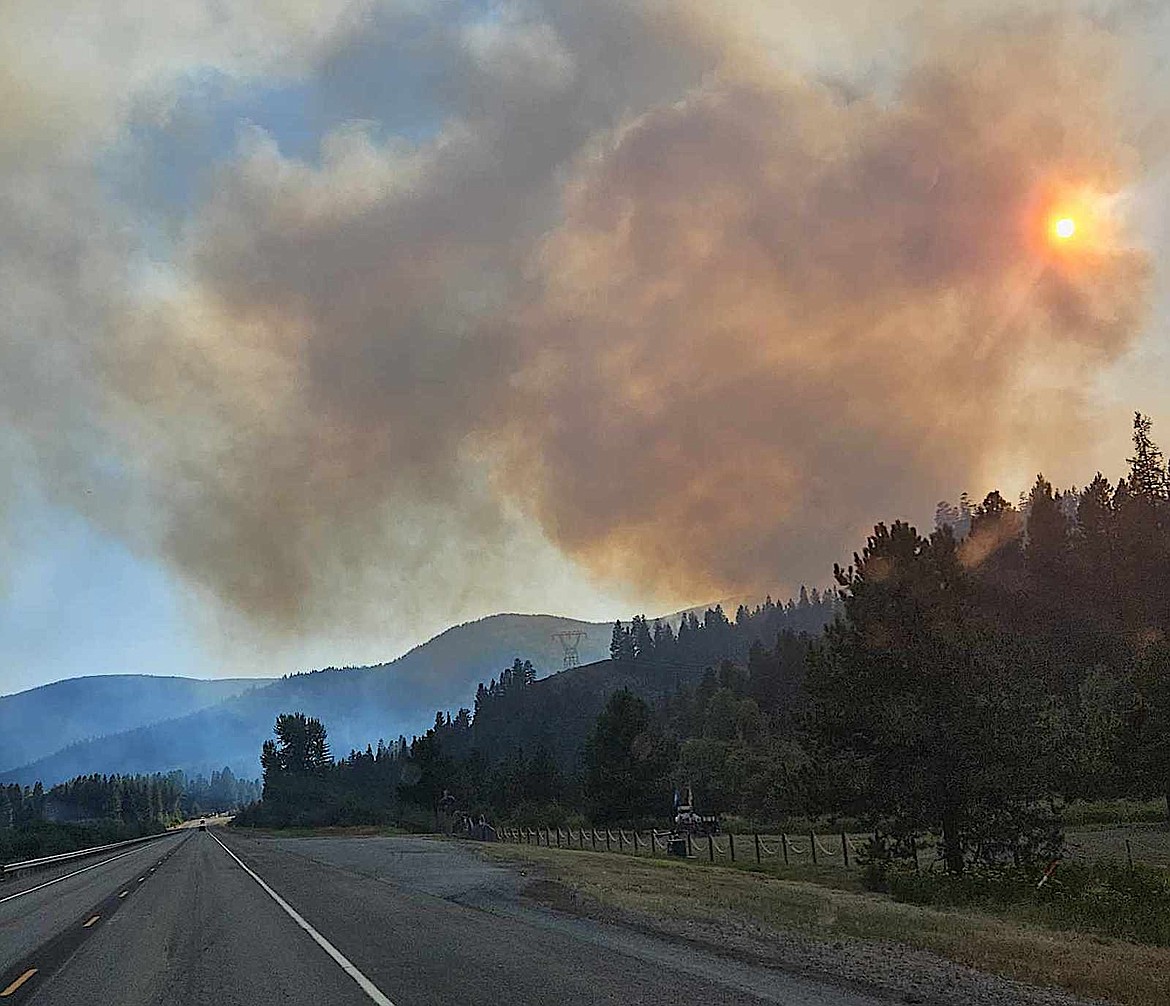 Smoke pours from the Gravel Pit Fire Tuesday evening off U.S. 2 near Silver Butte Road in Lincoln County. (Photo courtesy Suzanne Loudan)
by
SCOTT SHINDLEDECKER
The Western News
|
August 2, 2023 5:30 PM
Smoke filled the Fisher River Valley Tuesday evening while fire crews from several agencies were battling a wild fire that began just off U.S. 2 near Silver Butte Road.
According to the Kootenai Interagency Dispatch Center, the Gravel Pit Fire, burning on private and federal land, was listed at 50 acres Wednesday morning.
Kelly May, the Assistant Fire Management Officer for the Libby unit of the Montana Department of Natural Resources and Conservation, said the fire had grown to 70 acres early Wednesday evening in an email to The Western News. He also reported there was no containment and structures in the area were threatened.
"We're asking people to avoid travel through the incident area whenever possible and if travel is necessary, drivers exercise extreme caution to allow for adequate visibility and firefighter safety," May said in a statement.
Firefighters from the Kootenai National Forest, DNRC and Fisher River Valley Fire Rescue were on the scene Tuesday evening after it was reported at about 6 p.m.
The Lincoln County Sheriff's Office had given pre-evacuation notices to people who live in the area.
The fire, which is believed to be human-caused, burned next to the highway before making an uphill run to the northeast. It remains under investigation.
Personnel, numbered at 80, were working to build line around the fire with hand tools and heavy equipment. Large air tankers and helicopters were dumping water on it, too.
Private contractor Rocky Mountain Fire Company joined the battle early Wednesday morning after tackling a flareup on the North Lake Fire near Whitefish Lake Tuesday.
In other area fire news, the 2-acre Tub Gulch Fire in the Libby Asbestos Superfund Site Operable Unit 3, which contains the former W.R. Grace vermiculite mine, was declared contained Tuesday night, according to a social media post by the Lincoln County Emergency Management Agency.
"Firefighting efforts over the past few days have put things in a good place," said the post. "Fire crews will return and monitor for any hot spots and extinguish any concerns."
Firefighters quickly doused the one-tenth acre Chop Fire on the ACM Road just southwest of Lower Thompson Lake. It was reported at about 12:30 p.m. Tuesday and listed as controlled later the same day.
The lightning-caused East Fork Fire, located on a ridge just west of the East Fork of Sunday Creek about 12 miles south of Trego, grew to about 150 acres Wednesday.
A Kootenai Type 3 Incident Management Team was assigned to the fire. About 100 personnel, including crews and heavy machinery are fighting the fire. Air resources are still actively responding to the fire.
Aggressive initial attack combined with air resources responded to the fire.
The fire is burning in heavy timber and difficult terrain. It is currently experiencing very active fire behavior, even through the night.
Flathead County is dealing with several wildfires, including the Niarada Fire. It was at 8,400 acres on Wednesday. The Mill Pocket Fire was at about 2,000 acres on Wednesday, located west of the Niarada Fire and moving east.
The Tin Soldier Complex was sized at 1,472 acres on Wednesday. It consists of four fires on the Spotted Bear District about 17 miles west of Swan Lake.
According to the Daily Inter Lake, firefighters wrapped the Stony Communications Site in fire resistant material, and were working to protect a hydro-electric plant, the Heinrude residential community and commercial guest ranches in the vicinity.
An evacuation order for Heinrude community was issued by the Flathead County Sheriff's Office. Some closures were expected on the Spotted Bear district.
Fire danger across Northwest Montana was rated as "extreme" with stage 1 fire restrictions in place. Stage 2 restrictions will begin at 12:01 a.m. Saturday, Aug. 6, in Lincoln, Flathead and Sanders counties.
Stage 2 rules were already implemented Tuesday in Lake County and the Flathead Reservation.
For more information on fire restrictions, visit www.MTFireInfo.org.
---