No letup with house fires in Libby area
by
SCOTT SHINDLEDECKER
The Western News
|
September 23, 2022 7:00 AM
The Libby Volunteer Fire Department battled two residential fires this week.
The most recent occurred on the Tuesday afternoon on Parmenter Drive.
According to First Assistant Fire Chief Scott Beagle, the department was called out at about noon. He and law enforcement were the first on the scene.
"There was heavy smoke throughout the home with flames visible on one end, neighboring fence on fire, and the start of some trees," Beagle said. "All occupants were out of the home. When the first engine arrived on scene, the entire home was engulfed in flames."
Beagle said the fire department had two engines and two water tenders on scene to help extinguish the home along with 15 firefighters.

"We were on scene for approximately 2 1/2 hours and the fire is currently under investigation," Beagle said.
The first structure fire the department responded to this week was on Monday afternoon at a residence located in the Evergreen Mobile Home Park on Pioneer Road.
The lone resident of the home - a wheelchair-bound man - was not home at the time, but firefighters didn't know that until they searched the burning and smoke-filled home.
"We were in panic mode for a bit before we determined the man was not inside the home," LFVD First Assistant Fire Chief Scott Beagle said. "When we arrived, the structure was fully engulfed and a police officer and I broke down the front door before heavy smoke and fire pushed us back. Once we got in through the back we searched it twice before determining no one was inside."
Beagle said firefighters got a quick knockdown on the fire. He also said one fireman was checked by EMS of the Libby Volunteer Ambulance for overheating and smoke.
Neighbors of the man said he had driven to Troy and was on his way back when the fire occurred.
Beagle said 13 firefighters responded along with law officers from the Lincoln County Sheriff's Office, Libby Police Department and the ambulance volunteers.
Fire crews had two water tenders, an engine and their mobile command center on the scene.
Beagle said Fire Chief/Marshal Steve Lauer and the Sheriff's Office would investigate the cause, but he didn't believe there was anything suspicious about the fire.
It was the fourth structure fire area first responders were called to since Aug. 31.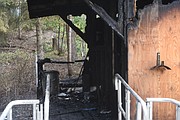 ---