Libby benefitting from LOR Foundation work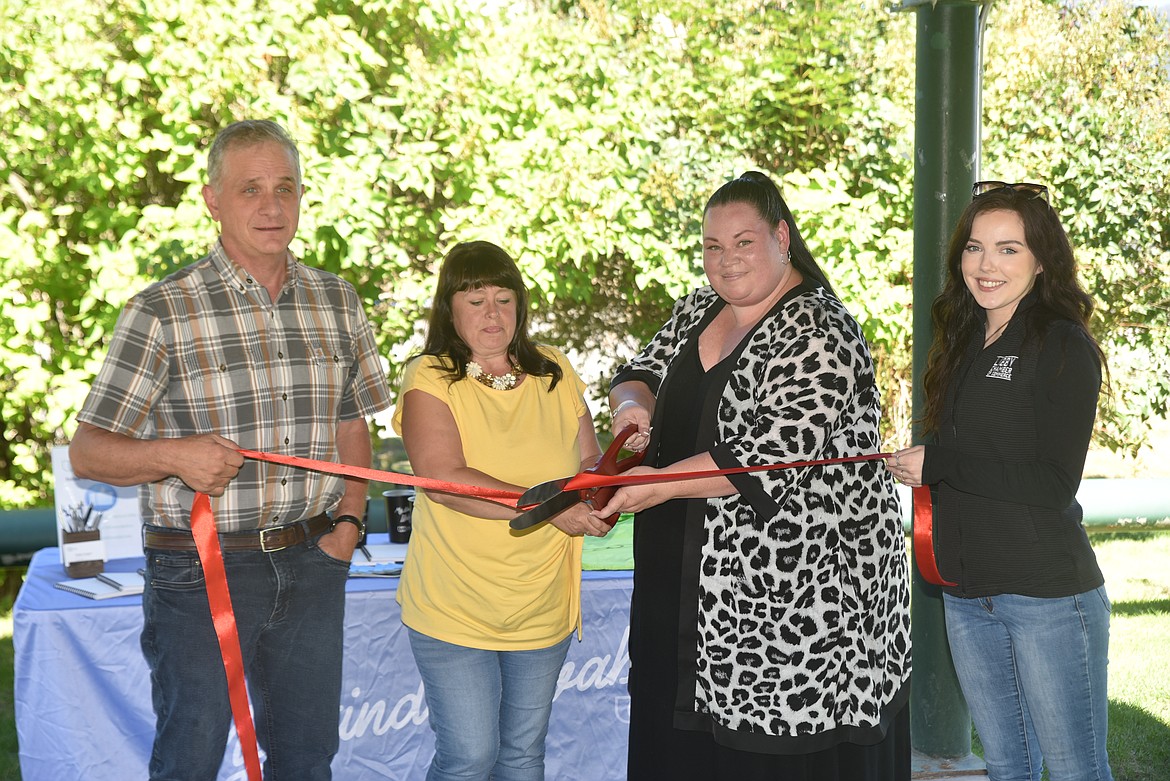 From left, Libby Chamber of Commerce members Bruce Vincent, Gail Burger, Tabitha Viergutz and Myranda Cravens, Chamber general manager, welcome Viergutz and the LOR Foundation to Libby. (Scott Shindledecker/The Western News)
by
SCOTT SHINDLEDECKER
The Western News
|
September 23, 2022 7:00 AM
This is not the group that builds trails.
It is a somewhat common misconception when people in Libby hear about the LOR Foundation that they think it has something to do with the Libby Outdoor Recreation Association.
But the acronym for the trail-building outdoors group is LORA.
LOR - Livability, Opportunity and Responsibility - is a private foundation that works with individuals and organizations to kick-start projects that benefit rural places in the Mountain West.
They have already completed a number of projects benefitting Libby and are looking to do more.
"The founders realized that in several places, land preservation was being done but people were being left out of the equation and no was listening to the locals," LOR Libby Community Officer Tabitha Viergutz said.
For instance, one of the projects that LOR has accomplished is improving the technology used by David Thompson Search and Rescue.
It arose when young Ryker Webb went missing on June 3 in the Bull Lake area.
Webb was found safe, but Thompson SAR's two-way radios didn't work well in Lincoln County's rugged, mountainous terrain that interferes with the signals, making it difficult for volunteer rescuers to communicate beyond a few miles. The team realized it needed to address its technology problem and reached out to LOR for help.
A $28,000 grant resulted in 25 new radios and five repeaters that allow volunteers to communicate more efficiently.
"We believe that many small actions can create lasting change and we support solutions to problems the community has identified as priorities," said LOR co-founder Amy Wyss. "Sometimes that help is funding. And sometimes it's simply connecting people and organizations with resources — and to each other."
Wyss and fellow founder Ed Jaramillo launched the LOR Foundation in Taos, New Mexico. Its mission is to work with small communities in the mountain west, specifically Colorado, New Mexico, Wyoming, Montana and Idaho.
Another local project LOR has accomplished is installing a new basketball hoop and court at the park at Central School.
"The only public outdoor basketball hoop is more than a mile from where many young children live on the south side of town," Viergutz said.
LOR provided $10,000 to the complete the project, including laying asphalt around the picnic tables to make them more accessible.
LOR has also given $12,000 to U Serve Libby for repairs to the tennis and pickleball courts near the city offices and athletic club that are open to the public, schools and tourists for no cost.
The Libby Area Business Association received a $4,500 grant to provide lighting to Libby Bear Park for its Christmas tree lighting and visit with Santa Clause.
As the annual event has grown to more than 900 children, they needed a safer place away from heavy traffic.
For Viergutz, being able to do this type of work is part of her DNA. She previously worked for the state of Montana, helping folks through the Low Income Energy Assistance Program.
Her co-workers recommended her for the Libby Community Officer position and after a five-month interview process, she was hired.
"I want people to contact me with project ideas so we can keep getting things done," Viergutz said. "We'll fund projects between $5 and $30,000, but $10,000 is kind of the sweet spot."
Projects are typically approved in four to six weeks, much less time than most agencies take to approve a grant.
Viergutz also explained LOR won't be in Libby forever.
"They typically spend three to five years in a community, then move on because they want to do as much good across the rural West as possible," she said.
Viergutz has an office at the Libby campus of the Flathead Valley Community College where she can be reached or contact her at 406-250-5218 or tabitha@lorfoundation.org.
Also, see the foundation website at lorfoundation.org.
---