Forest Service holding meeting on proposed timber project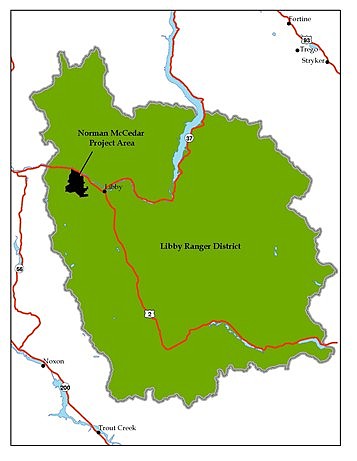 Map of the Norman Cedar Project. (U.S. Forest Service)
by
The Western News
|
September 19, 2022 12:00 PM
The Kootenai National Forest is holding a public meeting Tuesday on the development of the Norman McCedar Project on the Libby Ranger District.
The meeting will be held from 5:30 to 7:30 p.m. at the Kootenai National Forest Supervisor's Office in Libby.
For more information, contact Project Leader Tami MacKenzie at tamara.mackenzie@usda.gov or 406-270-9870.
The project is located in the Cedar Creek area, about one mile southwest of Libby.
In April 2022, the Kootenai National Forest was granted $19.3 million from the Bipartisan Infrastructure Investment and Jobs Act to plan and implement wildfire mitigation work on up to 7,200 acres in and around the Kootenai National Forest over the next two years.
The Norman McCedar Project is part of this effort.
The goal is to create a project that would reduce fuels in the wildland urban interface and improve the diversity and resilience of the landscape vegetation while also contributing to the local economy through continued timber production.
The meeting will give people the opportunity to hear and give input on the proposed area, potential treatment opportunities and approximate timeline for planning and implementation.
Specialists will also be on hand to answer questions and share input with. There will be future opportunity for public comment on this proposal.
---