Malyevac leads Loggers at Libby Invitational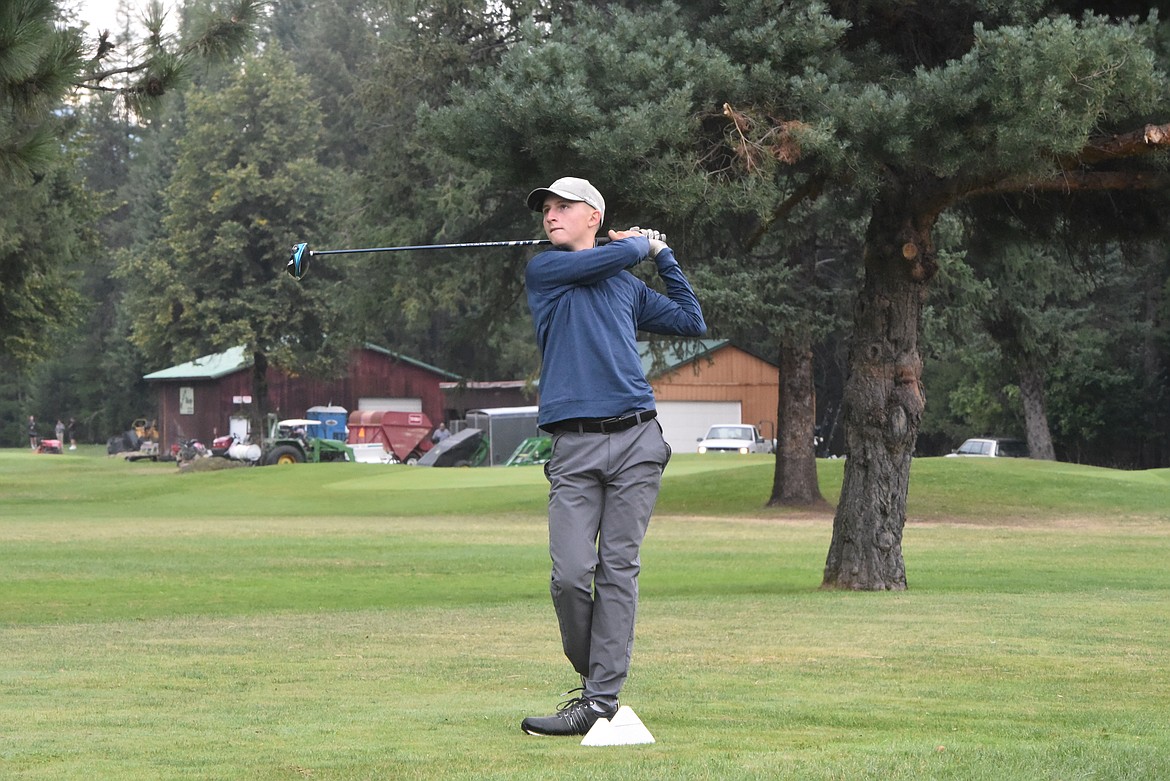 Libby Loggers golfer Reece Malyevac watches a tee shot on Friday, Sept. 9, at the Libby Invitational at Cabinet View Golf Course. (Scott Shindledecker/The Western News)
by
SCOTT SHINDLEDECKER
The Western News
|
September 13, 2022 7:00 AM
Libby golfer Reece Malyevac shot a 74 at Friday's Libby Invitational at Cabinet View Golf Course.
The 2-over par score was good for third place in the 53-man field.
A birdie on the 388-yard par 4 No. 8 put Malyevac at even par headed into the back nine but bogeys on Nos. 10 and 12 left him three strokes behind medalist Whitefish's Billy Smith, who scored a 71.
Smith was a bit more inconsistent on the back nine and a triple bogey on No. 12 had him two over par. But Smith had a birdie on No. 14 and an eagle on No. 18 to pull out the win over Corvallis' Brady Powell, who shot a 73.
Libby's Mason Gotham was the next Logger finisher at 24th with a 94. Thomas Roark was tied for 38th with a 102. Teague Thompson (106) was 43rd and Ayden Montgomery (115) was tied for 48th.
In the team standings, Polson was first with 313 while Whitefish was second with 316 and Corvallis third with 338. The Loggers were sixth with 376.
In the girls event, Mackenzie Foss was the top Lady Loggers performer. She scored a 105 to place 17th.
Addison Skranak's 113 was good for a tie in 21st place. Kailey Skranak's 121 put her 29th, Piper Snyder's 126 was 31st and Paislee McDonald's 127 was 32nd.
Frenchtown standout Katie Lewis was a runaway winner with an 81. Polson's Ashley Maki was second with an 88 while leading the Lady Pirates to the team title. Polson finished with 383 while Frenchtown had 393. Hamilton was third with 405, Ronan was fourth with 452 and Libby was fifth with 465.
Libby was scheduled to play Monday at Polson. The teams will play at Hamilton on Saturday, Sept. 17.
---