Kootenai Valley Quilt Guild names Haas quilter of year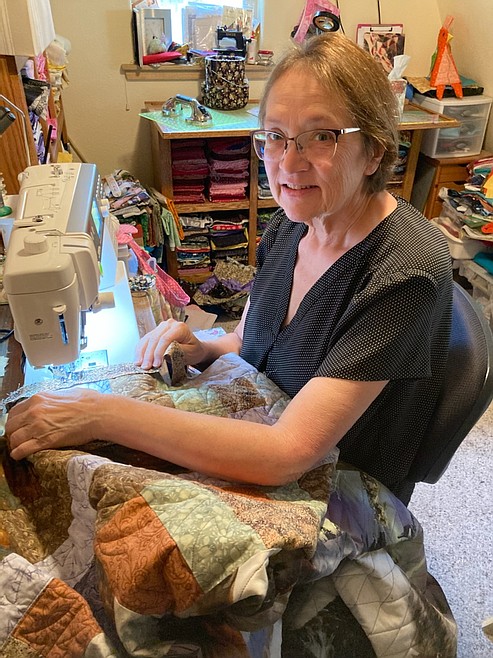 Pam Haas has been named the 2022 Quilter of the Year by the Kootenai Valley Quilt Guild. (Courtesy photo)
by
The Western News
|
September 2, 2022 7:00 AM
Kootenai Valley Quilt Guild has the privilege of announcing its 2022 Quilter of the Year - Pam Haas.
Each year the guild selects a member based on their contributions to the organization.
Haas's journey to this honor started in junior high school. Her "fabulous" home economics teacher started them with the simple projects of shorts and aprons. She then moved on to more difficult projects and while in high school she began sewing for others to earn a little extra money.
After marriage and having children, she began sewing their clothes, prom dresses and their wedding dresses. Ever the volunteer she made play costumes and even a quilt for the play Honk Jr.
Seeking to expand her skills she enrolled in an Heirloom Sewing class and started making christening gowns for many that would be passed from generation to generation.
How did she become a quilter? When her daughter was in high school, she took a quilt class and brought her lone star quilt home to work on it telling her mom, who tried to help that it was to be made one-quarter inch seams. Any sewer knows that 5/8 inch seams are standard and she thought her quilt teacher was "crazy."
A quilt book was brought home from school and Haas read it cover to cover. Her love of quilting started, and that "crazy teacher" is now her friend. That teacher has also shared many quilting skills with her.
Being a member of Kootenai Valley Quilt Guild has given Haas the opportunity to learn and share with others. Haas has worked with the Kid's Camp that the guild has each year for the past 11 years.
She enjoys working with kids including her own grandkids and they enjoy making projects with grandma.
In conclusion, that daughter who brought her quilt home for help has inspired a passion that Haas shares with others by turning beautiful fabric into stunning quilts.
The quilts will be on display at the upcoming Kootenai Valley Quilt Guild show to be held on Sept. 9 and 10 at the Memorial Center, where she is the featured quilter.
Many other beautiful creations will be on display and all are invited to come and see the handiwork of the many talented quilters in this area.
---