Loggers clinch state playoff berth with win over Corvallis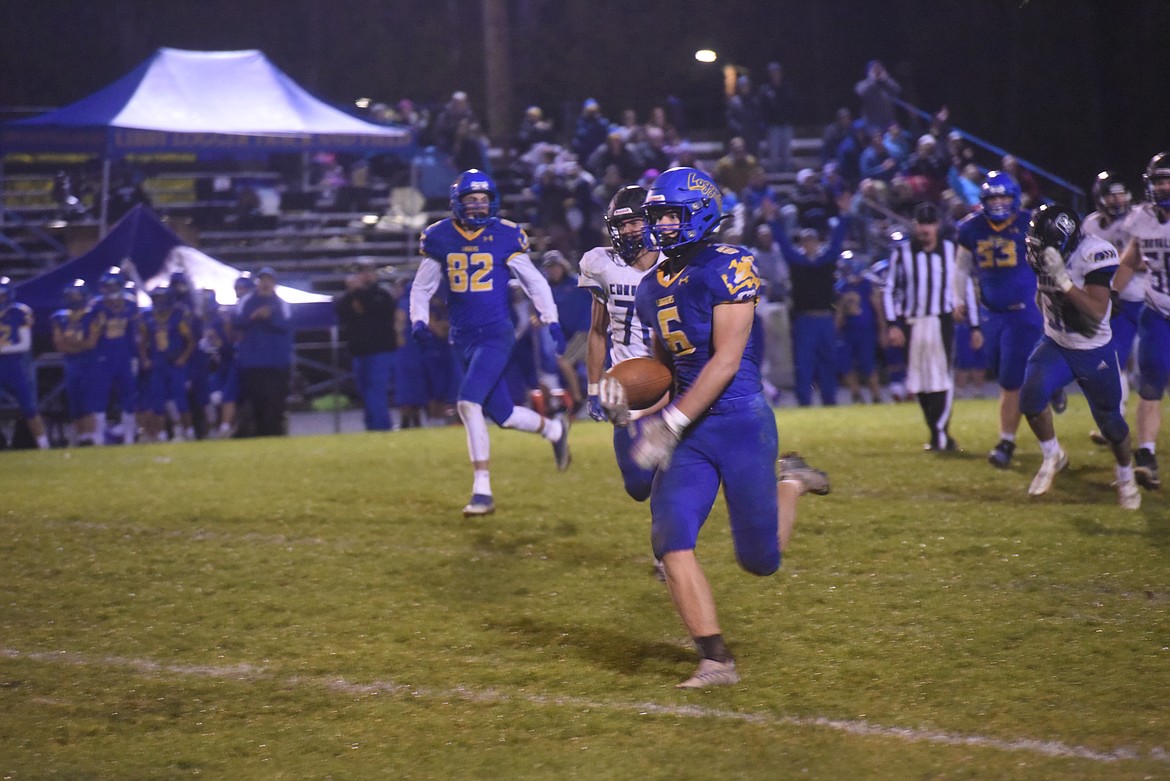 Libby's Cy Stevenson gallops for a long touchdown run late in Friday's game against Corvallis. The Loggers won 52-42. (Scott Shindledecker/The Western News)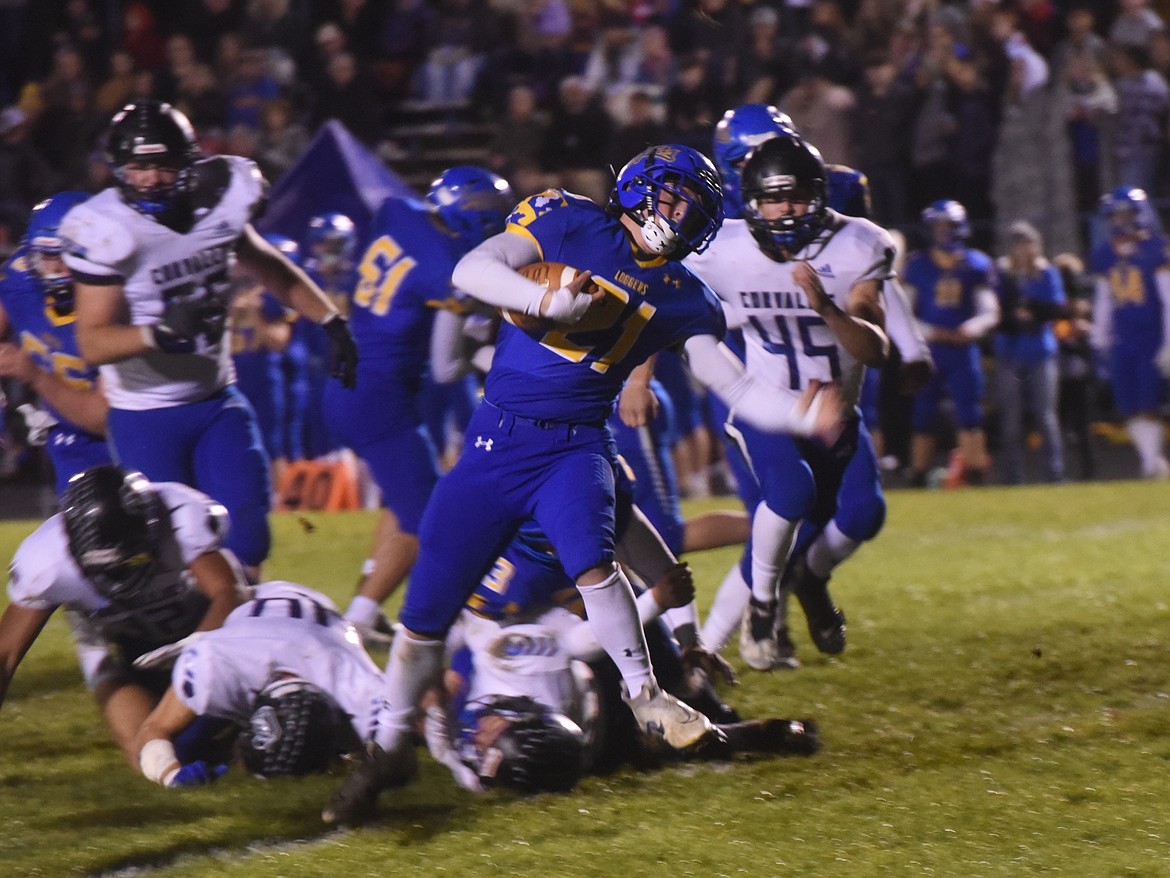 Libby's Trent Riddel steps out of an attempted tackle in Friday's game against Corvallis. The Loggers won 52-42. (Scott Shindledecker/The Western News)
Previous
Next
The Libby Loggers are going to state.
Libby (4-5) outscored Corvallis, 52-42, on Senior Night Friday to punch their ticket to the Montana Class A state playoffs. The Loggers will play at Laurel at 1 p.m. Saturday.
Libby secured Western A's seventh and final spot in the field. It's the second straight trip to state for the Loggers.
Frenchtown provided an assist with a 49-7 thrashing of East Helena on Friday.
Laurel (6-3) is the No. 3 seed in the East.
The Locomotives have played in three straight A title games. They fell to Hamilton, 21-7, in last year's title tilt, but dumped Billings Central in 2020 for the championship. They lost to Miles City in the title game in 2019.
For the Loggers, the win was the culmination of several factors. Not surprisingly, Cy Stevenson ran well and scored four touchdowns, including the game-clincher with 6:07 left to make it 45-35. Stevenson, who entered the game with 979 yards rushing, easily went over the 1,000-yard mark.
The Loggers overcame four lost fumbles by intercepting three passes. Sophomore Scott Beagle picked off two Corvallis passes and classmate Connor Benson's pick six with 1:27 left was the dagger.
Libby also recovered two onside kicks in the fourth quarter, one each by Joel Goodman and Joey Wise.
Stevenson's first TD went for 70 yards and put the Loggers up 21-13. His next touchdown jaunt was 34 and made it 28-13 early in the second quarter. A long TD run early in the third put the Loggers up 35-20.
Corvallis quickly answered with a touchdown, but senior kicker Mauro Vazquez-Otero came up big with a 30-yard field goal late in the third to complete a long Loggers drive with a 38-27 lead. Vazquez-Otero's kick was his first field goal of the season.
The Loggers stopped Corvallis' next drive on downs at the Libby 12. But a Libby fumble gave the visitors the ball at the Logger 25.
Corvallis scored a few plays later to make it 38-35 with 9:28 left.
After Libby recovered an onside kick, the Loggers put together a touchdown drive that built an insurmountable lead.
Stevenson ran twice for 27 yards while senior Jace DeShazer picked up eight yards and senior JR Delmas caught a 7-yard pass from senior Trevor Collins on fourth down to set up a first-and-goal at the Corvallis 9.
Stevenson bulled his way into the end zone and the lead was 45-35.
Libby also got touchdowns from DeShazer on a 6-yard TD run and when Collins hit junior Cy Williams for a 44-yard TD pass in the first quarter.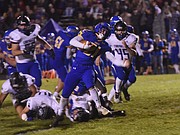 ---