Libby's Vincent caps standout season with state medal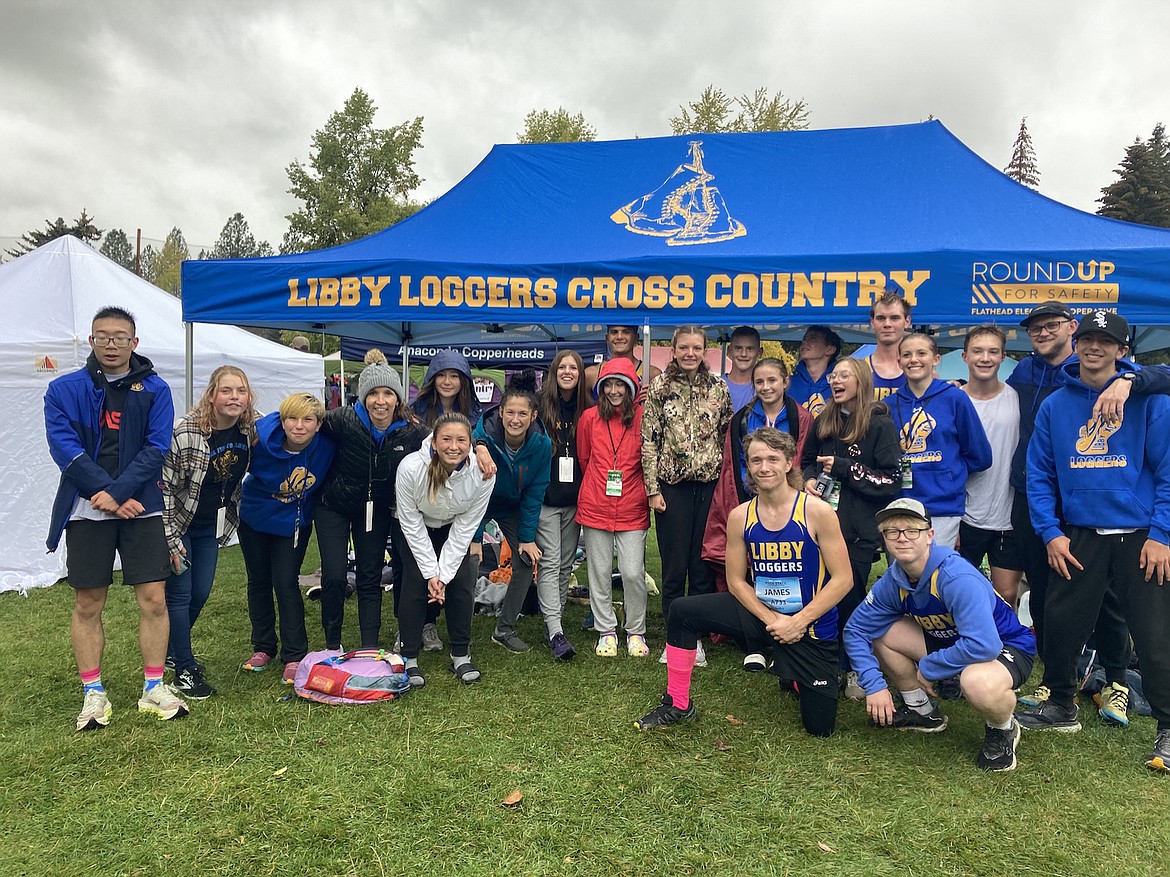 The Libby cross country team, including state medal winner Madison Vincent, enjoyed several personal-best performances Saturday, Oct. 22, at the Montana State Class A Cross Country Championships in Missoula. (Photo courtesy Brittany Katzer)
|
October 25, 2022 7:00 AM
Libby Lady Loggers cross country runner Madison Vincent placed sixth Saturday at the Montana State Class A Championships.
It was the highest finish for a female Libby runner in at least 25 years, according to head coach Brittany Katzer.
"It was an incredible day!" Katzer said. "Madison definitely had the best stats, but we had a day full of season bests and all time bests.
Lady Logger Lauren Thorstenson was 13th in 2016 (in Class B), Tara Baker won Divisionals in 1997 and finished 24th at state, so it's quite the accomplishment for Madi."
Vincent's time of 19:49 was also the first time a Lady Logger cracked the 20-minute mark in several years.
Former long-time coach Jim May shared his congratulations on social media and that, "It's been a long while since we've had a girl run a sub 20-minute race. (And most of them were 3 miles, a little shorter than the 5k Madison ran)."
Libby has had two other female runners place in the top 20 since 2003, including Nikola Falk, 17th in 2009, and Cassie Hughes, 18th in 2003.
Katzer was also pleased that eight runners, six girls and two boys, ran season-best times at state.
"Every one of them ran faster than they did at Mountain West on the same course which is great, because it shows their progress and willingness to put in the work and follow the training plan," Katzer said. "Also, we had 17 kids running personal records this season. It makes me excited about the future of our x-c program! We have a great crew coming in as freshmen next year. Our middle school boys team won every race this year except for one."
Katzer also said six Libby runners had all-time bests at the state meet.
"I give "PR Cupcakes" to the kids who get their all-time best and at our banquet Thursday I'll be giving out 6," Katzer said.
Including Vincent, female runners with personal bests were sophomore Bergen Fortner (23:47.70), junior Annika Benner (25:39.68) and junior Katelyn Huff (27:28.92).

For the boys, Junior Greysen Thompson's 18:28.01 was a personal best and good for a 61st place finish. Junior James Redifer's 20:35.16 was also a personal record.
Other Libby finishers (girls) were senior Aurora Smith, 81st, sophomore Taryn Greene, 131st, and junior Jossalyn White, 132nd.
For the boys, sophomore Rowen Sherbo, 64th, senior Gabe Hollingsworth, 85th, sophomore Wyatt Gregg, 102nd, junior Johnny Shao, 137th, junior Casey Rusdal, 141st.
---