Victor spoils Senior Night for Troy Trojans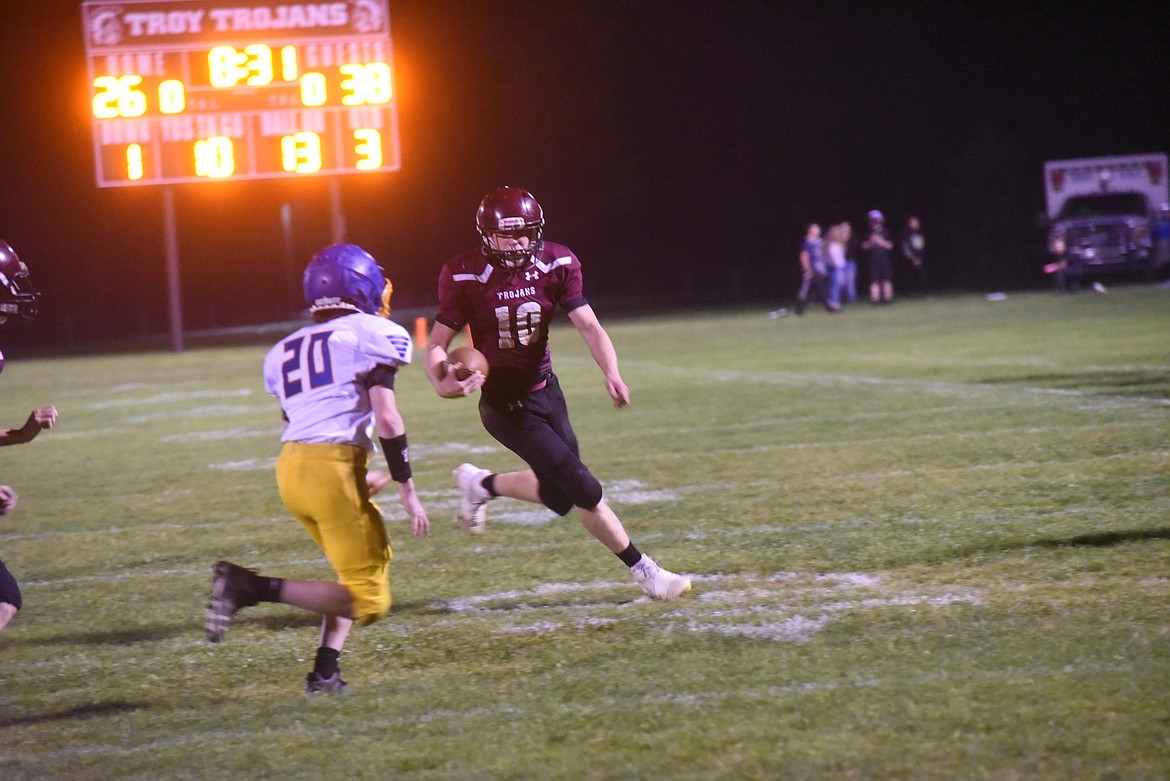 Troy senior Trevor Grant looks to get past Victor's Evan Silva in the Trojan's home game on Friday, Oct. 14. (Scott Shindledecker/The Western News)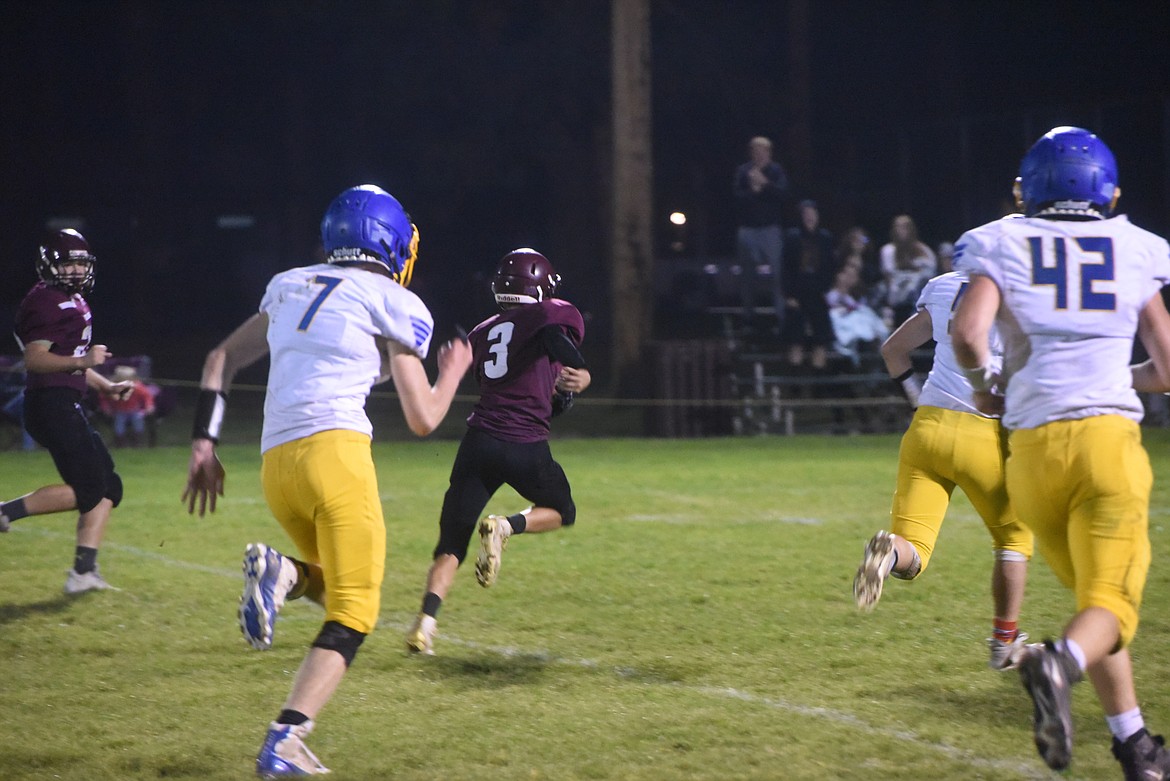 Troy freshman Carson Orr heads to the end zone for a 40-yard touchdown catch from classmate David Avidya on Friday, Oct. 14. (Scott Shindledecker/The Western News)
Previous
Next
by
SCOTT SHINDLEDECKER
The Western News
|
October 18, 2022 7:00 AM
The Victor Pirates spoiled Troy football's Senior Night in a 70-52 win on Friday night.
Before the game, senior players Trevor Grant and Paxton Fisher, along with team manager Isabella Tunison, were recognized.
Unfortunately, Fisher and Victor sophomore Logan Jenne were both ejected midway through the second quarter after they were in an altercation on a play when the Pirates scored a touchdown to take a 20-14 lead with 6:18 left the first half.
Unsportsmanlike penalties were called on both players, leading to the ejections. One of the referees was banged up while trying to untangle both players. Fortunately, he was able to continue his duties in the game.
The game featured plenty of offense and scoring and even an interception return for a touchdown by Trojans junior Derek Cole.
Troy led 6-0 just 51 seconds into the game when freshman David Avidya returned the opening kickoff 60 yards. Two plays later, senior Trevor Grant went in from one yard out.
Grant then intercepted a Victor pass, but the Trojans ended up punting. The kick was short and the Pirates took over at the Troy 30-yard line.
Fisher made a tackle on third down and the Pirates committed an illegal procedure penalty to make it fourth and long from the 25. But Victor senior quarterback Jordan McClane found senior Landon Nuttall for a 25-yard TD to tie the game at 6-6.
After Victor forced a Trojans punt, senior Cale Alber ran 48 yards and the conversion made it 14-6.
Troy had to punt on its next possession, but the Trojans defense stepped up. Carson Orr nearly intercepted a pass on second down. Two plays later, the Trojans got their turnover when Cole picked off a pass by McClane, who was under heavy pressure. Cole rumbled 50 yards for the TD. Avidya hit Fisher for the conversion to tie the game at 14-14 late in the first quarter.
After Victor scored, the Trojans responded when Avidya scored on a 35-yard run to tie it at 20-20.
Troy's defense forced a punt on Victor's next possession, but the Trojans fumbled the punt and the Pirates recovered. Victor scored three minutes later to make it 26-20.
The deficit didn't last long as Orr caught a 40-yard TD from Avidya to make it 26-26.
Victor took a lead to halftime when McLane completed a 40-yard pass to Alber, then hit Evan Silva for a 20-yard TD with 12 seconds left in the half.
Grant nearly tied the game on the last play of the half with a long run, but he was tackled inside the 10.
The Pirates (2-5) began to take control of the game in the third quarter. They scored a TD to take a 12-point lead, 38-26.
Grant found sophomore receiver Kempton Sloan on fourth down for a TD pass a few minutes later to make it 38-32 with 6:10 left in the third quarter.
But the Pirates scored the next two TDs to take a 54-32 lead. One of them was a defensive score with 2:08 left.
The Trojans responded when Grant found Orr for a 25-yard TD pass. Emerson Downey caught the conversion pass from Grant to make it 54-40.
Troy held Victor and then scored to make it a one-possession game with 8:13 left to play. Avidya caught a 45-yard pass from Grant, then Grant scored on a 15-yard run to make it 54-46.
Victor recovered a short kick at its 38 and proceeded to chew up nearly six minutes before McClane scored on a 1-yard run to make it 62-46 with just 2:29 left in the game. Victor ran 13 plays while converting two fourth downs and one third down in sealing the win.
The Trojans (1-6) wrap up their season at Charlo on Friday.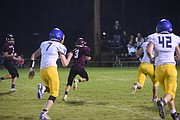 ---