Troy volleyball battles on Senior Night, but Arlee prevails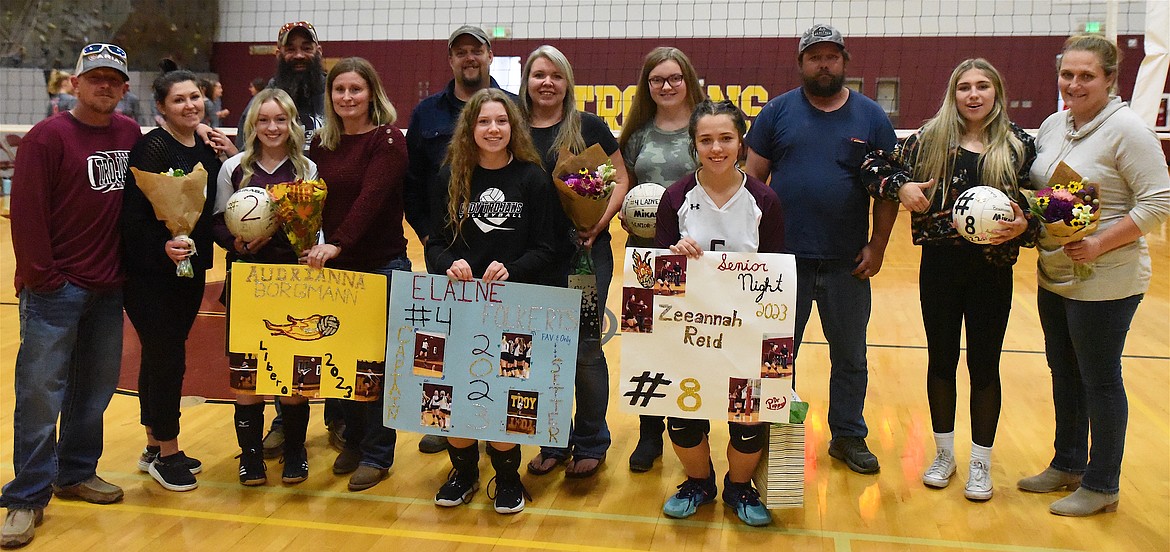 Troy High School volleyball players Audrianna Borgmann, Elaine Folkerts and Zeeannah Reid and their family members were recognized during Senior Night festivities on Saturday, Oct. 15. (Scott Shindledecker/The Western News)
Troy volleyball players Elaine Folkerts and Audrianna Borgmann each try for a dig against Arlee on Saturday, Oct. 15. (Scott Shindledecker/The Western News)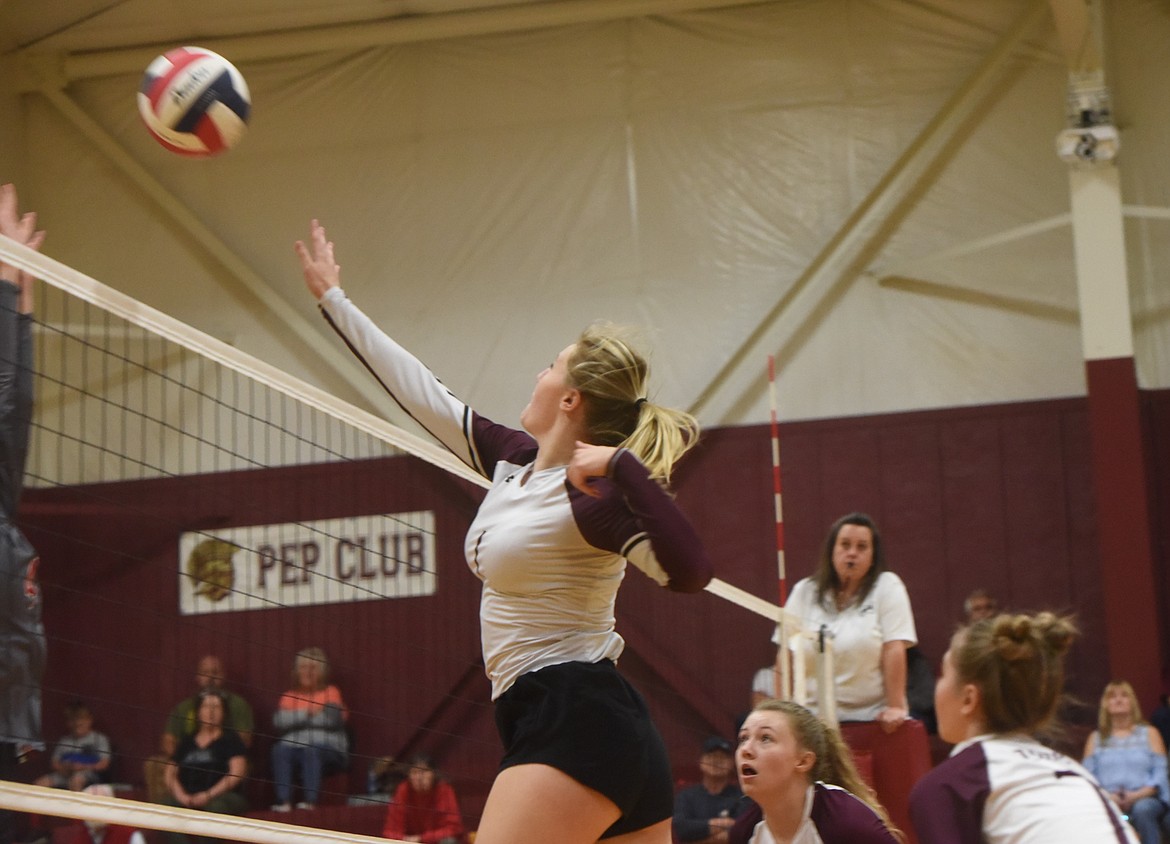 Troy volleyball player Autumn Fisher tips a shot over the net against Arlee on Saturday, Oct. 15. (Scott Shindledecker/The Western News)
Troy volleyball player Cortenie Rogers serves against Arlee on Saturday, Oct. 15. (Scott Shindledecker/The Western News)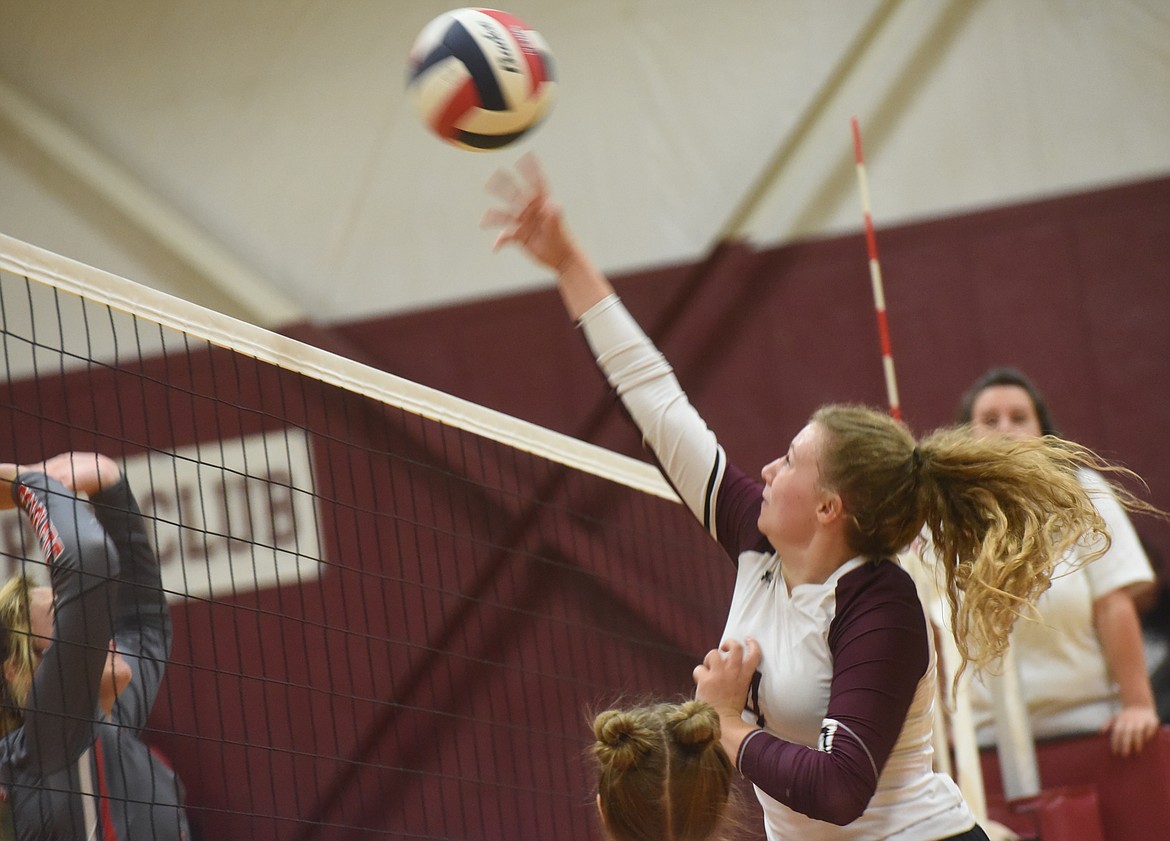 Troy volleyball player Elaine Folkerts delivers a kill against Arlee on Saturday, Oct. 15. (Scott Shindledecker/The Western News)
Previous
Next
The Troy Lady Trojans battled but lost in three sets to Arlee on Senior Night at the Activity Center on Saturday.
The Scarlets had to work hard to win the first two sets, 25-23, 25-20, but coasted in the third, 25-11.
Between the junior varsity and varsity matches, three Lady Trojans, Audrianna Borgmann, Elaine Folkerts and Zeeannah Reid, were honored as well as two senior cheerleaders, Audrey Evans and Devynn Cummings.
In the first set, Arlee led 3-0 before Troy sophomore Autumn Fisher helped knot the score at 3-3 with two kills. Arlee built a five-point lead, 12-7, before Troy forged ahead.
Folkerts served for five straight points, including two aces, as the Lady Trojans grabbed a 13-12 advantage. The set stayed close and Troy led 21-19 with Cortenie Rogers serving. She had one ace and Jaylee Meyers' tip-in gave the Lady Trojans a two-point lead.
Arlee coach Lonnie Morin called timeout and the Scarlets scored four of the next five points to lead 23-22.
Troy head coach Brooke Soley called timeout, but Arlee soon claimed the win.
Soley told her team "Hey, let that one go, don't give up," after the set and Troy fought to the end in the second set.
Arlee led 4-1 before the Lady Trojans rallied to take a 6-5 lead as Leslie Gravier and Borgmann each had aces. Troy led 11-8, but Arlee bounced back to take a 13-12 lead.
Troy rallied for a 15-13 lead as Gravier served for two points, including one ace, and Fisher added a kill. The set was close before Arlee grabbed a 21-19 lead.
A Troy timeout didn't slow the Scarlet's momentum and they won 25-20.
In the third set, Folkerts and Gravier had aces, but there weren't many other highlights in a 25-11 loss.
Arlee won the junior varsity match in five sets, taking the last one, 18-16.
---