Libby couple works hard to get their bucks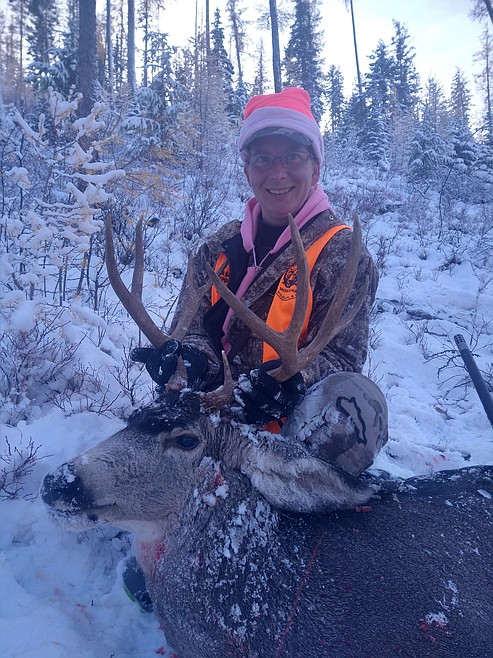 Dorian Boling has plenty of meat after bagging a 5x5 mule deer and a large white-tailed doe. Boling said she bagged the whitetail on the opening day of the general season while filling a CWD tag. She said it was the first time she filled a tag on opening day. Boling bagged the mulie on Nov. 6. She said her range finder determined the distance at just under 200 yards. Boling said she tossed it over her shoulder before making the shot. Boling found her range finder about 12 feet behind her and it still works. Boling used a Christianson 7mm-08 for both deer.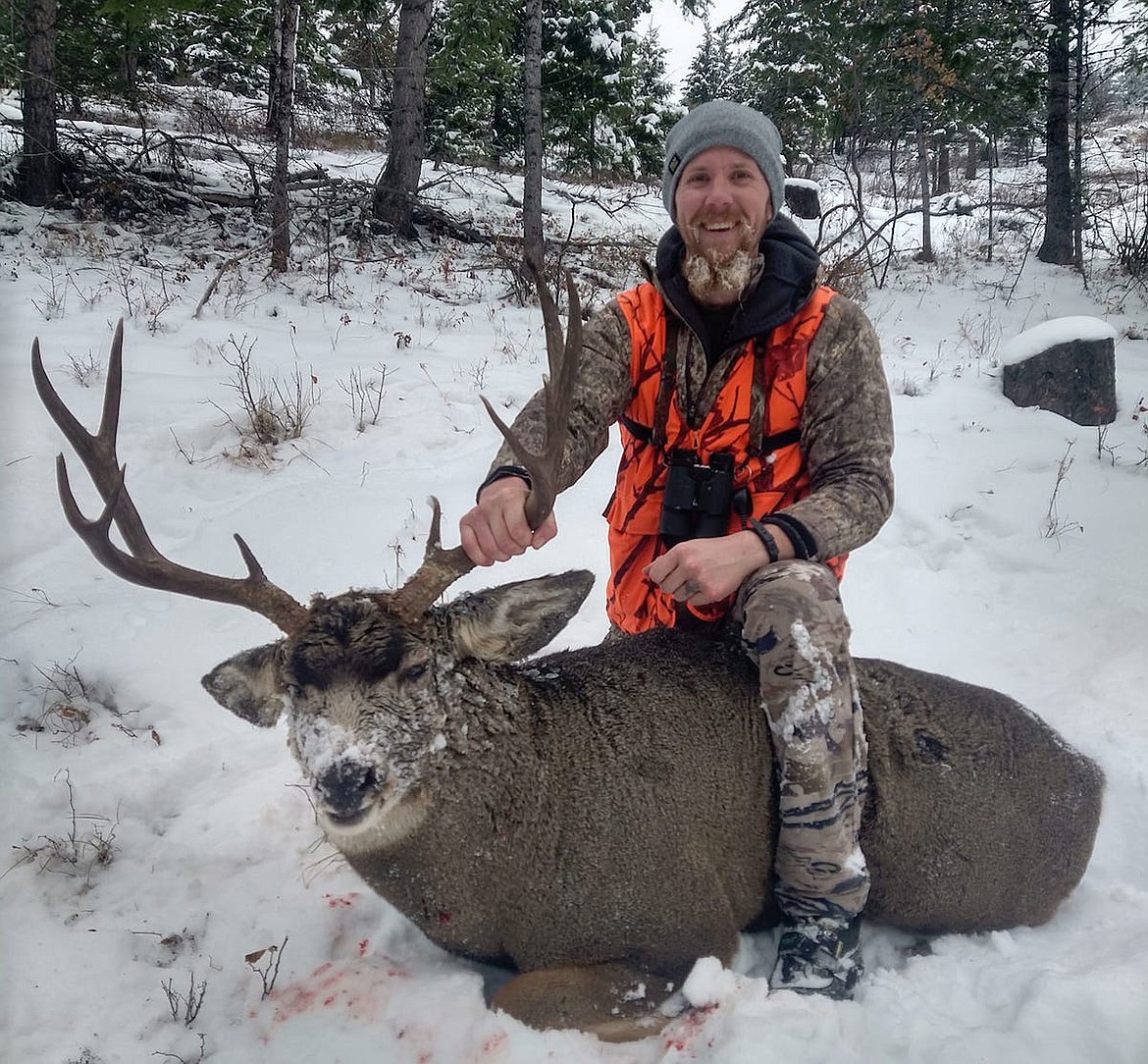 Libby resident Scott Hanson shows off the 5x5 mule deer buck he bagged on Monday, Nov. 14.
Previous
Next
by
SCOTT SHINDLEDECKER
The Western News
|
November 18, 2022 7:00 AM
Libby residents Dorian Boling and Scott Hanson are each having a hunting season to remember.
The couple has bagged five deer, including two large mule deer bucks, and had experiences they'll never forget.
"The big ones are out there, you just gotta go 'em," Boling said.
Boling tagged her buck near where her husband got his. She also said they weren't hunting in the trophy area, which includes part of Hunter District 103.
The couple has more than earned their largest mulies, both 5x5 bucks. Boling bagged her buck on Nov. 6 while Hanson took his on Nov. 14. It was quite the kickoff to his week of vacation.
"He then headed out of town with a friend to hunt elk the rest of this week," Boling said.
The couple attributes their success to putting in the time to hunt and covering a lot of ground behind the gates.
"We've hunted our areas for 19 years so we know them well and I am a 100% disabled vet, so I have the opportunity to hunt quite a bit. Scott hunts on his days off as well as taking vacation to hunt," Boling said.
Hanson's buck, which required a pack out of 4 1/2 miles, had an antler spread of 26 3/4 inches.
"We were watching some bucks and we saw the one he got. Scott was trying to get a shot and I was glassing for him. He was in some cover, but he stepped out and all I said was, "Plug him."
Hanson did on the biggest mule deer he ever bagged. It was well after dark when they got back to their vehicle.
"We were beat, but it was so worth it," Boling said.
Boling, who served her country in the U.S. Army many years ago in South Korea, definitely isn't letting her disabilities slow her much in the woods.
"I have issues with my hearing and it does slow me down some, but I love it too much to not get out there," she said.
Boling was also very happy with the size of the white-tailed doe she bagged on the first day of the season.
"She was a big one and we got 50 pounds from here. We really enjoy eating the meat, so any time we can get one, we appreciate it," Boling said.
Boling said she and Scott had passed on 18 other bucks before bagging theirs.
Boling also said the buck that Hanson bagged was showing interest in a white-tail doe. Their hunting adventures in Lincoln County have provided them a multitude of memories.
"We've had encounters with bears, grizzly and black, mountain lions and wolves. The wolves don't bother us and they don't seem to have as much luck getting prey as some may think," Boling said. "Our bow elk season was good, too. We called in multiple bulls, but we never got a shot."
They've watched wolves go after ducks and had close encounters with lions that have persuaded them to not camp out while hunting.
"We had one lion come in to our tent and that was pretty unnerving," Boling said.
Boling did bag her first and only elk three years ago. She took the 3x3 bull while using a draw lock, a device that is allowed for use by hunters in Montana with a permit.
She's also looking forward to their son, Maverick Owens, getting home next week from Montana Tech for Thanksgiving vacation.
"I can't wait to get out there with him and see what happens," Boling said.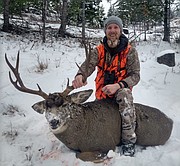 ---