Libby's Sears among stores closing nationwide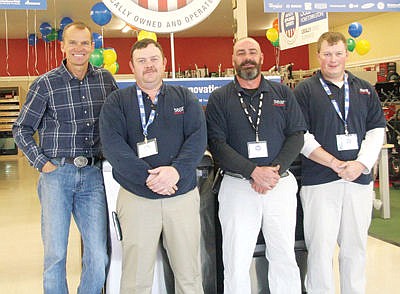 <p>The Sears Hometown team, pictured from left to right, owner Markus Messmer, Jason Vickrey, Jeremy Smook and Rick Brossman. (Bethany Rolfson/TWN)</p>
by
The Western News
|
May 31, 2022 7:00 AM
The Sears Hometown store in Libby is among the nearly 100 retail locations across the U.S. that will close its doors for good this summer.
Sears Hometown Libby owner Markus Messmer announced the store closure Monday in an email to local press.
According to Messmer, the store on Mineral Avenue hasn't been able to recover from challenges brought on by the Covid-19 pandemic.
The last day of business for the Libby store will be July 14. Messmer said that after that date, customer orders will be transferred to the Sears Hometown store in Kalispell.
The building will go up for sale, and all office and fixtures will be sold as well.
"We want to thank all the customer for buying for decades at Sears," Messmer said in the email. "My personal thank goes to my manager of the store, Jeremy Smook who worked for many years and did everything to keep the store open."
Gary and Marie-Lou Livesay opened the store in 1999 in the former JCPenney location at 520 Mineral Ave. Messmer took ownership in 2010.
Sears Hometown stores are not part of Sears Holdings, which filed for Chapter 11 bankruptcy in 2018.
Transformco acquired the Sears Hometown network of stores in 2019, which describes the businesses at independently owned and operated.
According to an Axios news report last week, Transformco did not provide a list of the Sears Hometown closing locations or how many will remain following this round of liquidation sales.
---