Libby's Beagle surprises field to win divisional tennis title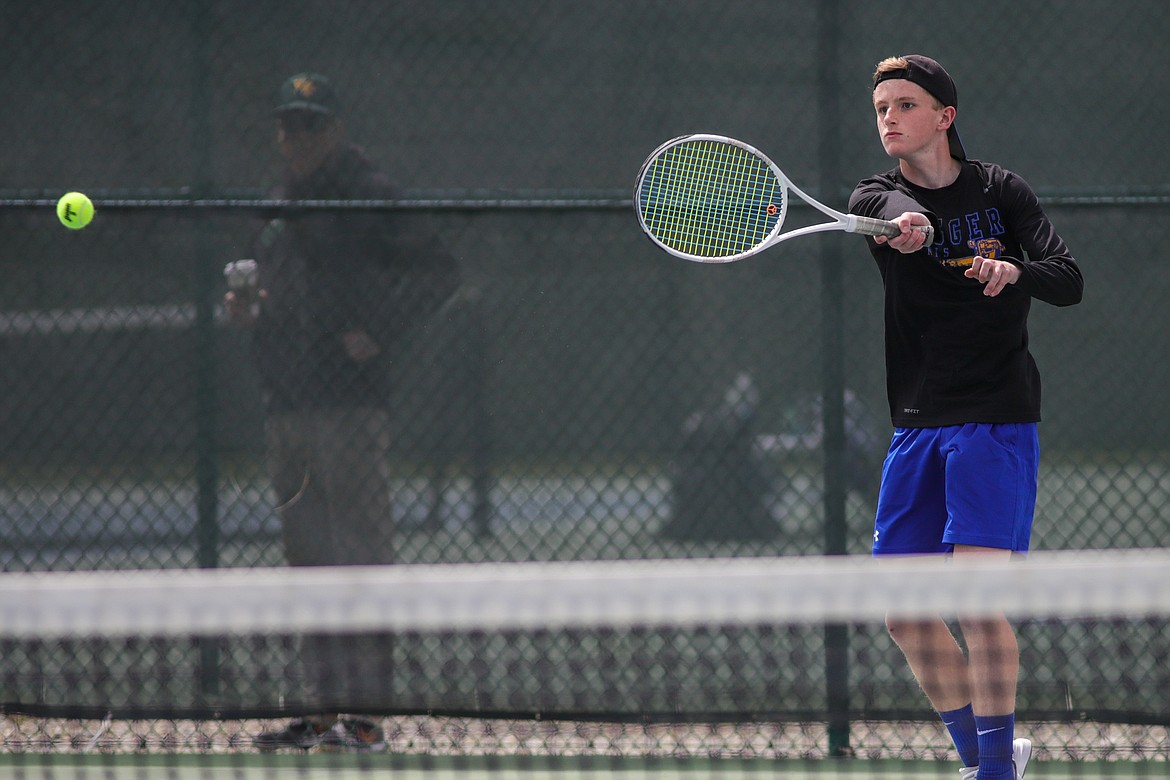 Libby's Ryan Beagle returns a serve at the Northwest A Divisional tennis tournament on Friday, May 20 at Flathead Valley Community College in Kalispell. (JP Edge/Hungry Horse News)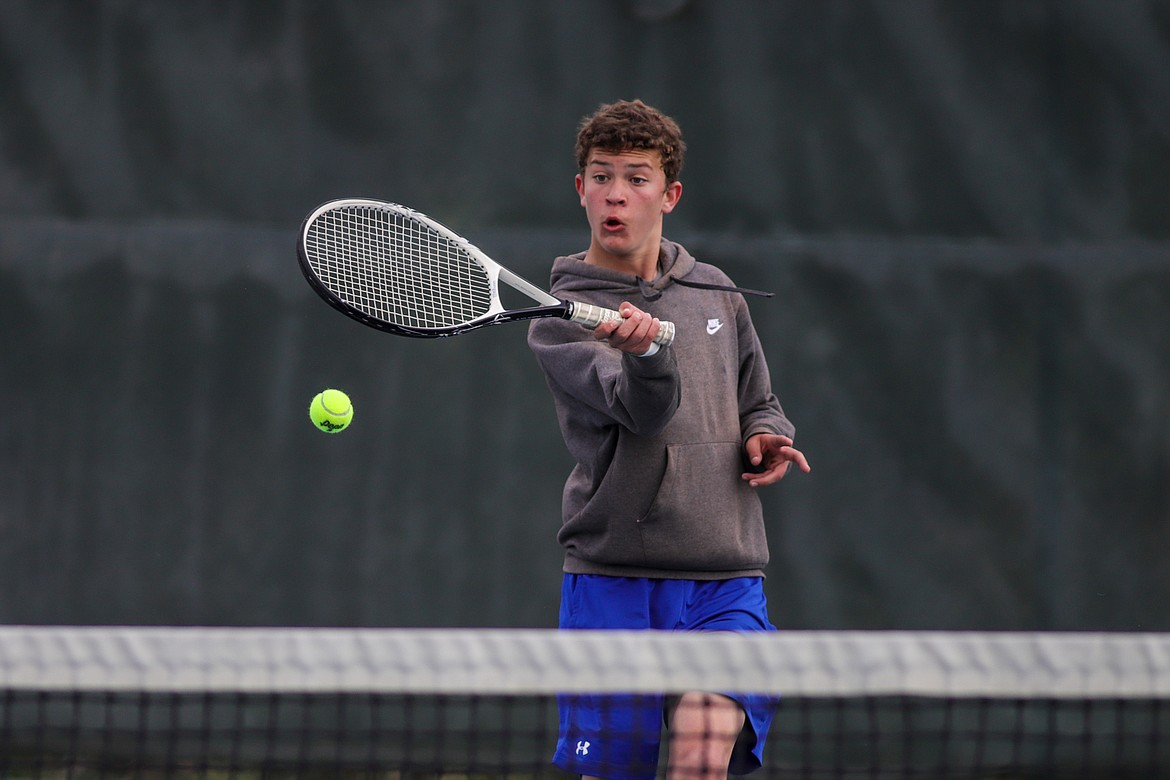 Libby's Tyler Anderson returns a volley at the Northwest A Divisional tennis tournament May 20 at Flathead Valley Community College in Kalispell. (JP Edge photo/Hungry Horse News)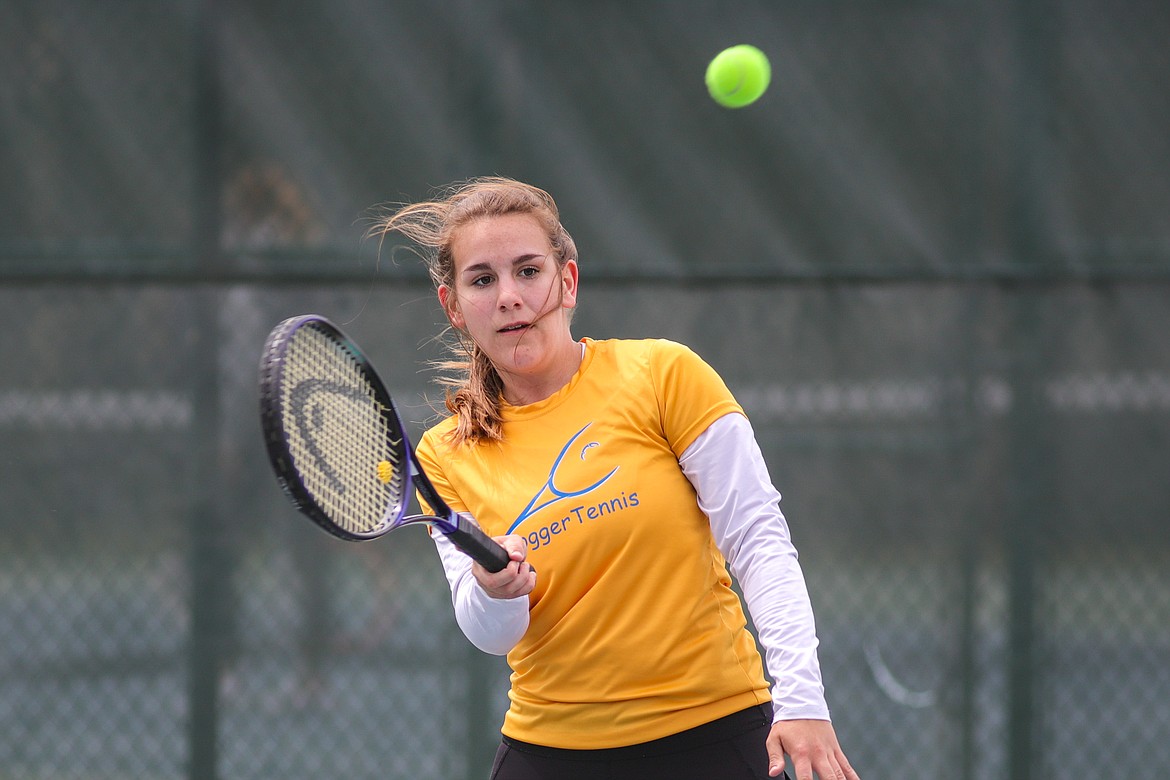 Libby's Jenna Hammond plays a match on Thursday, May 19 at the Northwest A Divisional tournament at Flathead Valley Community College. (JP Edge photo)
Previous
Next
by
Daily Inter Lake
|
May 24, 2022 7:00 AM
Whitefish came home with two doubles championships and swept the team titles at the Western A divisional tennis tournament, but boys singles provided the biggest surprise of the tournament.
Libby's Ryan Beagle, a freshman, got an upset win over Polson's Torrin Ellis in the boys final in two sets with one tiebreaker, 7-6 (6-1), 6-0. Beagle also defeated Ashten Nelson of Polson, and Whitefish's Austin Gunset and Joe Brandt en route to the divisional title. Brandt ended up fourth.
Mason Kelch and Aaron Dicks of Whitefish topped Polson's Trent Wilson and Owen McElwee in the boys doubles final.
Emma Trieweiler and Tallory Workman made it two doubles titles for Whitefish with their win over Ronan's Aaliyah Decker and Alyssa Pretty On Top. Anyah Cripe fell to Polson's Clara Todd in the girls singles final, and Lauren Brown defeated Columbia Falls' Cloey Ramage in the third place game, which was played Saturday morning.
Columbia Falls' Cade Morgan and Cody Schweikert also punched their ticket to state with their third-place finish in doubles.
Camilla Foresti and Katie Smith of Polson won the girls doubles title with their victory over Whtiefish's Elliette Haigh and Ashley Gunset.
Whitefish won both team titles. The girls scored 62 points, and Polson was second with 46. For the boys, Whitefish won with 51 points to Polson's 37. Scores were not kept for the remaining teams.
The State A tennis tournament is May 26-27 in Bozeman. The top four singles and top four doubles players from the divisional tournament qualify for state.
Northwest A Divisional Tennis
Friday, FVCC
BOYS
Singles
Third place
Beau Decker (RON) def. Joe Brandt (WF) 6-2, 6-4.
Championship
Ryan Beagle (LIB) def. Torrin Ellis (POL) 7-6 (6-1), 6-0.
Doubles
Third place
Cade Morgan/Cody Schweikert (CF) def. Finn Stagg/Jesse Burrough (WF) 7-6 (7-5), 6-0.
Championship
Mason Kelch/Aaron Dicks (WF) def. Trent Wilson/Owen McElwee (POL) 7-6 (7-1), 6-3.
GIRLS
Singles
Third place
Lauren Brown (WF) def. Cloey Ramage (CF) 6-1, 6-2 (played Saturday).
Championship
Clara Todd (POL) def. Anyah Cripe (WF) 0-6, 6-1, 6-3.
Doubles
Third place
Camilla Foresti/Katie Smith (POL) def. Elliette Haigh/Ashley Gunset (WF) 6-4, 6-1.
Championship
Emma Trieweiler/Tallory Workman (WF) def. Aaliyah Decker/Alyssa Pretty On Top (RON) 6-4, 6-4.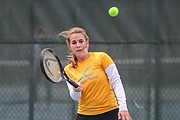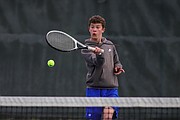 ---