Heritage Museum holds opening day celebration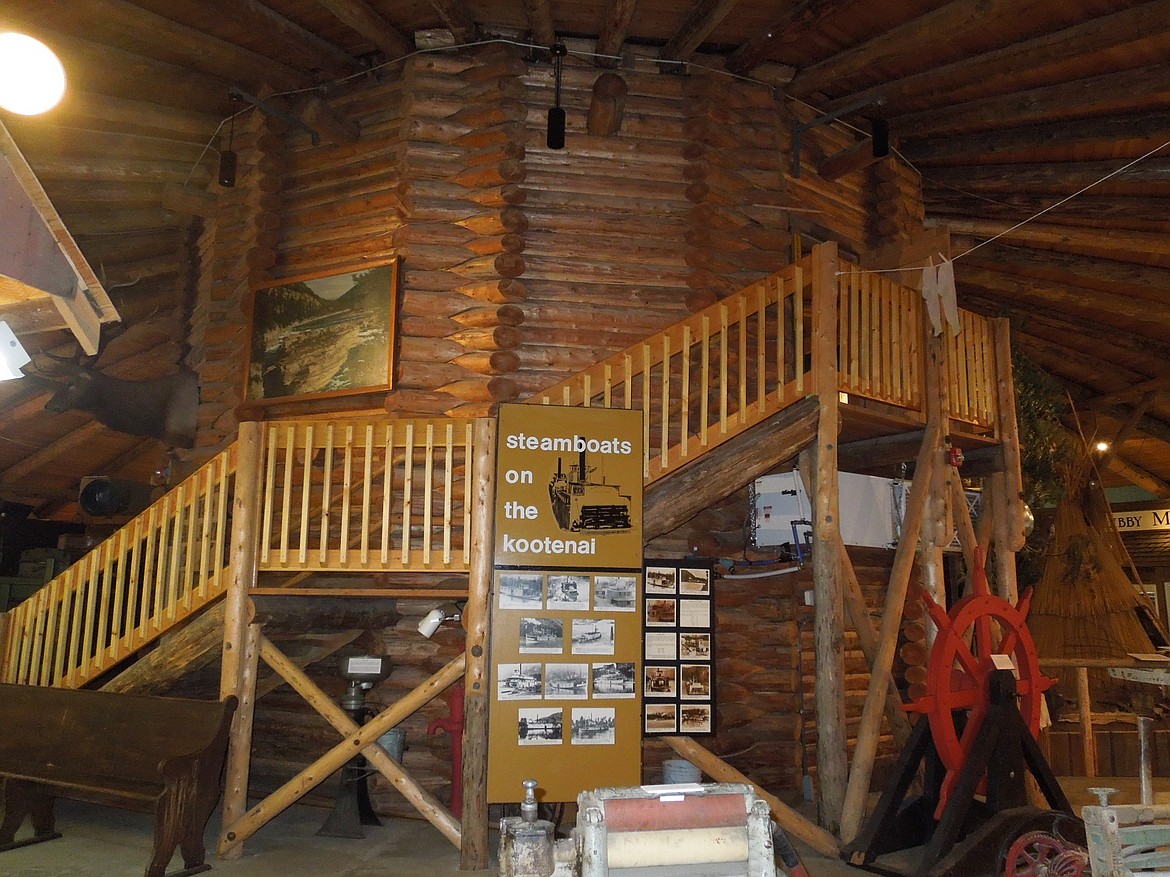 The stairs inside the museum's historic 12-sided log building going to the Tower Gallery. (Photo provided)
by
The Western News
|
May 17, 2022 7:00 AM
The Heritage Museum's annual "Opening Day Celebration" will be held on Saturday May 21 from 10 a.m. to 5 p.m. on the Museum grounds on U.S. 2 in Libby.
This year the celebration is also a roof replacement project fundraiser for the museum's historical and unique 12-sided log building; work begins Monday May 23 to remove the existing roof. The museum will remain open seven days a week all summer through Sept. 17, even during the roof replacement construction.
Indoor Events:

Homemade quilts by the Kootenai Valley Quilt Guild's will be on display in the Museum's tower gallery; the quilts will remain in the gallery through June 30. Some of the quilts will be offered for sale; each quilt that is for sale will be price-marked accordingly.
The Museum's Gift Shop will be open with most t-shirts reduced-priced and most prints reduced by 50 percent.

At 10:30 a.m. Dr. M. Lynn Barnes, dress historian, will present special pieces from the Museum's historic dress collection in the Beebe Room at the back of the Museum building. Lynn has been working writing condition reports, and properly storing a large collection. Selection of late 19th century underpinnings, 1890s gowns and several pieces from the 1920s and 1930s will be presented and discussed. You may also sign-up that day for a Textile Preservation Workshop to be presented on Saturday, June 25th at 10:30 a.m. Dr. Barnes will guide you through the process of correctly storing your personal historic dress piece. You are welcome to bring a uniform, bridal wear, christening gown, small quilts or flags for your project. At the close of the workshop, you will have correctly stored your personal textile. Your fee includes an acid free storage box, acid free tissue, gloves, and instruction and guidance by Dr. Barnes. Fees will vary depending on the type of box needed. For further information, please leave a message for Laurie at 293-7521 or email heritagemuseum@frontier.com.
"Kootenai People Presentation" at noon by Loretta Hoots of the Kootenai Tribe, a member of the Confederated Tribes of Salish and Kootenai of the Flathead Reservation in Pablo, MT, will be in the Swamp Creek Community Hall log building behind the main building.
Outdoor Events:
The Museum cookhouse will be open all day for grilled hamburgers, hot dogs & chili, chips, water/sodas, & homemade desserts.
Craft & Direct Sales vendors will be under the trees in the shade all day.
The Museum grounds will contain multiple working exhibits such as blacksmithing, grinding, gold panning, and rides in a model-T car, etc. throughout the day.
The 1932 Fire Truck and "Sparky" will appear at 10 a.m.
"Smokey the Bear" from the Kootenai National Forest will make an appearance between 11 a.m. and noon.
Live Band – Big Sky Bow's & Blowhards will perform at 11 a.m.
The Heritage Museum is a non-profit 501(c)3 organization. Visit the website at www.libbyheritagemuseum.org to learn more.
---