DNRC's Libby Unit earns Outstanding Service Award
by
The Western News
|
May 13, 2022 7:00 AM
Gov. Greg Gianforte was in Libby on Wednesday to announce an upcoming expansion of a forest management agreement and to acknowledge the work of local land managers.
Gianforte joined local leaders, staff from the Montana Department of Natural Resources and Conservation, and Forest Service representatives to announce a forthcoming expanded, decade-long agreement committing to treating priority wildland urban interface in the Kootenai National Forest, the Governor's Office stated in a press release.
"This announcement marks a much-needed milestone: a long-term, landscape-size forest management agreement among partners," Gianforte said. "When we actively manage our forests together, like we are in Lincoln County, we reduce wildfire risk, improve forest health, and provide greater predictability and certainty to the wood products industry."
The expanded Good Neighbor Authority agreement sets a goal to treat up to 10,000 acres a year in the Kootenai National Forest. The agreement was negotiated on behalf of the state by DNRC leadership and Libby Unit.
"The dedication and commitment to goals bigger than themselves is one of the key principles that staff of the Libby Unit share," DNRC Northwest Land Office Manager Greg Poncin said. "We are very proud of the work they are accomplishing, but also in the initiative and innovation they illustrate by building programs, proactively seeking out funding, and hiring skilled people to carry out this work that is new and sometimes not well defined. They are leading the way and are collectively adding incredible value in this corner of Montana."
To recognize DNRC's Libby Unit for its work to strategically coordinate, plan, and implement these and other forest management programs, Gianforte presented the team with his Outstanding Service Award. The governor's Outstanding Service Award recognizes state employees who go above and beyond in their line of work while serving Montanans.
TRAVELING FROM Libby to Eureka, the governor honored two local veterans who received the 2021 Montana Governor's Veteran Commendation.
Thomas "Tom" Price and Dennis Lee Radish, both of Eureka, received the award for their service in the U.S Navy as well as for their contributions to their communities. Price served in World War II, and Radish served in the Vietnam War.
"I'm proud to celebrate two of Montana's outstanding veterans who served our nation and have given back to their communities," Gianforte said. "Veterans like Tom and Dennis make our state stronger, and it's my honor to recognize them for the contributions to country and community."
The Montana Governor's Veteran Commendation honors outstanding Montana veterans who selflessly served our country in uniform and have since made a positive impact in their community. 
Earlier in the day, Gov. Gianforte toured Superior Meats, Inc. in Mineral County, emphasizing the importance of expanding local processing to chip away at the control meatpacking giants have over the market. Superior Meats Inc., a state-inspected local meat processing plant, was awarded $150,000 ARPA grant for their automated packaging equipment and composting system.
Under the governor's leadership, meat processed at state-inspected facilities in Montana has doubled this fiscal year to date. Montana also recently became only the tenth state where state-inspected meat and poultry processors can ship their products across state lines, the Governor's Office touted.
The governor also toured Sanders County Feed, a new, family-owned farm and feed store in Thompson Falls. Owners Wayne and JP Ducote opened the store last November and rely on input from ranchers, contractors, and veterinarians as well as their own ranching background to best serve the community.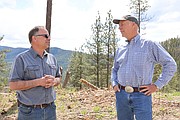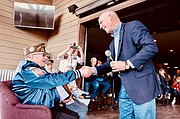 ---