Rain or shine: Libby Farmers Market vendors brave spring weather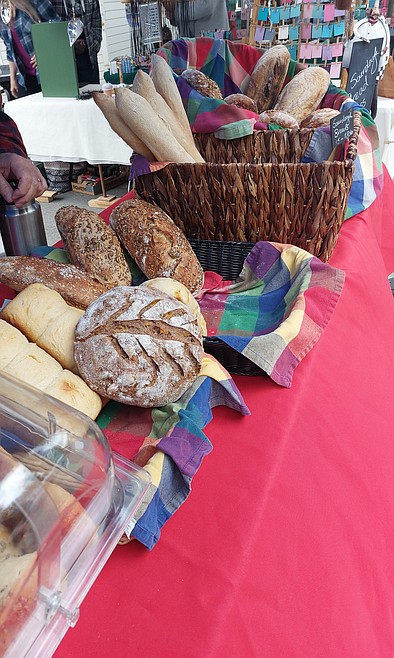 Loaves of bread on display at the Libby Farmers Market. (Cynthia Ines/The Western News)
The Farmers Market in Libby was back in action Thursday, with strong, chilled winds blowing through while a few vendors held on tight to their canopies.
Despite the chilly and rainy weather, "The show must go on," attitude prevailed through with full force. Everyone worked together to make it an eventful and fruitful day.
A live band was present, providing entertainment as some people danced to the melodic sounds. Fajitas and conchas, which are also known as Mexican sweet breads, were being sold in celebration of Cinco De Mayo. The colors of sugar sat on top of every round loaf of bread. 7 Seeds Coffee house topped off meals with their Boba Teas and Italian Sodas.
Gracious Table's long line of customers purchased fresh baked bread, loaded artisan grilled cheese sandwiches and quesadillas. Chicken and vegetable quiches were layered and stacked in a basket.
Among the edible delicacies, homemade jewelry, artwork, soaps and woodwork were spread out for people to view and purchase.
2DogCNC showed off their custom metalwork. Local farmers sold plants, flowers and vegetables, while others sold their farm fresh and organic chicken, duck and quail eggs.
Some of the locals had the luxury to stop in and have a seat in comfort, while they received a relaxing or deep tissue massage by Mobile masseur, Alicia.
Forest rangers enlightened on the danger of forest fires and how to prevent fires from occurring and forming. Pamphlets were provided for hikers and fisherman, which revealed new and updated trails, parks, campsites and lakes, along with special free giveaways for all.
Shoppers, locals and vendors walked around as they laughed, shared conversations and asked questions while they tasted new food and received free samples of produce crops and homemade soaps.
Dawn Sonju from Caring for Seniors had a booth set up, encouraging locals to gather more information on services and resources rendered through them.
MontanaWorks was set up adjacent to Caring for Seniors, with job postings accessible for locals and others to flip through. Currently 155 opened positions available, staff on sight are available to assist with applications and to answer questions about specific job requirements and postings.
Regardless of the weather, vendors came through to set up as the community and their families filled the parking lot to explore and engage in the Farmers Market event.
For future Farmers Market events, vendors and locals may find out more or contact to gather information at: marketmaster@libbychamber.org or https://www.facebook.com/FarmersMarketAtLibby/
---