Igniters plan busy season of events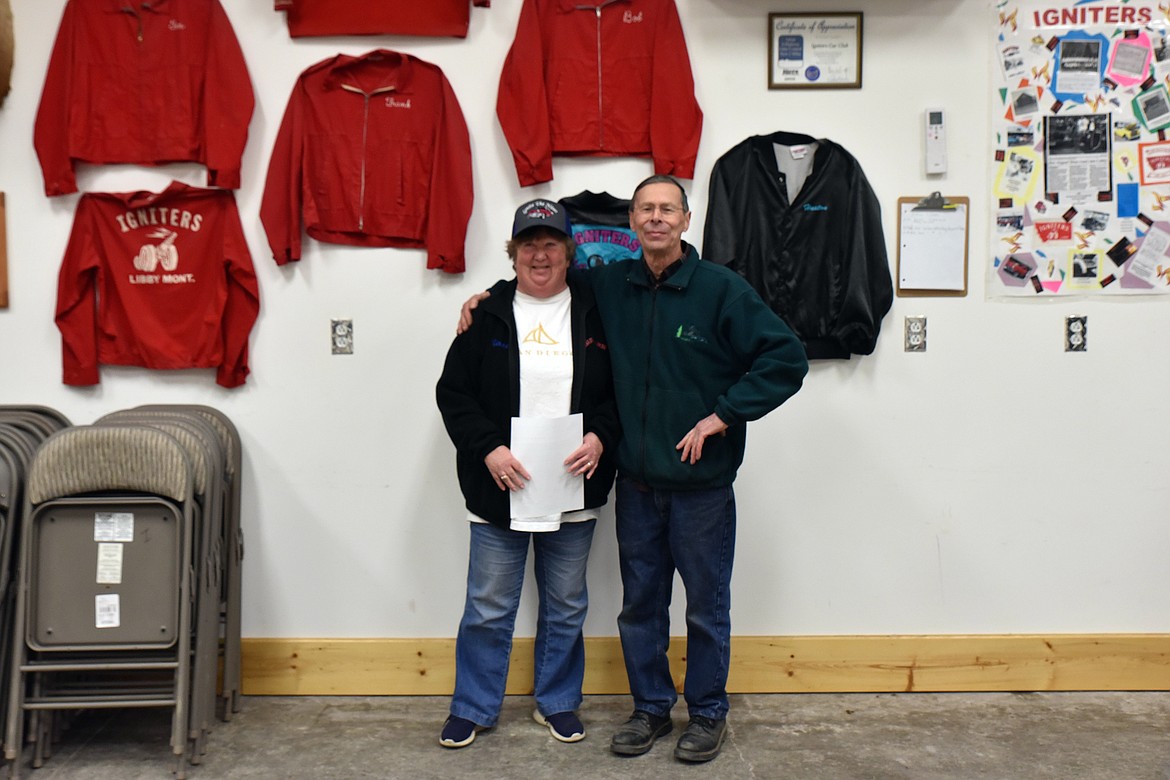 Ivan and Diane Troyer are loyal Igniter Club members, sharing their passion with the public. Ivan devotes his time to his cars and events. Retired and putting 100% into his passion, born and raised Libby local, he welcomes others to come and bask in love of cars at 170 Hogan Drive in Libby. (Cynthia Ines/The Western News)
by
CYNTHIA INES The Western News
|
May 10, 2022 7:00 AM
The Igniters Car Club met April 4 in their one-of-a-kind 40x60 muscle shop and workshop garage filled with car parts, projects and creative works of recycled art in which many of the members are currently working on.
The garage has since been modified and has had a number of add-ons and renovations, making it bigger and better. The smell of engine oil and vintage cars in the air emanates nostalgia.
The Igniters Car Club was established in 1961, one of the oldest car clubs in Montana. Not only have the members formed and shared a bond through their love of classic cars and restorations, but they also share a kinship and family-like bond.
Darald Kelley, Sergeant at Arms, discussed many future events. The Igniters hold weekly events and monthly meetings the first Wednesday of each month.
Their cruising and dining days consist of choosing a diner as a group so they could meet and enjoy one another's company. The cars are admirable, showcasing the individual work and dedication put into each and every one of their vehicles, from custom paint jobs to interior upholstery, custom engines and motors, are a marvel to look at.
The Igniters discuss more than just cars — they find ways to improve Libby by holding local highway trash pick-up events and fundraisers for members in need.
The club president Ed Leroy, along with the others, welcomes new members into the Igniters association. Requirements consist of an application process, references, a membership fee, attendance, and of course ownership of a classic automobile or truck.
Members have the ability to utilize the garage for projects and restoration of their own vehicles.
The Igniters also have more than several sponsors and advertisers who assist with and support Igniters events with donations or the use of their facilities in order to keep the club and shop up and running.
Chevy pickups, Chevrolet Belairs and Ford Mustangs are just a few of the many vehicles that can be seen cruising during their outings. The Igniters travel in groups to meet up with other members throughout Montana, Idaho and as far out as Canada.
Many future events are in store, including swap meets, the Memorial Day Car Club event and their Show & Shine Car Show May 21 from 10 a.m.-3 p.m. at the Kalispell Mall where there will be $700 in prizes.
Ivan and Diane Troyer are loyal Igniter Club members, sharing their passion with the public. Ivan devotes his time to his cars and events. Retired and putting 100% into his passion, born and raised Libby local, he welcomes others to come and bask in love of cars at 170 Hogan Drive in Libby.
For more information: libbyigniterscarclub@gmail.com and

Facebook.com/igniterscarclub
---