Loggers top Troy Lady Trojans 18-4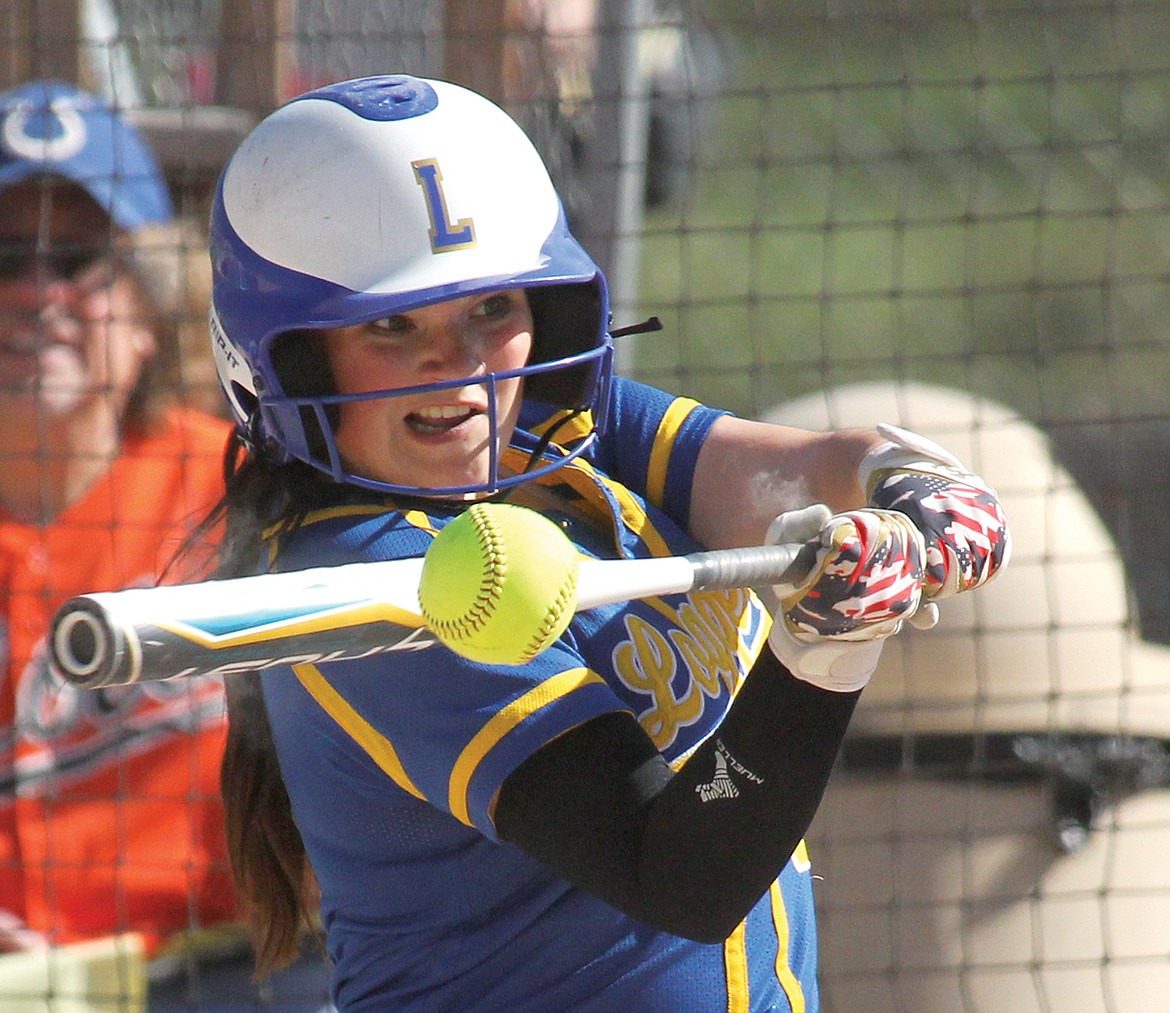 Libby's Paislee MacDonald smacks a base hit on the 1-0 pitch with one out bottom of second inning Tuesday afternoon vs. Troy. Lady Loggers over Lady Trojans 18-4 in six innings.(Paul Siever/The Western News)
by
JIM DASIOS The Western News
|
May 6, 2022 7:00 AM
Wildly effective. That might be one way to describe MacKenzie Foss's pitching outing.
It's easy to place a word on Paislee MacDonald's one inning of work on the mound, perfect.
Behind the combined pitching of Foss and MacDonald, the Lady Loggers axed the Troy Lady Trojans 18-4.
Foss pitched five full innings. She struck out eight batters, walked five and hit four.
Who said there's to contact in softball: The Troy girls were comparing bruises the next day.
Walks and hit batters helped Troy load the bases in the second and third innings. Foss would bounce back with strikeouts to end the threat.
Taking over in the sixth inning, MacDonald didn't waste any time. Three batters, three strikeouts game over.
Lady Trojan starting pitcher Elaine Folkerts' stat line looked like this: Five innings pitched, six strikeouts, three walks and two hit batters.
Eighteen runs, at least half of these runs unearned, makes it tough on a pitcher. Simply put, too many Lady Trojan errors.
Troy would start the scoring in the first inning. Leslie Gravier was hit by a pitch and would eventually score on a wild pitch.
Troy led 1-0. That would be the last time Troy would hold the lead.
A Foss single and a Lady Trojan error brought in two Lady Logger runs. Destinee Crawford's single brought in two more runs.
Libby would manufacture another run. And the first inning would end with the score of Libby 5, Troy 1.
The Lady Loggers would serve up two bases loaded walks to Troy, Libby's lead was now 9-3 at the end of the third inning.
Peyton Waggoner's double in the fifth inning plated two runs widening the Lady Logger lead to 16-4.
MacDonald came in to pitch the sixth inning. You know how the story ends.
---