Libby Vendor Market kicks off season
by
CYNTHIA INES The Western News
|
May 6, 2022 7:00 AM
The Vendor Market in Libby got underway for the season Wednesday, May 4, with a good crowd of locals coming out for the event at the corner of Lincoln Boulevard and Mineral Avenue.
Music could be heard playing in the background as groups of people walked from canopy to canopy, viewing booths and tables displaying an array of Montana-made items.
Vendor Market board president Sherly Neal interacted with locals and vendors, welcoming all as she shared information regarding the event.
"We are a group of local vendors in Libby, striving to share our wares and engaging programs with the community. So everyone can have a place to sell and learn," the market board touted on promotional pamphlets.
Many locals had an opportunity to share their artistic side and talents and programs/classes provided to the community.
A food truck stationed on the corner of a grassy area filled the air of scented aromas.
Bradely Dunn-meir from BLD Farms occupied a space showing off a few of his naturally grown produce. He had a selection of potted flowers and chopped pieces of vegetables to try.
All his vegetables are grown from seed, using natural insecticides and fertilizers. He and his wife weed by hand and let nature do the rest.
The Smiths' booth demonstrated a wide array of earrings, handmade jewelry, wind chimes and other crafted items made by their daughter, Shelby Smith, and her mother. Her parents pick up the jewelry, which Shelby makes in her dorm room during her free time when she's not busy studying or in class.
Her parents sell and use all proceeds toward Shelby's college fund. The Smiths are proud of their daughter's work and and educational goals, which is visible through their ongoing support.
Create DIY Studio had an eccentric number of art pieces painted and created by Robin Tarbet and Carla Darrar. The enthusiasm was shared between the two about their work and classes offered as they both wore smiles across their faces. They offer art classes at their studio located at 417 Mineral Avenue.
Painted scenery with oils on canvas hung for purchasing, while next door baked goods were being sold. Peanut butter, chocolate cupcakes, banana bread and cookies were wrapped up individually in wax paper and thread, displayed professionally behind a baker's protected shield.
Vendors from young to mature sold their homemade items. Parents shared and displayed some of their children's work while they attended school.
Robin Tarbert, board co-vice president, stated that they will continue to grow and provide more for their community.
The market is on Wednesdays from 11 a.m. - 6 p.m. through Sept. 28.
For Vendor info and donation opportunities, contact: 406lvm@gmail.com/ Facebook: Libby Vendors Market.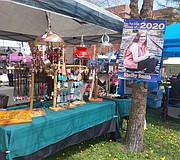 ---