Libby boutique initiates supply drive for Navy ship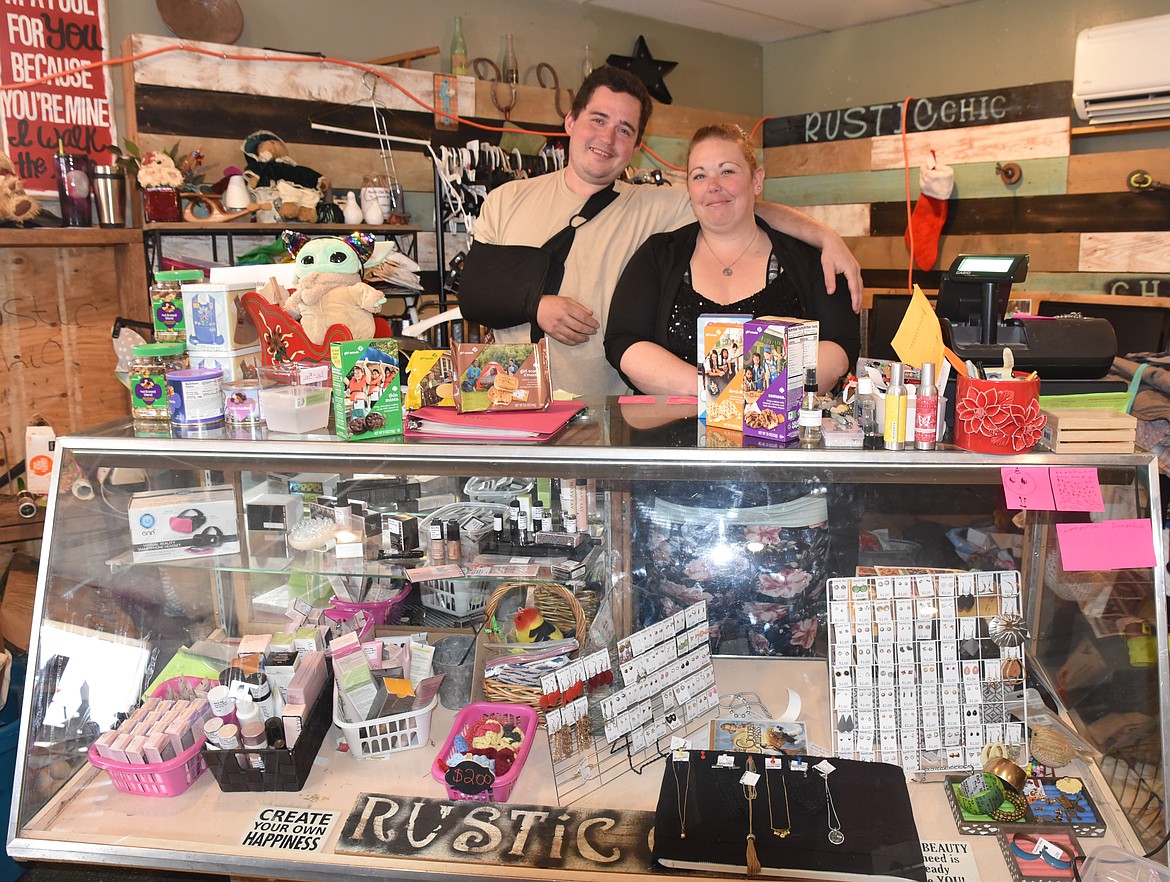 June and Erick Miller at Rustic Chic in Libby. (Cynthia Ines/The Western News)
by
CYNTHIA INES The Western News
|
May 3, 2022 7:00 AM
Rustic Chic isn't your typical consignment boutique.
June and Erick Miller took over the unique, country-style store in July 2017. June noticed a for sale sign out front and they took a chance and have been committed since.
They have endured hurdles, just as any other store in Libby, due to past fires and a slow economy, which brought hardships and a loss of an employee. Nevertheless, the two have pushed on.
What makes this boutique so different is that June and Erik manage the store together as a husband and wife duo, married for over eight years. Erik finds and orders merchandise, while June places her focus on serving the entire community in Libby.
June makes sure to have her shop stocked with children's, women's and men's clothing and tries to cater to all sizes, which wasn't the case with the previous owner, who focused on women's petite clothing.
Not only do June and Erik run this consignment within their busy schedules, but they also manage a family and volunteer time to their local Girl Scout program which caters to 14 troops at the moment.
June was born and raised in Libby and was a Girl Scout herself. June and Erik find ways to give back to the community by linking together with non-profits around town. They donate and also work through a system of vouchers and other mechanisms to provide clothes to programs like, Head Start Pre-School, Pregnancy Care Center, Pitiful Players, Coats for Kids and more.
Just recently, after the Scout sales, June and Erik's daughters accumulated leftover Scout cookies. Erik discussed with his wife as to what he'd like to do with those leftovers and what came to mind was to donate to the USS John S. McCain Naval Ship, in which Erik served on for four years.
June announced the idea to the Girl Scouts leader, who in return thought it to be a great idea and decided that the troops had choices to donate their cookies to the naval ship or to any other organization of their choice.
June and Erik have collected a total of 51 boxes of cookies and will also be including cards designed and decorated by each of the Girl Scout troops, thanking the men for their service. Cookies will be boxed up in May and sent out along with toiletries, another idea brought on by Erik himself.
He recalls during his time serving, how quickly the naval troops ran out of soap, tooth paste, deodorant and more. He wanted to give back to those serving and dedicating their lives.
People can donate toiletries or smaller items at a tote bin inside of the store. For more info email
Rusticchic.me@outlook.com/Facebook RusticChicLibby


---