Wilkes earns deferred sentence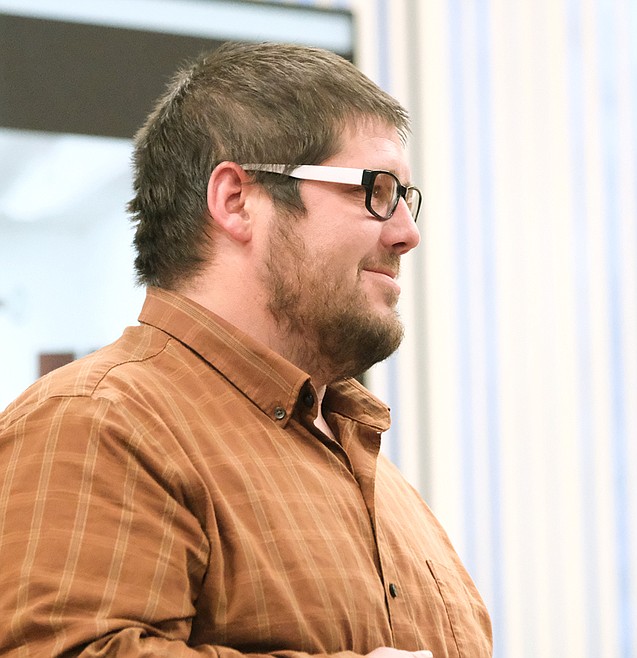 Tyler Wilkes at his February sentencing in Lincoln County District Court. (Paul Sievers/The Western News)
A local man accused of aiding a pair of out-of-town drug dealers last summer and allegedly caught with methamphetamine while on pretrial supervision in December has earned a four-year deferred sentence.
Tyler Wilkes, 33, initially pleaded not guilty to one count each of felony criminal possession of dangerous drugs and misdemeanor criminal possession of drug paraphernalia in Lincoln County District Court. Those charges stemmed from a drug ring detectives with the Lincoln County Sheriff's Office busted in August.
On Dec. 5, police officers in Libby arrested Wilkes again, this time after he allegedly dropped a bag of methamphetamine in a local hotel lobby. That earned Wilkes two felony counts of possession of dangerous drugs and a misdemeanor count of criminal possession of drug paraphernalia.
He pleaded not guilty to those charges on Dec. 27.
In January, Wilkes struck a deal with prosecutors that saw him plead guilty to a singe count of criminal possession of dangerous drugs. In exchange, authorities dropped the remaining charges in both cases. They also agreed to recommend a four year deferred imposition of sentence and a $500 fine for the county's drug forfeiture fund.
District Judge Matthew Cuffe handed down the deferred sentence on Feb. 28. He noted Wilkes' criminal history, but pointed out that the 33-year-old cooperated with authorities and took responsibility for his actions.
"He is getting help for his addiction issues," Cuffe said. "Supervision allows for him to be successful."
He described the sentence as appropriate and abiding by state law.
---