Zoning commission weighs in on retail cannabis rules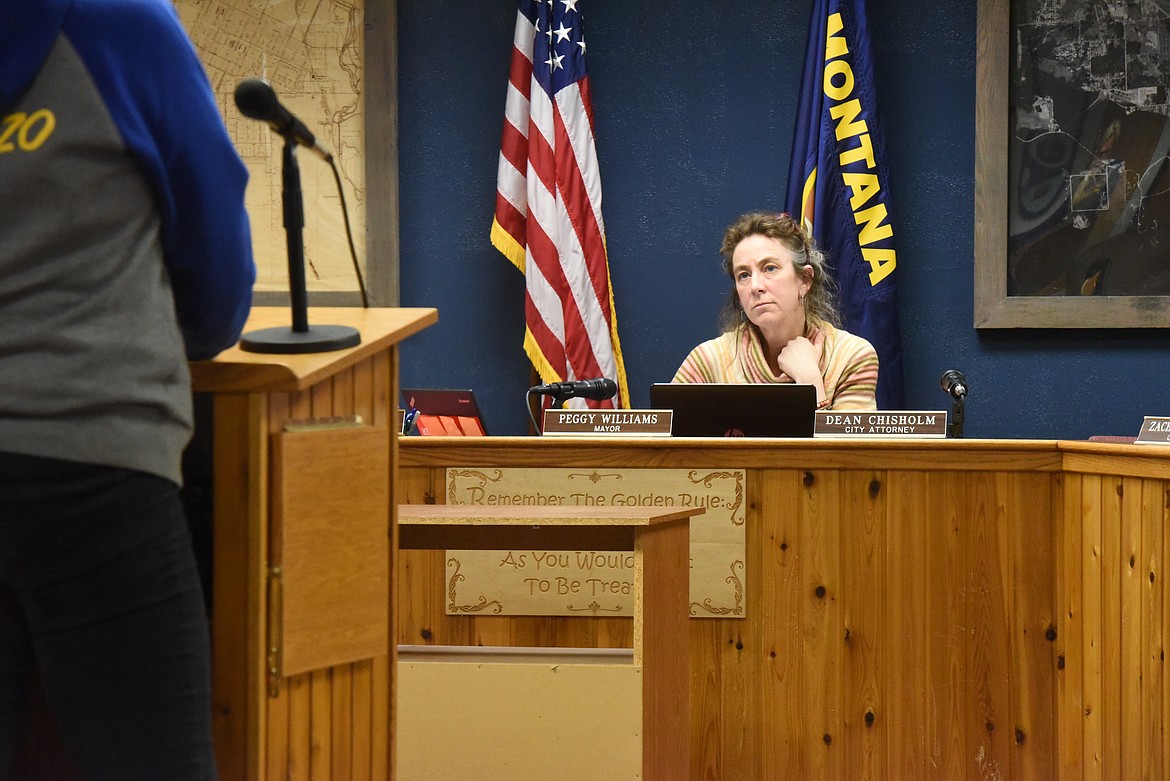 City Councilor Kristin Smith, who leads Libby's zoning commission, listens to remarks by resident Alexis Kuehn on the municipality's draft retail cannabis rules on Feb. 28. (Derrick Perkins/The Western News)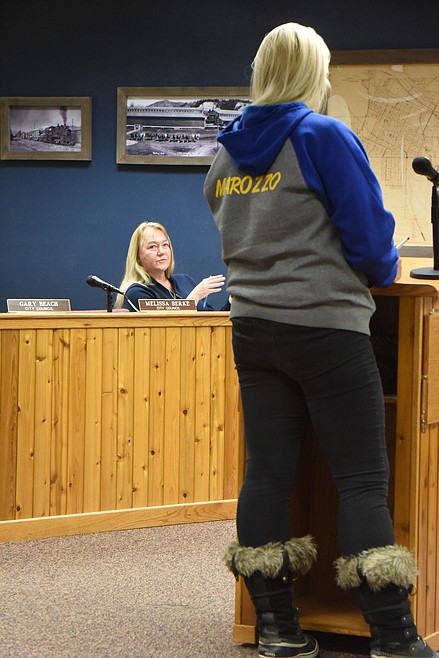 Jennifer Nelson of the Libby Zoning Commission discusses the municipality's draft retail cannabis rules as they pertain to the two commercial districts on Feb. 28. (Derrick Perkins/The Western News)
Previous
Next
by
DERRICK PERKINS
Daily Inter Lake
|
March 4, 2022 7:00 AM
The Libby Zoning Commission took its first crack at the municipality's draft recreational cannabis rules on Feb. 28.
Drawn up by the city's ordinance committee in late fall and early winter, the package sets out the guidelines for future retail cannabis outlets in Libby. Voters in Lincoln County — and Libby — backed a ballot initiative in 2020 legalizing the possession, cultivation and sale of marijuana locally.
State rules adopted since legalization limit sales of recreational cannabis to established medical marijuana dispensaries until July 2023. That gives municipalities like Libby, which had previously barred dispensaries from city limits, a bit of breathing room to come up with rules for the burgeoning industry.
Although city councilors took a look at a proposed retail recreational marijuana ordinance in early February, the package of changes went before the zoning commission for review because it involves tweaks to Libby's two commercial districts.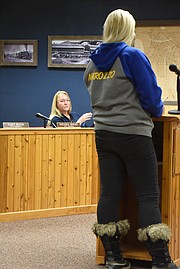 City Councilor Kristin Smith, who helped draft the ordinance and sits on the zoning commission, said making way for retail recreational marijuana required multiple changes to various sections of the municipality's codes. She held up needed edits to the language around business licenses as one example. The city previously was barred from granting a license to any business that dealt in goods considered illegal under federal law.
"The [city] attorney gave us some language to allow for that," Smith said on Monday. "And then the next two sections specifically deal with the two commercial districts, allowing the dispensaries as a conditional use."
Members of the ordinance committee identified Libby's commercial highway district, which runs along U.S. Highway 2, and downtown business district, encompassing California and Mineral avenues, as areas for retail marijuana outlets. Within those zones, though, stores must remain 500 feet from schools and churches — as outlined in state law — as well as public parks.
Proposed changes specific to the city's zoning for those two districts include bans on opaque windows, visible security measures like bars or screens and a limit on window signs for marijuana shops. The language before the zoning commission also requires future outlets to adopt building facades that blend in with neighboring buildings. Because retailers would need a conditional use permit to move ahead with a store, all future entrepreneurs must make an appearance before Libby City Council prior to opening.
"So it really boils down to percent coverage of signs, not having any security bars or screens or grates or obscuring windows," said Jennifer Nelson, a member of the zoning commission. "They basically have to meet the same design appearances of other stores."
Even so, commission members soon began debating other aspects of the city's proposed retail marijuana rules. Member Christian Montgomery worried that marijuana shops might incorporate other business ventures, such as cafes, or expand into selling other retail goods.

"If you're going into a paraphernalia shop, you are going for that purpose. I don't think they should be allowed to sell coffees or to do other things," he said.
He said his concern stemmed from the availability of tobacco products and gaming machines at a wide range of retail outlets.
"It's like how they used to stick slot machines, casino machines, in everything when I was a child," he said. "Slot machines in gas stations."
Whether to think of retail marijuana shops as akin to liquor stores or bars emerged as a major question. Liquor stores, Smith pointed out, could sell wine glasses and other goods. And as resident Alexis Kuehn pointed out during the public comment portion, bars let people consume their goods on premises and sell items other than drinks.
"Do bars sell coffee? And pop and soda and T-shirts?" she asked.
"They do. … I don't know the answer to that," Smith said, conceding the point and promising to look into whether state law restricted the sale of products not directly related to marijuana consumption.
"There are slot machines and lots of other items people can take in while sitting and enjoying a cocktail like an adult," Kuehn said. "So what's the difference?"
That brought up the question as to whether retail shops could allow on site cannabis consumption. Smith added it to the list of aspects of retail marijuana she planned to research.
She said she hoped to have answers for the zoning commission in time for the group's next meeting. Smith said she anticipated the commission sending it back to city council at that point.
Prior to ending the meeting, she encouraged the two residents in attendance to continue participating at future meetings.
"The zoning commission is going to make a recommendation back to city council. They can still vote it down. They can add to it or take away from it," Smith said. "There are lots of opportunities for input."
---