County's Crisis Intervention Team hopes to make a difference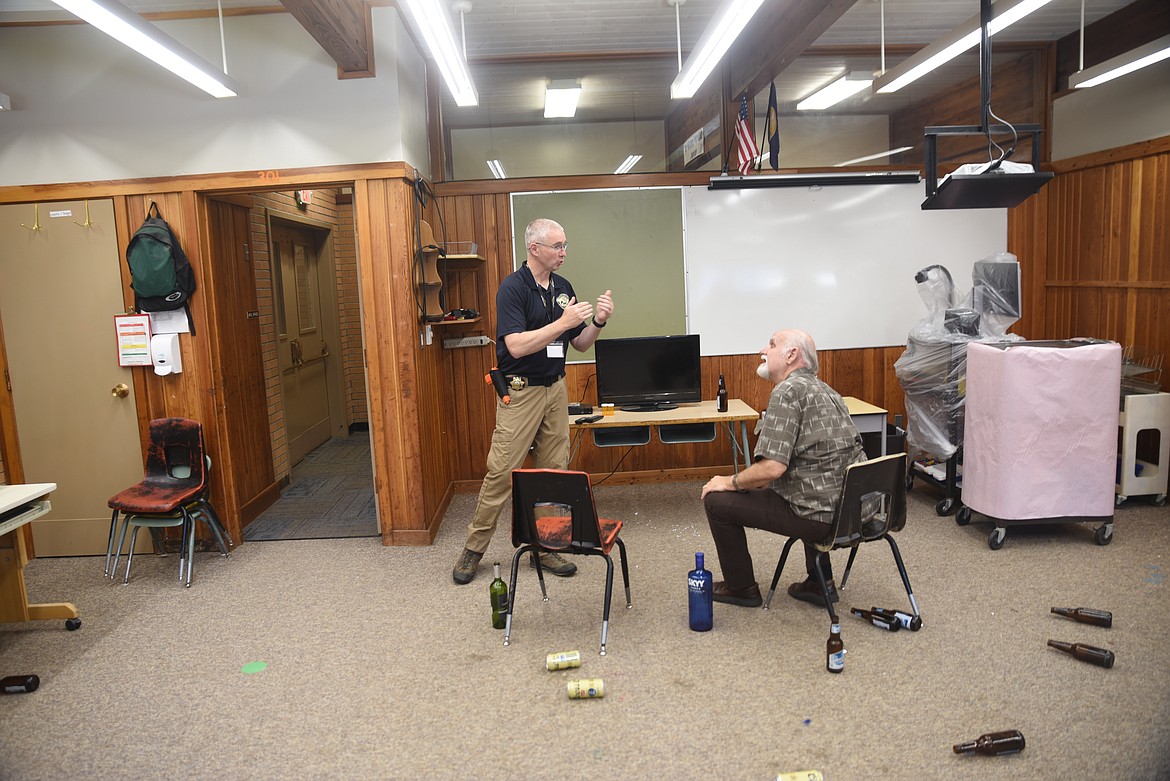 Lincoln County Sheriff's Office Patrol Captain Boyd White and H. Walsh participate in a Crisis Intervention Training Academy scenario Friday morning at Libby Elementary School. The event was part of a week-long training for county first responders. Walsh, a frequent performer with the Kootenai Karacters, said he was recruited for the event because of his thespian skills. (Scott Shindledecker/The Western News)
by
SCOTT SHINDLEDECKER
The Western News
|
June 24, 2022 7:00 AM
The scene was one of chaos as a man sat in a chair surrounded by empty beer bottles and cans while his "wife" was in the bathroom yelling profanities and holding a knife.
She was upset because her "husband" invited his friend over and they drank while having the volume turned up on the TV. He was upset because all he wanted to do was watch the game.
It was just one scenario of many that were part of Lincoln County's Crisis Intervention Team's first academy last week at the Libby Elementary School.
The academy included first responders from various agencies in the county who respond to many situations across a broad spectrum of events.
County probation officer Vanessa Williamson, on the job since 2018, led the effort to build a crisis intervention team after attending a training event in 2021. The goal is to train first responders to improve their responses to mental and substance abuse crises.
To become part of a team, responders must complete a 40-hour course that addresses a series of different scenarios. Suicide intervention, substance abuse and developmental disabilities are among the topics covered by the training, according to the Montana Department of Justice.
"I'm really pleased with how it went," Williamson said. "It was great having officers come from Kalispell and Helena to help in the training and I'm happy Libby has embraced it. "I'm also grateful for the presence we had from mental health providers and the officers welcomed them. And we really appreciate the school allowing us to train there and they said they'd send people to it next year."
The made-up scenario that was part of the training on Friday involved a "man", H. Walsh, who is active in the local Kootenai Karacters, a community theater troop in Libby. His "wife" was Sanders County Sheriff's Office Detective April Phillips. In the middle of it all was Lincoln County Sheriff's Office Patrol Captain Boyd White.
White's goal was to reduce the yelling and screaming by both participants to a conversational tone.
Once the "situation" has been de-escalated, the participants talked about how to not turn a situation into one that could become violent, how to protect themselves and setting boundaries.
As a probation officer, Williamson knew many inmates in the county detention center suffered from substance abuse and mental illnesses. From working with other law enforcement officers, she also knew first responders had limited resources when it came to helping people going through a mental health crisis.
Williamson applied for and received a grant from the Montana Department of Public Health and Human Services last year that helped get the team off the ground.
The $116,850 award helped purchase equipment and pay the responders' wages for a year.
"We have six mental health professionals on call," Williamson said. "From Monday through Friday, they rotate being on call for 12 hours. On weekends, they are on call 24 hours. They are very dedicated to this."
Williamson said one of the major goals of the program is "so that people are not afraid to call because a friend or loved one may go to jail."
"Many of these situations require a response and law enforcement will be there for safety reasons, but having mental health professionals is preferable," Williamson said. "Sometimes a police presence, no matter what is happening, can escalate a situation. Mental health workers can calm a situation before it gets out of hand."
Lincoln County Justice Court Judge Jay Sheffield said he sat in on a number of the courses during the training and thought they were very valuable.
"When Vanessa came to me with the idea, I really liked it," Sheffield said. "I thought it was high quality training and I believe those skills are absolutely critical for first responders in some of the situations they encounter."
Sheffield also pointed to the money the county or other agencies didn't have to spend by sending people to Bozeman, Billings, Kalispell or the state Law Enforcement Academy in Helena.
"That saved a lot of money and it gave the law officers who participated their minimum training for the year," Sheffield said. "One of the keys was that Sheriff Darren Short and Troy Police Chief Katie Davis have bought into it. When it comes from the top, that means something."
Sheffield also said having people from the Northwest Community Health Center and the county Public Health Department was very important.
"Having people who work in these different fields meeting each other has great benefits because they get to know each other," Sheffield said.
Libby Police Chief Scott Kessel supports the program and hopes it will continue locally.
"We weren't able to have any officers participate in the most recent session because we have one officer on military leave and one officer at the (Montana Law Enforcement) Academy, so we're pretty short-handed," Kessel said. "But the training is invaluable for anyone who interacts with people having a mental health crisis."
Kessel said two Libby officers have had the week-long training and that every officer will have it at some point.
"All of our officers have had some type of training in the mental health field, but not as intensive as the CIT," Kessel said.
Kessel said having mental health professionals responding to such calls is critical.
"Mental health is not a criminal issue and while we'll always respond for safety, it's best to have professionals there," Kessel said.
---