FWP seeks comment on environmental assessment for habitat conservation leases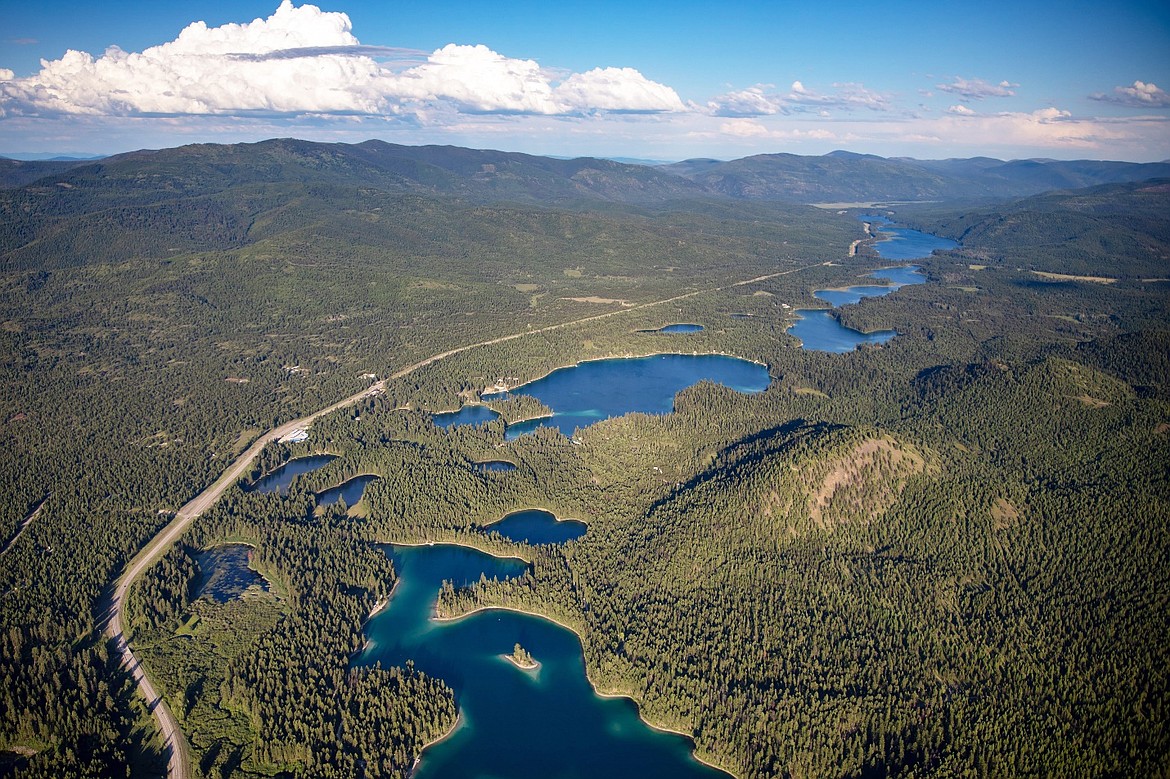 An aerial photo of timberland within the potential Montana Great Outdoors Conservation Project. (Photo courtesy of Chris Boyer, kestrelaerial.com.)
by
SCOTT SHINDLEDECKER
The Western News
|
June 21, 2022 7:00 AM
Montana Fish, Wildlife & Parks is looking to implement a new tool for private land habitat conservation to protect certain priority habitats that will benefit sensitive species, including sage grouse and grassland birds as well as many game species.
The Habitat Conservation Lease program potentially could protect up to 500,000 acres in the next five years.
"This will be a very effective conservation tool in our toolbox for protecting critical habitat in crucial sage brush and prairie grassland areas of Montana," said FWP Director Hank Worsech. "It will be yet another way FWP can work with landowner to protect habitat."
A habitat conservation lease is a voluntary, incentive-based agreement between FWP and private landowners in which the landowner commits to specific land management practices that protect priority wildlife habitat. In turn, FWP pays landowners a one-time per-acre fee for the lease. These agreements would have a term length of 30 and 40 years.
The initial focus of the conservation lease program would be sagebrush-grassland habitats, with a priority on sage-grouse core area habitat. That focus would be expanded to other priority habitats in subsequent years.
In areas critical to sage grouse, these leases could ensure habitat protections that keep populations healthy and allow the bird to remain off the endangers species list.
"Beyond protecting important habitat, this program will also help keep family farms and ranches on the landscape, which will ensure our vital open spaces stay that way," Worsech said.
As it has for decades, FWP is still pursuing conservation easements and land purchases where support from landowners, local officials, and the community exists. Examples of conservation easements and land purchases currently in process are the Big Snowy Wildlife Management Area, Sweathouse Creek Conservation Easement, and several timberland conservation easements in northwest Montana.
One of the leases is within Lincoln, Flathead and Sanders counties. The leases would preclude development, including private Green Diamond land north and south of U.S. 2, as well as private SPP Montana land south of the route.
The proposed easement would border Thompson Chain of Lakes State Park, the 142,000-acre Thompson-Fisher Conservation Easement and U.S. Fish and Wildlife's 100,000 acre Lost Trail Conservation Area, as well as Kootenai National Forest and state Department of Natural Resources and Conservation lands, according to FWP.
It has been dubbed the "Montana Great Outdoors Conservation Project."
FWP would hold the proposed easement, while SPP Montana and Green Diamond maintain private land ownership, said FWP Regional Communication and Education Program Manager Dillon Tabish.
"Conservation easements are not us buying the land," Tabish said. "This would still be in private ownership. They would still pay property taxes. They'll still be able to do forestry work."
"It basically allows them to keep owning the land and keep doing what they're doing on it," he added. "But it precludes development, so it can't be subdivided or anything like that."
Habitat conservation leases would maintain native habitat by protecting them from specific management that would alter their integrity, including tillage, herbicide applications, prescribed fire, energy development, and wetland filling or draining.
Public access would also be part of the lease. Specifics details of public access would be outlined in the agreement between FWP and the landowner.

Funding for the conservation lease program would be earmarked Habitat Montana funds, Pittman-Robertson funds and other sources dedicated to specific habitat types (e.g., wetlands). The Habitat Montana funds would be matched by federal funds at a 25/75 ratio, meaning every dollar of Habitat Montana money would be matched by $3 of federal money.
FWP has prepared a programmatic environment assessment on habitat conservation leases. The EA can be viewed on the FWP website and is open for public comment. On the EA, the department is looking for comment on impacts of the program to the environment.
While the EA is out for public comment, FWP will also release a proposal asking the Fish and Wildlife Commission to approve the program for five years. This proposal will also be open for public comment. For the commission proposal, FWP is looking for comment on the program as a whole and whether the commission should approve the department moving forward at a programmatic level, or review and approve each lease individually.
FWP will host an informational meeting via Zoom on Thursday, June 23. Information on how to join the Zoom call will be posted on the FWP website closer to the date of the meeting.
---