County commissioners say better technology, savings reasons for dispatch center consolidation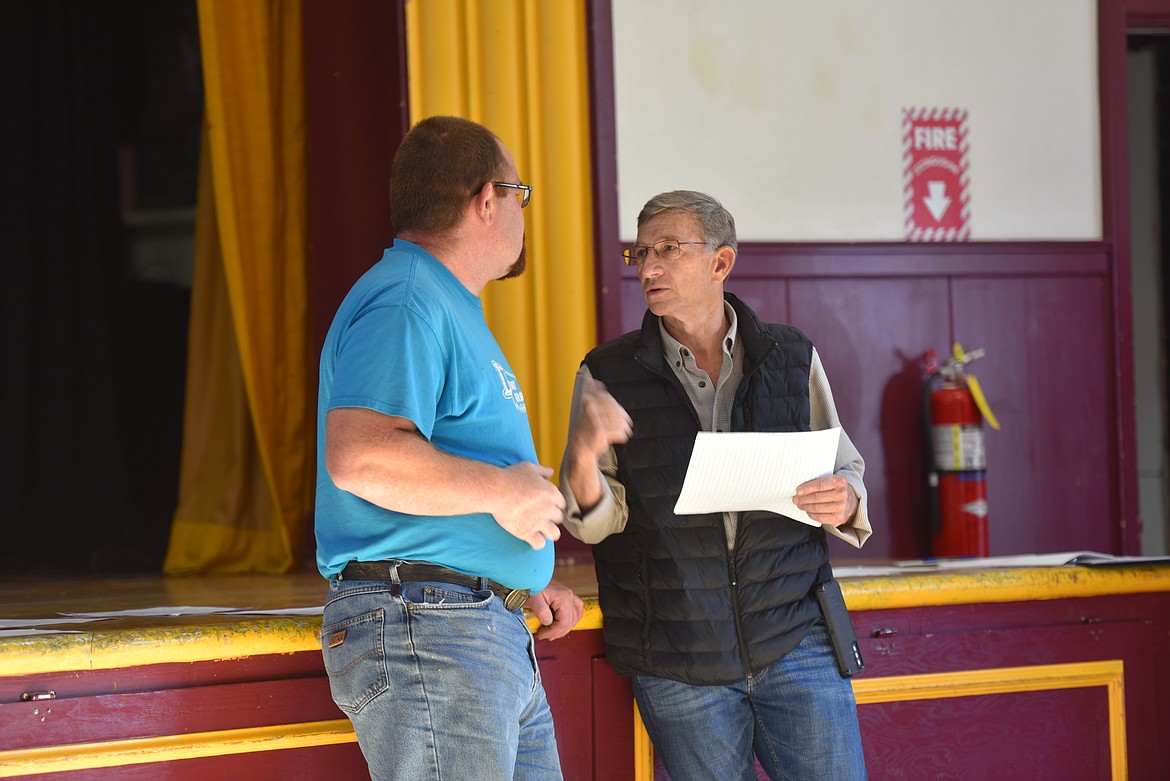 Bull Lake Volunteer Fire Department member Luke Miller speaks with Lincoln County Commissioner Jerry Bennett at a meeting about the future of the Troy Dispatch Center on June 15 at Troy High School. (Scott Shindledecker/The Western News)
by
SCOTT SHINDLEDECKER
The Western News
|
June 21, 2022 7:00 AM
The ongoing conversation to consolidate emergency dispatch services in Lincoln County continued last week with three public meetings.
Troy, Libby and Eureka each hosted what the county commissioners termed "conversations."
The issue been a major topic in the county for many years, but the commissioners said changes in technology and increasing costs are reasons why consolidation is needed.
"I know there are passions in this room on both sides of the issue and there are long histories with dispatch in all three towns and they are to be commended for all of the work they've done over the years," said Commissioner Jerry Bennett (D-2).
Bennett said there are only three counties left in Montana that haven't consolidated dispatch operations and he said Lincoln County was the only one to have three.
"It costs nearly $900,000 to operate and the model of having small independent centers presents many challenges and won't keep pace with evolving community needs and revenue," Bennett said.
Saving money is a point of emphasis for the commissioners.
"Public safety in the county, any county is the largest part of a budget and right now, ours is nearly $7 million," Bennett said. "The cost savings has to come from somewhere."
The commissioners want to save money because of the desire to build a new county detention center, which could result in more costs to county taxpayers. Bennett said estimates for a new detention center are about $20 million.
"Taxpayers in Troy are spending $220,000 for the dispatch center and that's money they don't need to be spending," Bennett said. "That district was put into place because there was nothing else available at the time."
A loss of jobs and the money that supports the Troy economy was also mentioned.
"At least $150,000 will be lost from this community if Troy doesn't have a dispatch center here," resident Mike Dowdy said. "That money gets spread around to many businesses and the loss of a job here is a big thing."
Bennett said dispatchers from Troy would have the opportunity to work in the new center.
Troy resident Bonnie Larson acknowledged that "things change. I'm sure it'll be one center someday, but I don't support it now. I'd hold onto autonomy for as long as possible.
"I also think it would be important to have people from all communities work there,"
Steve Allen, a Troy Dispatch board member, asked Bennett about the time frame for a new dispatch center and where it would be located.
"We first need to complete assessments which will determine what it will cost," Bennett said. "Hopefully we get that done by the end of summer, but until it's done, we can't make any decisions. This is one of the reasons we are having meetings, to share this information with everyone."
Bennett said the new center could be located in Libby, but that decision hasn't been made, yet. In terms of when it will be done, Bennett said in November 2021 that the commissioners expect consolidation to happen within three to five years.
Bull Lake resident Kimberly Mole, who has been an outspoken advocate of a one dispatch center in the county, spoke at Wednesday's meeting.
Mole has sought reform of the Troy Area Dispatch after making a 911 call during an attempted break-in on her property. To her surprise, she learned that personnel in Troy had to first transfer her to a different dispatch center to handle law enforcement calls outside of city limits.
While safety and response time were her primary concern, she also argued that as a county resident near Troy, she paid taxes toward multiple dispatch centers.
"Why are Troy District county residents paying for two dispatches, especially when one isn't benefitting us," she asked commissioners.
The transmission of calls was also talked about and whether new technology would work to relay calls from the Troy area to Libby.
Gene Rogers, a member of the Troy Dispatch Board, said he didn't trust that new technology would work.
"Fiber optics weren't available then, but with it, it's much better technology now," Lincoln County Sheriff Darren Short said.
Commissioner Brent Teske said fiber optics are being used in places a lot more remote than exist in the valley.
"It has to be consistent, it has to work," Teske said. "The last thing we want is a failure."
Troy resident Bob Rice echoed Rogers' concerns about calls being dispatched through the canyon.
"We'll do our due diligence to make sure it works," Bennett said.
---