Big Bucks tournament begins Thursday at the Lumberyard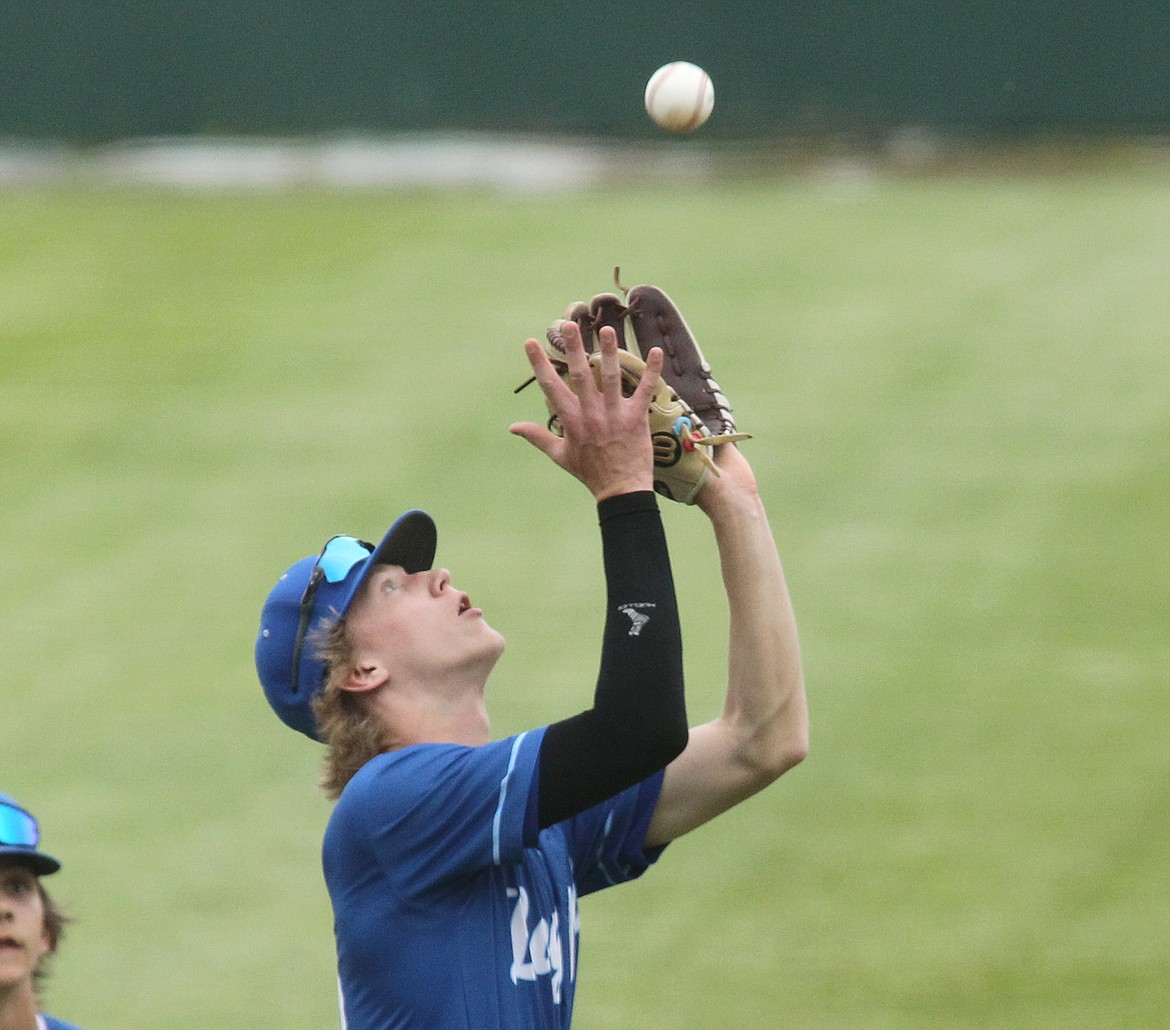 Third baseman Cy Williams snags an infield pop-up off the bat of Lakers' Carter Schlegel for the first out in the top of second inning vs. Kalispell A Friday evening. Loggers fall 8-4 in the first of a doubleheader. (Paul Sievers/The Western News)
by
SCOTT SHINDLEDECKER
The Western News
|
June 21, 2022 7:00 AM
The Libby Loggers Big Bucks baseball tournament begins Thursday at the Lumberyard with three games.
The four-day event, which will bring teams from Montana, Idaho, British Columbia, Alberta and California, begins at 3 p.m. with the North Idaho Lakers taking on the Mission Valley Mariners.
The second game will feature the host Loggers battling the Claremont Cardinals at 5:30 p.m. The day wraps up at 8 p.m. with the Bitterroot Bucs facing the Spokane Generals.
Friday, the first of four games begins at noon with the Northern Lakes Mountaineers playing Bitterroot. At 2:30 p.m., Northern Lakes is scheduled to play Mission Valley.
At 5 p.m. Friday, Claremont will play North Idaho while the Loggers face Spokane at 7:30 p.m. to conclude the day's games.
Saturday, action begins at 8:30 a.m. with Mission Valley playing Claremont. North Idaho tackles Bitterroot at 11:15 a.m. and Spokane faces the Bonners Ferry Badgers at 1:30 p.m.
The Loggers take on Northern Lakes at 3:45 p.m. to wrap up pool play.
The first semifinal game on Saturday is scheduled for 6 p.m. with the No. 1 seed facing the No. 4. The second semifinal is set for 8:30 p.m. with No. 2 facing No. 3.
On the final day, Sunday, the No. 5 team will play No. 6 at 8 a.m. while No. 7 plays Bonners Ferry at 10:30 a.m.
The third-place game is set for 1 p.m. and the championship is at 3:30 p.m.
There are certain rules that fans will want to take note of, including each game has a two-hour time limit. The 10-run rule is in effect after five innings and 8-runs after six innings.
There will be no tie games and extra innings will be played with Major League Baseball rules. Also, courtesy runners will be allowed for the pitcher and catcher at any time, but it is not required.
American Legion baseball rules, as well as pitch count rules, will apply. Teams are responsible for their own pitch count tracking and violating the pitch count rules will result in a forfeit.
Player re-entry is allowed, according to American Legion rules. The home team will occupy the first base dugout.
Seeds are determined by overall record, head-to-head and runs allowed.
For more information, go to libbyloggers.com.
---