Hand count of ballots nears conclusion in Lincoln County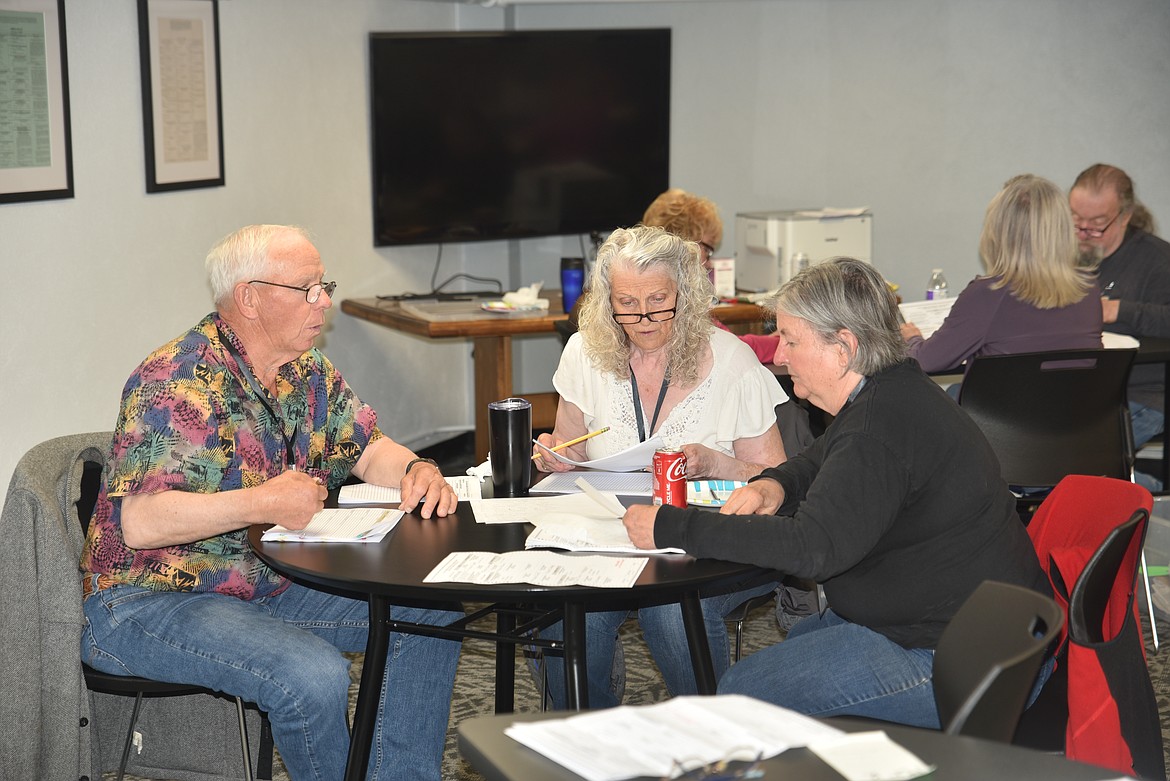 Lincoln County election judges, clockwise, Gene Decker, Lorraine Decker and Patty Kincheloe, tabulate absentee ballots Wednesday afternoon in the Lincoln County Annex Building in Libby. (Scott Shindledecker/Hagadone News Network)
by
SCOTT SHINDLEDECKER
The Western News
|
June 10, 2022 7:00 AM
With the rest of Montana waiting and watching, Lincoln County election judges were on the brink of wrapping up the tedious task of counting ballots Thursday afternoon at the Courthouse Annex building.
Ballot printing errors delayed election results for Montana's new congressional seat, forcing the county to count votes by hand in the unexpectedly close Republican primary race between former Interior Secretary Ryan Zinke and former state Sen. Al "Doc" Olszewski.
As of 1:45 p.m. Thursday, Zinke led Olszewski by 1,180 votes, or 1.5 percentage points, out of 80,196 votes counted. Lincoln County had an estimated 6,000 ballots to hand count, but there weren't many left to tabulate after lunch.
County Elections Administrator Paula Buff said she believed the count would be done by late afternoon on Thursday.
"But we still need to tabulate the results," Buff said.
The hand count began Tuesday night after polls closed at 8 p.m. Buff said the last judge left at 11:30 p.m. and they resumed counting at 7 a.m. Wednesday.
"There were significantly more absentee ballots than those cast at the polls," Buff said.
As of 8:30 a.m. Thursday, counts of absentee ballots continued in Precincts 9 and 11. Counts of ballots at the polls had been completed in Precincts 1, 2, 4, 5, 6, 10, 13 and 14.
Zinke, a former Navy SEAL, was considered the favorite in the race and had been endorsed by former President Donald Trump.
"The race appears to answer the question of whether President Trump is a 'kingmaker,' as Zinke has previously said," said Christina Barsky, a University of Montana professor who teaches classes in election administration, government and public budgeting.
The trouble in Lincoln County stemmed from a vendor printing the ballots on the wrong-sized paper, meaning they could not be run through a machine tabulator, the secretary of state's office said Wednesday. By law, ballots have to either all be counted by machine or all counted by hand, spokesperson Richie Melby said.
But Buff credited the judges for their work of counting several thousand ballots.
"Our election judges are retired and they have a lot of stamina, maybe more than me," Buff said. "We have judges from all over the county, including Eureka. Some of them are staying here until it's done."
While hoping the count is done Thursday evening or Friday, Buff said time is not a factor.
"We'd rather take it slow and steady and get it right, no matter how long it takes," Buff said. "I don't know what we would have done without the folks who came in to become judges. We owe them a great deal."
Zinke campaign spokesperson Heather Swift said the campaign is extremely confident it will win.
"The people of Lincoln County are showing their support for Ryan Zinke,"Swift said Thursday afternoon. "We'd like to thank all of the volunteers who worked day and night to get this done with integrity."
Thursday, Drew Zinecker, spokesperson for Olszewski's campaign, said they were "cautiously optimistic we will emerge from the (Lincoln County) count victorious."
"Our sources on the ground in Lincoln County are giving us reason to be optimistic," Zinecker said. "But right now, it's too close to call and we'll see how things turn out tonight."
Zinke's tenure in the Trump administration was marked by federal investigations into his travel, political activity and potential conflicts of interest. One investigation determined Zinke lied to an agency ethics official about his continued involvement in a commercial real estate deal in his hometown.
Zinke resigned in early 2019, writing that "vicious and politically motivated attacks" against him had "created an unfortunate distraction" in fulfilling the Interior Department's mission.
Montana gained its second congressional seat through redistricting after the 2020 census. Zinke had represented Montana in the state's other congressional district before leaving to join the Trump administration.
The winner of the race between Zinke and Olszewski will face Democrat Monica Tranel, an attorney, in November. Travel collected 65% of the vote in besting Cora Neumann in the primary
The Associated Press contributed to this report.
---