Area Kiwanis Club has a new name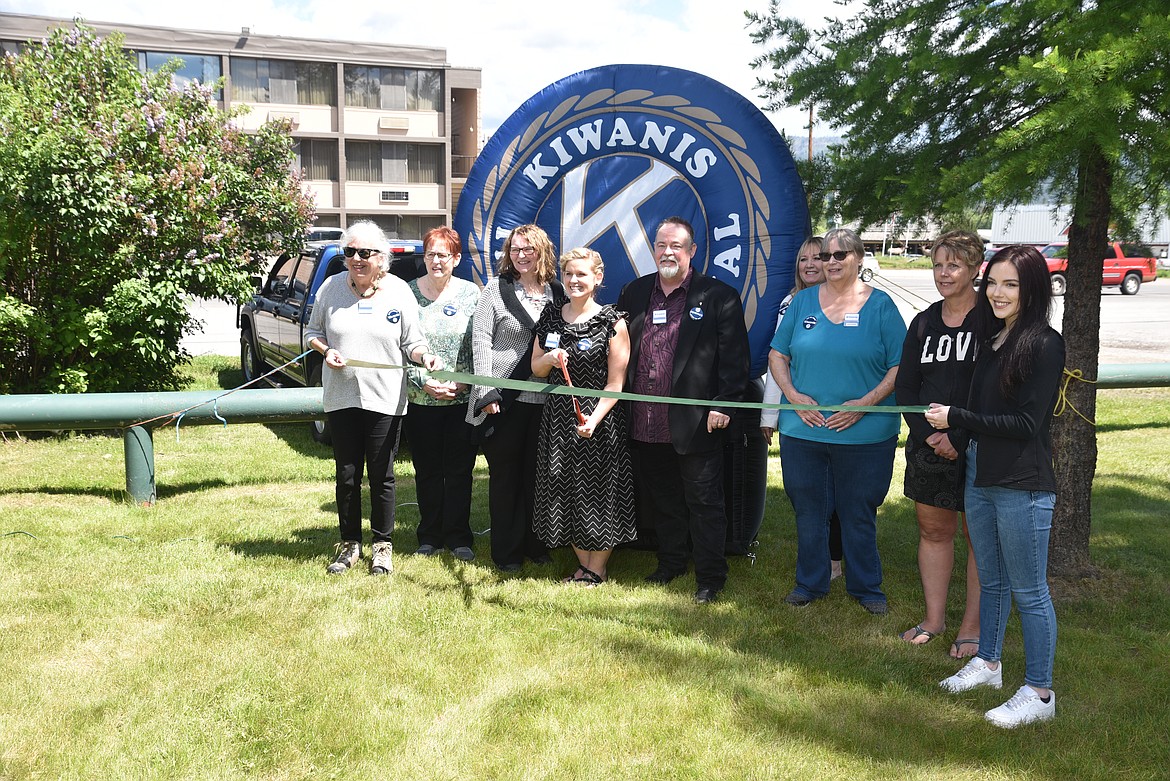 Kiwanis Club of Libby and Troy members surround President Stephanie Shaw as she cuts a ribbon during a ceremony Tuesday afternoon at Fireman Memorial Park. (Scott Shindledecker/The Western News)
by
SCOTT SHINDLEDECKER
The Western News
|
June 10, 2022 7:00 AM
The Kiwanis Club serving southern Lincoln County has a new name.
Tuesday at Fireman Memorial Park in Libby, the group unveiled its new moniker - Kiwanis Club of Libby and Troy. It was previously known as Kootenai Kiwanis Club, but the decision was made to change the name to increase exposure.
"We have many new members, some new ideas, more collaboration and we wanted everyone to know its Kiwanis Libby and Troy," board member and volunteer Garrey Allen said.
The Kiwanis Club is very active in various activities serving children in Libby and Troy, including its "Koats for Kids" program in October and the student stand-down in August.
The club also hosted a bicycle rodeo earlier this year and gave away 150 helmets to children. They also taught safety and how to properly fit a helmet for each child.
The Club has two upcoming projects for area children. The first events are the seventh annual stand-downs in Libby and Troy where students can get free school supplies and services.
The Libby event will be held from noon-4 p.m. Friday, Aug. 12, at the Libby Elementary School gym.
The Troy event will be held from 2-4 p.m. Monday, Aug. 29, at the W.F. Morrison Elementary School gym.
The Libby Troy Kiwanis chapter will also host its second "Koats for Kids" program from noon-4 p.m. Saturday, Oct. 1 at the McGrade gym at 933 Farm to Market Road, Libby.
"It's all about the kids, so let's see what we can do for these kids," Kiwanis member Trina Kerzman said.
The Kiwanis is also selling raffle tickets for a Browning A-bolt rifle in .300 Magnum with a 3x9 Leupold scope. Tickets are available from Kiwanis club members or they can be messaged on the organization's Facebook page at https://www.facebook.com/LibbyTroyKiwanis/.
"The money we make from the raffle will help fund our programs and also help pay for Kiwanis membership dues for those who want to join for free," Allen said.
The group is also planning on beginning its Key Club in August. It is for high-school age students and provides volunteer opportunities in the community.
---