Alyssa Rae Lehnert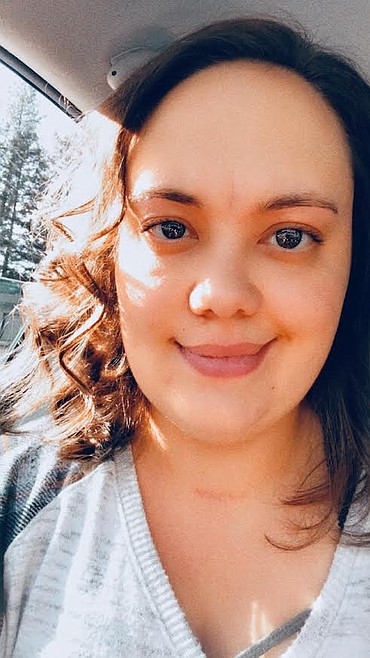 To all that knew her, Alyssa Rae Lehnert was an Angel on Earth.
Sent here from the Heavens on Sept. 25, 1988, she was a constant beacon of positivity, hope, and joy to the abundant amount of family and friends that had the absolute blessing of having her in our lives. On May 13, 2022, God decided to take away her pain and suffering brought upon by cancer by bringing her home to rest.
Alyssa was born in Coeur d'Alene, ID, to much fanfare with all involved. A very sweet, kind, and quiet child, Alyssa was diagnosed with Poly-Cystic Liver and Kidney Disease at the tender age of two years old.
While growing up, and through all her life, she had to have numerous surgeries, hospital stays, and medical procedures due to her illness. Despite all of the seemingly insurmountable obstacles that stood in the way of her living, she led a full and happy life throughout everything that ever happened.
She was raised, at different points during her adolescence, by many family members and role models besides her father and mother.
Everybody wanted a chance to watch her grow up, it seemed, and have a hand to play in her upbringing; aunts and uncles, parents and step-parents, grandparents (both paternal and maternal), as well as parents of friends of hers, had had her live with them at some point during her life.
Knowing that she had so many people behind her, pushing her forward into the future, is what gave her the strength throughout childhood and beyond to keep dreaming for the life she knew she wanted.
In 2005, two years before she would graduate from Libby High School, Alyssa met her future husband and lifetime love Brendan Hunter on the now defunct social media platform, Myspace.
It was a constant source of humor to them throughout their entire relationship. Those years were formative for Alyssa in defining what life and love meant to her, as the pair would write each other letters and poetry, and send scraps of clothing back and forth to one another, that they would keep and treasure the rest of their lives.
In 2007, after her high school graduation, Alyssa attended college at the University of Montana in Missoula, Montana. Her biggest dream was always to become a nurse, so that she might give back comfort to those in need, the same way the nurses comforted her while being in and out of hospital beds as a child.
In 2009, Alyssa decided to take a year off of school to work full time at Direct TV. Unfortunately, about a year later, she had some tests done that pointed to her going into renal failure.
In 2011 she moved back home to Libby to start undergoing dialysis at DCI, the local Libby not-for-profit clinic where she would eventually be employed at as a nurse tech.
During this tumultuous period, she began searching for, and locating, her old love Brendan Hunter; whom she hadn't had contact with in several years. They started a long-distance relationship that ended up with him moving back to Libby to be with her, and care for her, in January of 2014.
In fall of 2015, Alyssa received a wondrous miracle by way of the gift of a living donor kidney transplant, from her mothers' personal friend Sandi Stone. After her recovery, she pursued college again at Flathead Valley Community College, graduating in 2020 with an Associate's Degree in Practical Nursing; all the while working at Dialysis Centers, Inc. to help give the utmost care and attention to the patients there that she had once been one of.
In October of 2021, after feeling unwell for several months, Alyssa was once again diagnosed with an unfathomable disease - Intrahepatic Cholangiocarcinoma, cancer of the bile duct system within the liver. With Brendan at her side for every treatment and every appointment thereafter, she fought an uphill battle the entire eight months until her unexpected passing at Sacred Heart Medical Center, in Spokane, WA.
She will be missed beyond any words that could be written or stated, for the rest of the lives of the people who survive her, which includes husband and life-partner Brendan Hunter, Libby, and their dog Khaleesi; biological parents Darin Lehnert, Spirit Lake, ID, and Jodi Maupin, Post Falls, ID; step-parents Amanda Lehnert, Post Falls, ID, Kenny (Winn) Larson, Libby, and Greg Stickney Libby; Grandparents Arnie and Shirley Lehnert, Libby and Mike and Donna Webb, Libby; half-siblings Trevor Larson, Libby and Holly Lehnert, Moscow, ID; aunts and uncles - Ron (Sandy) Maupin, Libby; LeAnn Maupin, Post Falls, ID; Robbie (Dee) Terry, Butte, MT; Stacey (Kirsten) Lehnert, Libby; Keri (Robb) Turner, Mesa, AZ; cousins Christian (Kristi) Lehnert and their children Paxton and Brynlee, Helena, MT; Jeffrey (Sheena) Lehnert and child Blaine, Libby, Ethan Turner, Mesa, AZ, Colin Turner, Mesa, AZ; and niece Aspen Larson, Troy.
A memorial service will be held at the Christ Lutheran Church, located at 200 W. Larch St. in Libby on Saturday, June 18, 2022 at 11 a.m., followed by a Celebration of Life at the VFW Post 1548 located at 114 W. 2nd St in Libby at 2 p.m.
Arrangements are by Schnackenberg Funeral Home in Libby. Online condolences and memories may be shared at www.schnackenbergfh.com.
---