Missing Lincoln County child found safe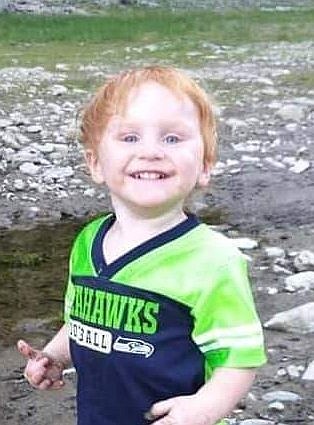 Four-year-old Ryker Webb, who went missing Friday, has been found safe,a according to the Lincoln County Sheriff's Office.
by
SCOTT SHINDLEDECKER
The Western News
|
June 5, 2022 12:40 PM
A missing 4-year-old boy in the Bull Lake area in Lincoln County has been found alive.
According to a message Sunday afternoon from the Lincoln County Sheriff's Office, Ryker Webb was found alive and in good health.
According to Sheriff Darren Short, Webb was found by the owners of a cabin located on Pine Ridge Road, off South Fork Bull River Road in Sanders County.
"The owners of the cabin saw on Facebook that the child was missing and they came to check on the property," Short said. "They found him in a shed where they had a generator."
The search began for Webb Friday evening after a concerned neighbor called 911 at 4:53 p.m. Friday to report a possible missing child. At that point, the child had been missing for two hours.
Webb was last seen Friday afternoon playing with the family dog in the yard outside the home in the area of the 18 mile marker of Montana 56, south of Troy on the east side of Bull Lake, according to the Sheriff's Office.
Deputies from the Sheriff's Office and David Thompson Search and Rescue were the first to respond to the scene.
A code red alert was sent out Friday to residents in the vicinity, asking that they search their own properties and structures. A missing person report was also disseminated nationwide, according to the Sheriff's Office.
Short said search and rescue squads from three states, including Montana, Idaho and Washington, looked for the child with K-9 units, boats, drones with infrared cameras as well as two National Guard helicopters from Helena.
Grid searches were also performed by SAR crews on foot and route searches were done utilizing ATV and side-by-side utility task vehicles.
"We covered several miles in all directions, but the rugged terrain and brush made it difficult," Short said on Saturday. "Two Bear Air and Life Flight helicopters would have normally searched last night with their infrared, but it wasn't possible with the poor weather that occurred Friday night.
Thunderstorms, heavy rain and heavy mist were all factors that limited the air search.
"I was surprised, and grateful, that the National Guard helicopters were able to get here to help," Short said.
Then, on Sunday, while 53 searchers combed the woods for Webb, a report came in that the child may have been found.
When deputies responded to the scene they determined that the child was Webb. He was reported to be in good spirits and apparently healthy, although hungry, thirsty, and cold.
Bull Lake Volunteer Ambulance responded to assess him before transporting the child to Cabinet Peaks Medical Center for evaluation.
Search teams included the Lincoln County and Flathead County sheriff's offices, Sandpoint, Idaho, Spokane Police Department, David Thompson Search and Rescue, Montana Fish, Wildlife and Parks, Bonner County Sheriff's Office, Libby Volunteer Fire Department, Bull Lake Fire and Rescue, Upper Yaak Fire Department, North Valley Search and Rescue and a large group of experienced outdoorsmen and families who responded from Sanders County.
Short also said Malmstrom Air Force Base, Fairchild Air Force Base and the Spokane County Sheriff's Office attempted to respond with additional aircraft.
Short also thanked the Halfway House Bar and Grill, Stillwater Christian Church, Rosauers Supermarkets and many others for providing food and water for the dozens of searchers who were part of the search.
"I truly want to thank everyone who came out to help," Short said.
---