Loggers go out swinging at Western A tourney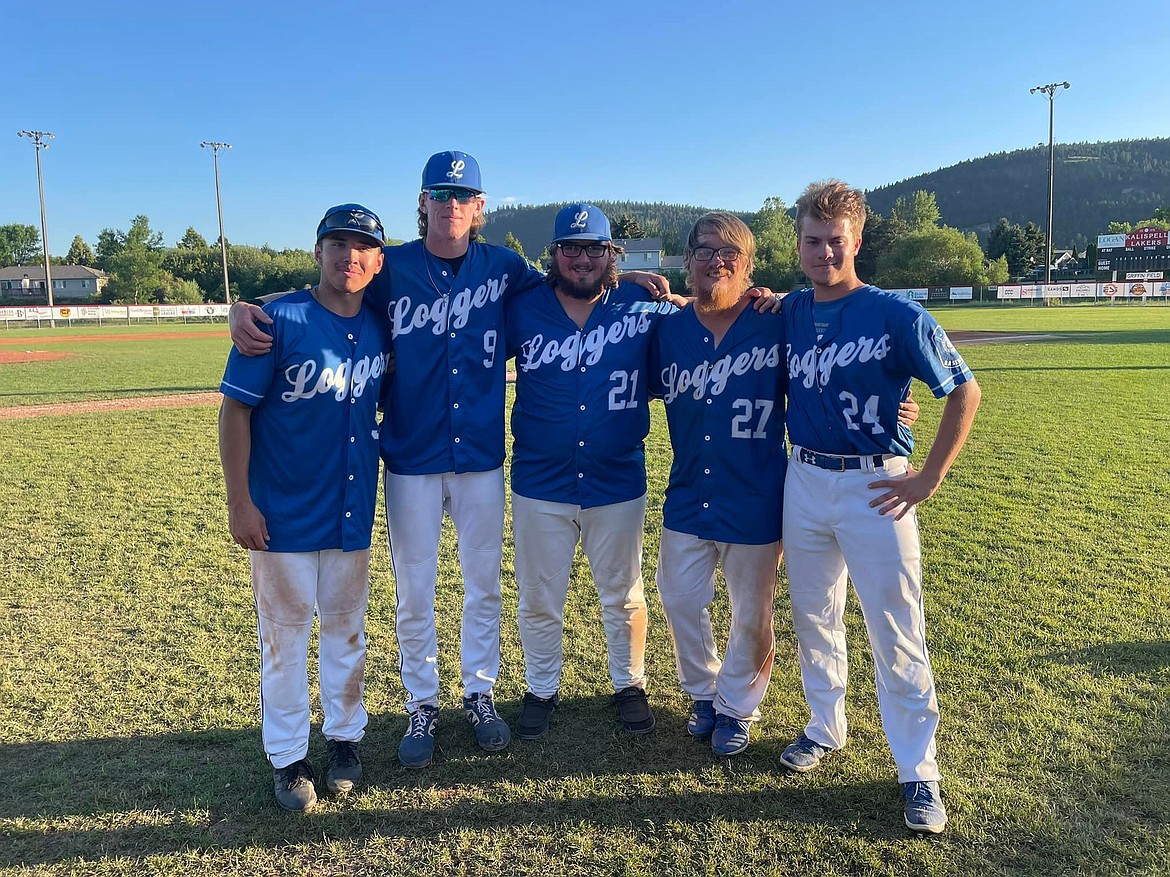 Landon Haddock, Brett Osborn, Caden Williams, Aydan Williamson and Tripp Zhang played their final games for the Libby Loggers Post 97 American Legion baseball team last weekend in Kalispell at the Western A Division Tournament. (Photo courtesy Mandy Rose)
by
The Western News
|
July 26, 2022 7:00 AM
If you're going to go down, go down swinging.
The Libby Loggers American Legion Post 97 baseball team followed that old expression at last weekend's Western A Legion tournament at Griffin Field in Kalispell.
Post 97, seeded seventh, finished fourth in the eight-team tournament.
"We couldn't be more proud of the way the boys competed this weekend," Loggers coach Kelly Morford said in a social media post. "They represented the Libby Loggers well!"
The Loggers opened with a 2-1 win over No. 2 seed Mission Valley on Thursday.
Lefty Caden Williams struck out six and took a shutout into the seventh as the Loggers beat the 46-win Mariners for the first time in five games.
Aydan Williamson saved Williams' win by getting the final two outs.
Run-scoring singles by Tripp Zhang, in the third, and Landon Haddock, in the fourth, staked the Loggers to a 2-0 lead.
Caleb Moeller and Aiden Rose each had hits.
The Loggers then dropped a 7-2 decision to the Bitterroot Red Sox on Friday before outslugging the Kalispell Lakers 12-8 on Saturday. The Red Sox won the tourney Sunday with a 13-1 win over the Glacier Twins.
In Friday's loss, Rose drove in a run while Zhang doubled and scored. Aydan Williamson had two hits, including a double.
In Saturday's win over Kalispell, a six-run seventh inning by the Loggers helped end the season for the Lakers.
Cy Williams' two-run triple gave the Loggers an 8-5 lead. A sacrifice bunt by Brett Osborn scored Williams and Tripp Zhang's single scored another run to make it 10-5.
The Lakers rallied in the bottom of the seventh inning, but Rose came in to put out the fire. Moeller was the winning pitcher for Libby. He worked 5 1/3 innings.
Zhang scored three runs and knocked in one run while Caden Williams smashed two doubles and drove in two. Cy Williams and Ayden Williamson each had three RBIs. Landon Haddock also had one RBI.
The Loggers (17-30) then saw its season end in a 16-4 defeat in five innings to the Bitterroot Bucs in Saturday's late game. The Bucs scored 15 runs in the fourth inning.
Libby scored twice in the first as Zhang doubled and scored. The Loggers lead was 2-1 after three innings, but the Bucs sent 20 men to the plate in the fourth.
Zhang hit a two-run home run in the fifth for the Loggers.
Zhang and Caden Williams each had two hits. Williams had one RBI.
The Daily Inter Lake contributed significantly to this report.
---