Betty "Joy" Skogas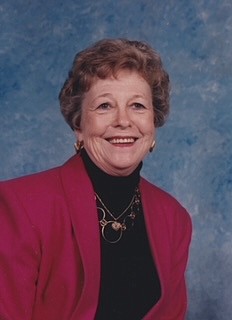 Betty "Joy" Skogas passed away peacefully on Wednesday, July 13 at the age of 95.
Joy was born April 25, 1927, in Glendive, Montana to Hugh and Gladys (Hardy) Murphy.
She was the fourth of 10 children.
She attended schools in Dawson County where she met her future husband, Arthur Skogas. They were married on Sept. 1, 1943 and celebrated 72 years together.
Early in their marriage, they lived in Vancouver, Washington, where they worked in the shipyards to help out with the war efforts.
After the war, they moved back to Glendive where Art took a job as a mechanic at an auto repair shop. It was during that time that Joy gave birth to the first of four daughters. A second daughter was born the following year.
In 1949, she and Art decided to leave the plains of eastern Montana and moved to mountains of northwest Montana. Their first two years were spent in Kalispell.
In 1950, Art was offered a job at Libby Motors, so they packed up their young family and moved to Libby. During their early years there, Joy gave birth to two more daughters.
Joy was an early member of the Cabinet View Country Club, and she and Art were some of the first members of the Turner Mountain Ski Club. It was during their times on the links and slopes that they met so many of their lifelong friends.
Joy might be remembered by many for her friendly greetings and smiles while working at Murph's In & Out, which she owned and operated with her sister, Ilene. After selling that property she worked part-time at the Tog Shop.
Upon their retirement, Art and Joy spent their winters as snowbirds in Arizona and their summers at home in Libby and at their cabin at Crystal Lake. These special places enriched their lives and provided so many wonderful memories of time spent with family and friends. Joy called Libby her home for 70 years of her life.
Following Art's passing she moved to Surprise, Arizona for a short time and then made the move to Generations Assisted Living Community in Rathdrum, Idaho, where she resided the last 3 years until her death.
Joy insisted upon staying active. In her earlier years, in the mornings, she swam laps at the Racquet Club.
Later in life, she could be seen walking the neighborhood with friends Barb and Bobbie. She was proudly able to cover 3-4 miles a day and completed Bloomsday well into her 80s.
Joy had a great love for her family and was happiest spending time with her grandchildren, great grandchildren, and great great grandchildren.
One particular highlight of her life was a cruise she was able to take on her 80th birthday with all four of her daughters.
Joy was preceded in death by her loving husband of 72 years, Art, her parents Hugh and Gladys, brothers Dennis, Bill, Don, and Dean, and sisters Lois, Ilene, Pat, and Lavonne.
She is survived by one brother, Tom Murphy (Trish) and Sister-in-Law, Phyllis Murphy. She is also survived by her four daughters and "Sons" In-Law, Penny (Dave Smith), Pam (Terry Schultz), Peggy Skogas-Smith, and Patti (Steve Davidson). She had 16 grandchildren, 25 great grandchildren, four great great grandchildren and many nieces and nephews.
She will be greatly missed and forever remembered in the hearts of her family and all who knew her.
The family would like to offer our sincere appreciation to her friends and the staff from Generations Assisted Living who lovingly looked after her wellbeing and cared for her in her final days.
At her request, there will be a small family gathering, but no formal service.
---