U.S. Fish and Wildlife takes over grizzly bear relocations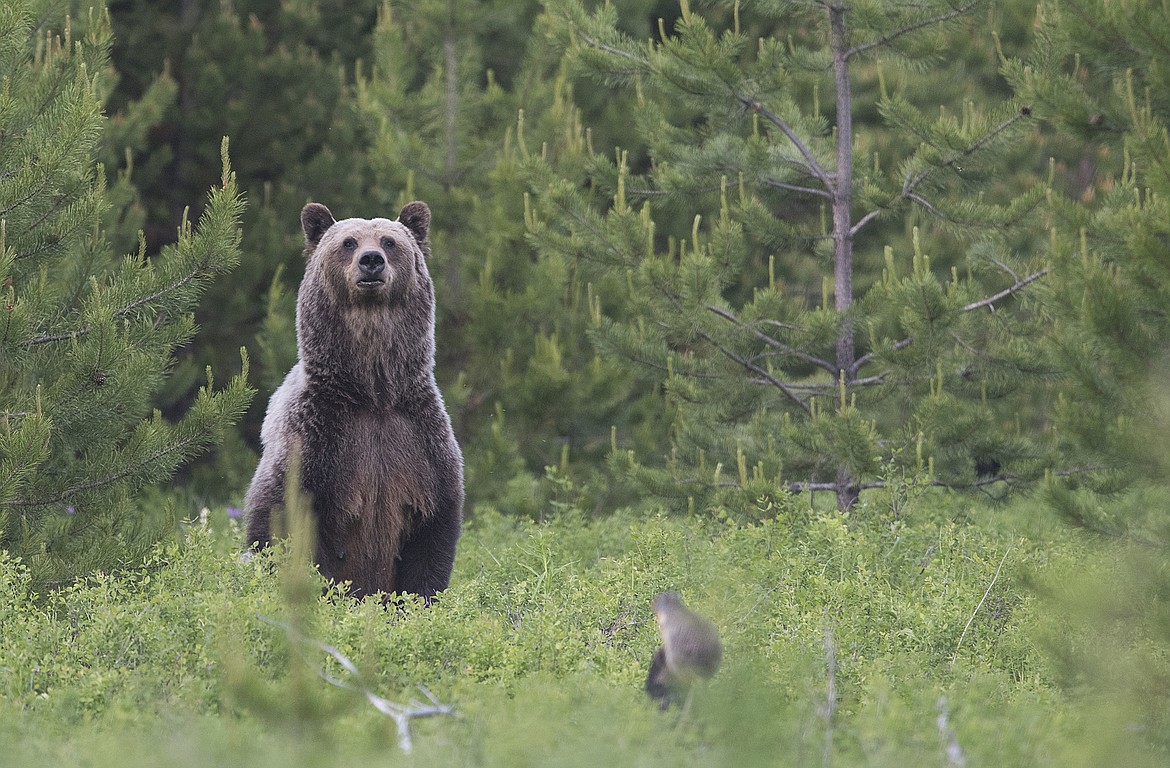 A grizzly bear eyes a ground squirrel and a hiker in Northwest Montana. (Chris Peterson photo)
by
The Western News
|
July 22, 2022 7:00 AM
The U.S. Fish and Wildlife Service (USFWS) will now be responsible for relocating grizzly bears to prevent or mitigate conflicts in certain areas of Montana.
The relocation of grizzly bears in Montana has previously been the responsibility of the Montana Department of Fish, Wildlife, and Parks (FWP), which typically relocates 30 bears each year to mitigate conflicts.
However, due to Montana Senate Bill 337, FWP is now prohibited from conducting relocations in some areas of the state.
Under new Montana state law, FWP may only relocate grizzly bears in areas previously approved by the state's wildlife commission. Outside of the state's pre-approved areas, the USFWS will now take the lead in relocating grizzly bears. The USFWS has worked with the U.S. Forest Service (USFS) to identify remote areas in northwest and southwest Montana that would be conducive for grizzly bear relocations.

USFWS will be using the same protocols as FWP to determine whether a bear should be relocated. A grizzly bear is eligible for relocation if they are involved in a conflict or to prevent them from becoming involved in a conflict. Bears may also be relocated when they are incidentally caught in other situations, such as wolf traps.
Relocation is one tool available to wildlife managers. other options include: conflict prevention, such as installing electric fences, using bear-resistant trash cans, hazing, and euthanasia in certain situations. Relocation is not an eligible management tool for grizzly bears that are considered a threat to human safety.
If relocation is approved, bears will be relocated within the same ecosystem and in areas where grizzly bears already occur. As grizzly bears recover in numbers and geographic regions, it is essential to remember the entire state is within the historical range of grizzly bears. Relocating a bear from a more developed area to a remote location mutually benefits both the bear and humans by creating more space, and less risk of conflict, between bears and humans. USFWS is committed to providing notification to local communities when the relocation of a grizzly bear occurs.
Grizzly bears in the lower 48 are listed as threatened under the Endangered Species Act (ESA). Management authority for grizzlies in the lower 48 rests with the USFWS, working closely with the USFS and other local, state, Tribal, and federal agencies. Each situation is unique and requires input from staff on the ground, a thorough history of bear interactions and behavior, and coordination with other agencies. 
The public should continue to practice good bear-aware habits in bear country, including the carrying and knowledge of how to use bear spray. Additionally, the public can help prevent the need for relocations and make a difference in a bear's life by doing its part to ensure bears never obtain food rewards.
Residents of local communities are encouraged to secure attractants around their homes in bear-resistant containers, buildings, or electric fences. Attractants include items with a scent, such as trash, livestock feed, compost, or beehives.
Ensure bird feeders are at least ten feet up and four feet out from any building. Avoid planting fruit trees. Help your neighbors create a bear-wise community to protect wildlife. It may be cliché; but often, "a fed bear is a dead bear." 
Please visit the Interagency Grizzly Bear Committee Bear Aware page for more information about staying safe in bear country.
---