Thompson SAR shares water safety information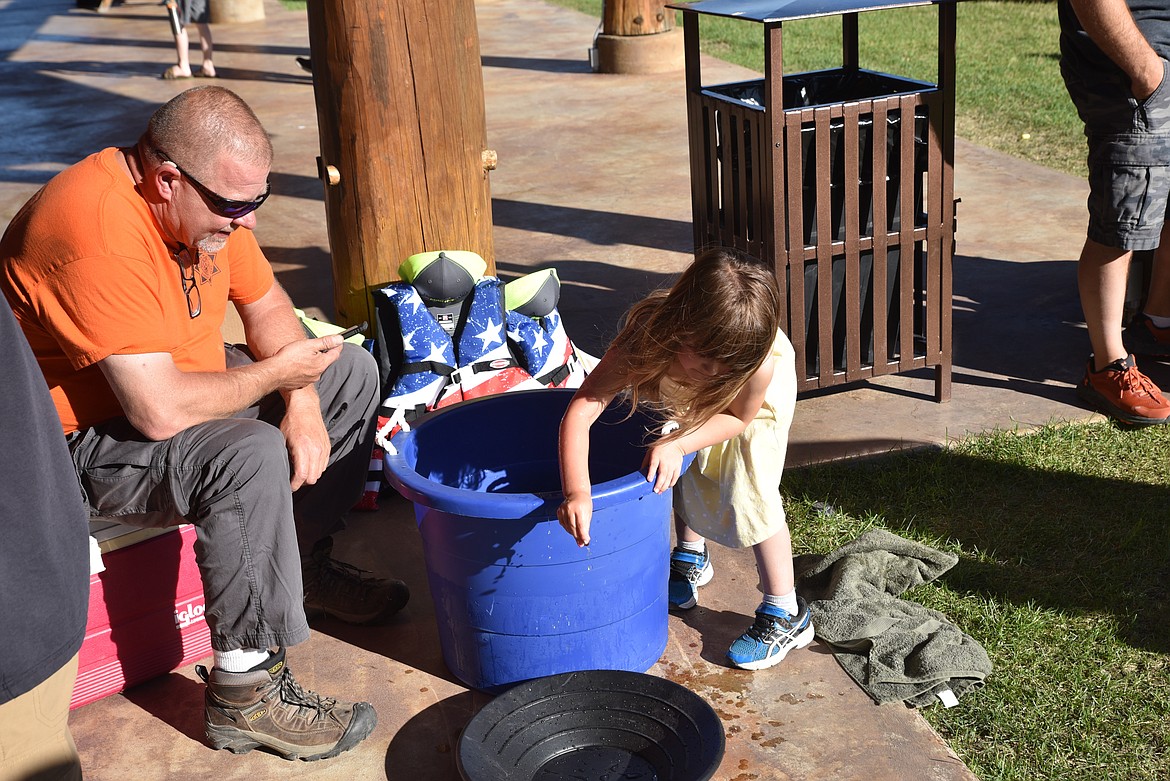 Amber Jenson tosses a penny into a pan during the ice bucket challenge while David Thompson Search and Rescue's Lenny Pauley supervises at last Thursday's water safety presentation at Fred Brown Memorial Pavilion at Riverside Park. (Scott Shindledecker/The Western News)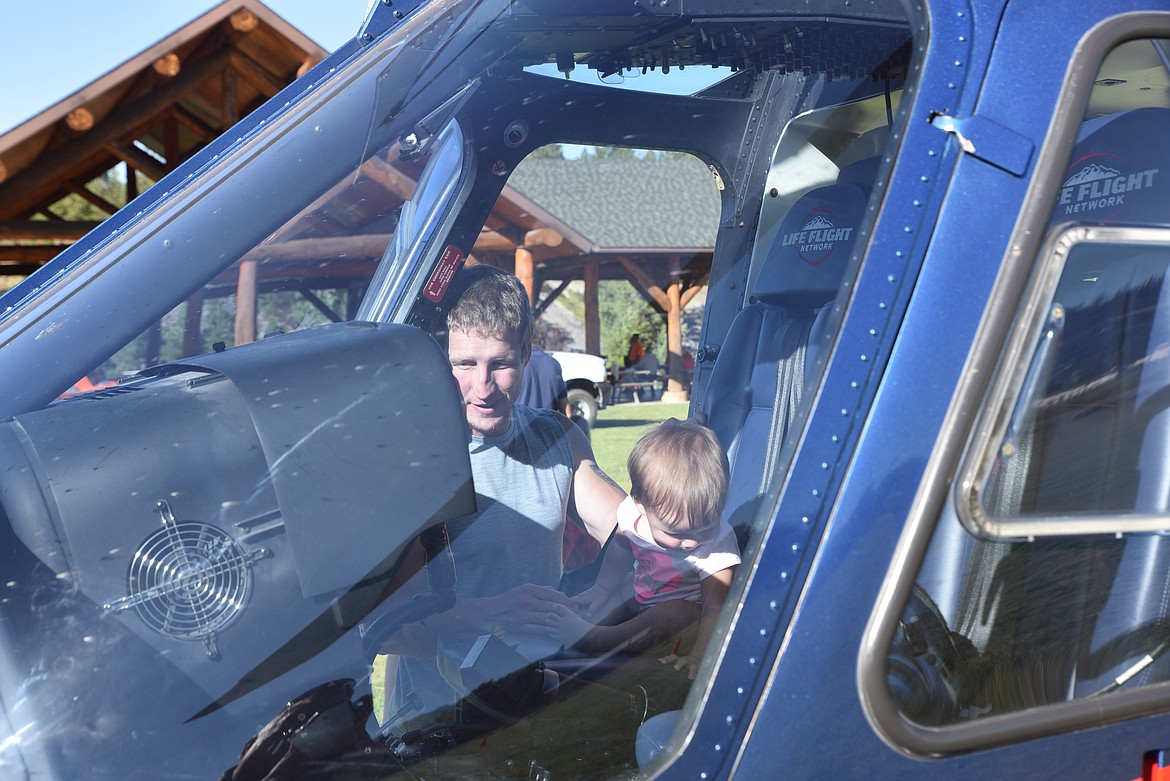 Seth Power, of Libby, helps his child get the inside view of a Life Flight helicopter at last Thursday's water safety presentation at Riverside Park. (Scott Shindledecker/The Western News)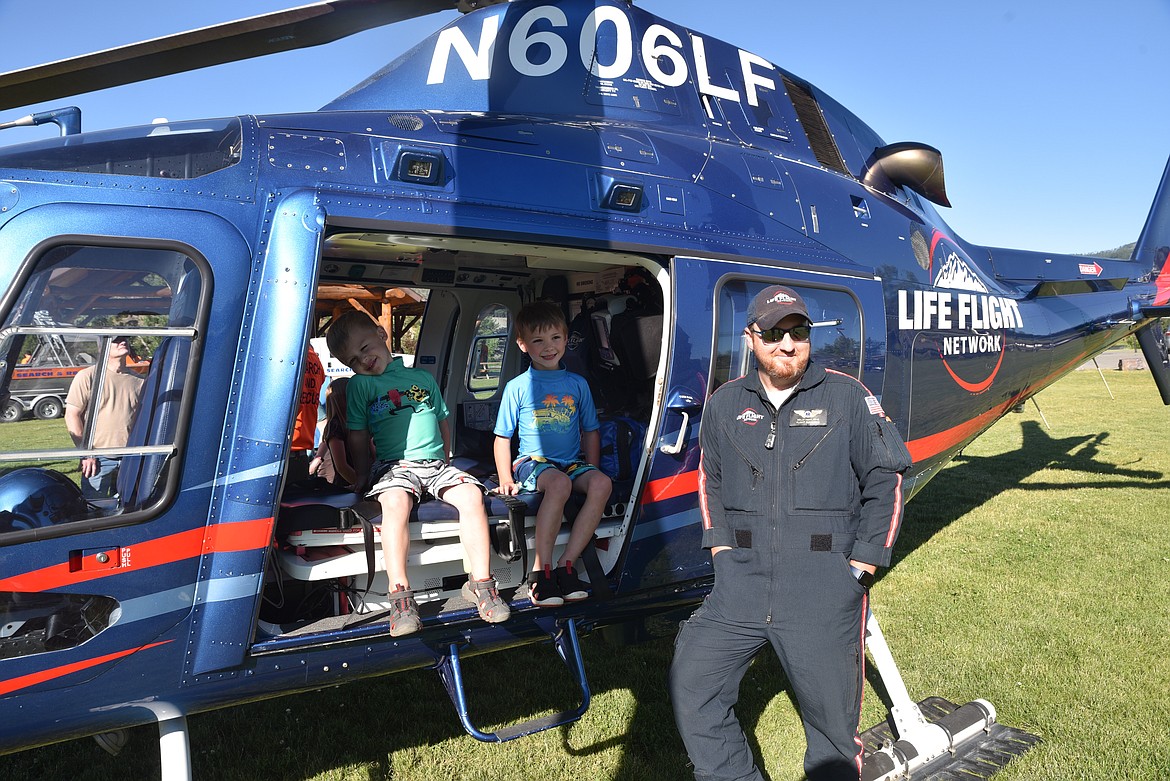 Life Flight paramedic Kelly Hunt stopped for a photo with Libby's Benson Wicka, left, and Remington Wicka, center, at last Thursday's water safety presentation at Riverside Park. The air ambulance crew, which includes pilot Olivia Fine, and flight nurse Ben Suttlemyre, is stationed in Sandpoint, Idaho. Its primary coverage includes the counties of Lincoln, Sanders in Montana, and Bonner and Boundary in Idaho. (Scott Shindledecker/The Western News)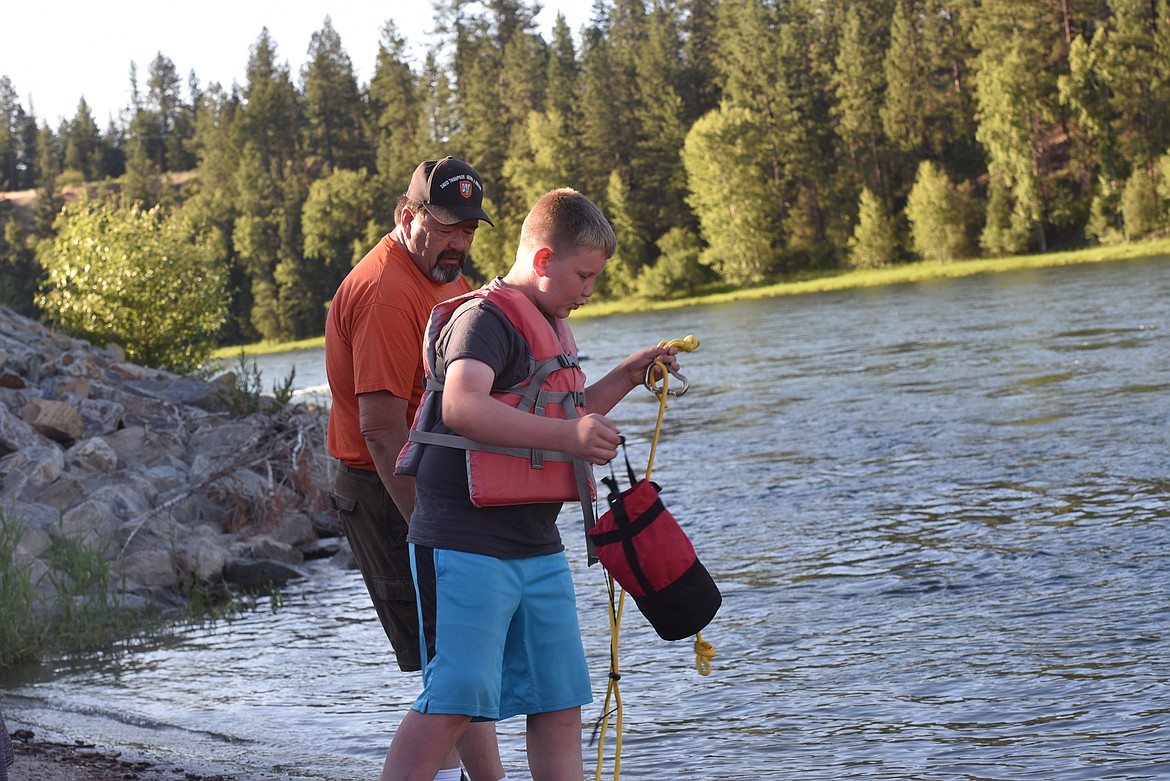 Zane Whiteman, of Libby, prepares to throw a water rescue throw bag during a water safety presentation last Thursday at Riverside Park. (Scott Shindledecker/The Western News)
Previous
Next
by
SCOTT SHINDLEDECKER
The Western News
|
July 19, 2022 7:00 AM
It is not intended to be a seat cushion.
But many people use a personal flotation device as just that.
At last Thursday's David Thompson Search and Rescue water safety event at Riverfront Park in Libby, families learned about the reasons for wearing a PFD.
The primary reason is to avoid drowning.
A second, much sweeter justification for wearing a PFD is getting a free, fresh-baked cookie at Rosauers.
"It's the only one of its kind in Montana," said Montana Fish, Wildlife and Parks Game Warden Jon Obst said. "When we check boaters and the kids are wearing a vest, we give them a card so they can get a free cookie at Rosauers. There's nothing like it in the entire state."
In Montana, children under 12 years of age are required to wear a PFD when they are on a boat of any type. Also, water skiers, tubers or anyone being towed by a boat and anyone operating or riding a personal watercraft, such as a jet ski or wave runner, must wear a life vest.
The event, which also includes Montana FWP, U.S. Army Corps of Engineers and the Lincoln County Sheriff's Office, is designed to educate people about boating safety, the dangers of hypothermia and provide other water safety information.
One of the stations was called the ice bucket challenge. A bucket filled with ice cold water, and pennies that kids collected to win a prize, was used to show how cold the water is and how quickly hypothermia can set in.
Thompson SAR member Terry Crooks said the water in the Kootenai River rarely reached 50 degrees because the Corps of Engineers, which operates Libby Dam, regulates water flow to keep it cold for trout and other aquatic life that live there.
Lenny Pauley, another Thompson SAR member, said hypothermia can occur in as little as 10-15 minutes.
According to FWP, water colder than 70 degrees can lower body temperature to the point where a person passes out and drowns.
The human body cools 25 times faster in cold water than in air. Life jackets can help increase the odds of surviving in cold water by conserving the energy it would otherwise take to float and insulating the body from cold water.
The Corps of Engineers shared some eye-opening facts, too.
It takes an average of 60 seconds for an adult to drown, and only 20 seconds for a child.
A strong swimmer averages 10 minutes to put on a life jacket after entering the water.
Regardless of how well people swim, they may have to fight for their lives due to waves, current, exhaustion or injury.
Crooks said a river may appear calm on the surface, but a strong undercurrent can pull a strong and experienced swimmer under the water.
He also explained that strainers, tree branches that prevent people or boats from passing through, and blockages such as trees or debris or narrow gaps between rocks can cause a person to be trapped underwater.
"No one ever planned to drown and there are many ways to get trapped," Crooks said. "That's why wearing a PFD is so important. It can keep a person afloat."
At the end of June, six people have drowned in Montana, including several in Northwest Montana. One was an Idaho man kayaking in the Yaak River and he was wearing a PFD.
Part of the presentation included how to properly wear a life vest.
Here are some tips from the Corps of Engineers:
Children's life jackets should have a loop on the collar and a strap between the legs;
The shoulders of the life jacket should not slip above the chin or ears;
A properly fitted jacket should feel snug and it will keep the head and shoulders above water;
The jacket shouldn't have any broken parts, mold or rips in the fabric;
All buckles, zippers and straps should be fastened.
For more information, see the following:
https://fwp.mt.gov/activities/boating/safety
https://fwp.mt.gov/activities/boating/education 
https://www.usace.army.mil/missions/civil-works/recreation/national-water-safety_program/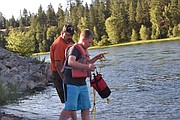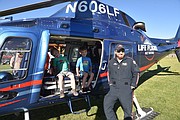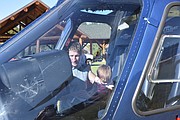 ---