Senior Night celebration: Loggers triumph in regular season finale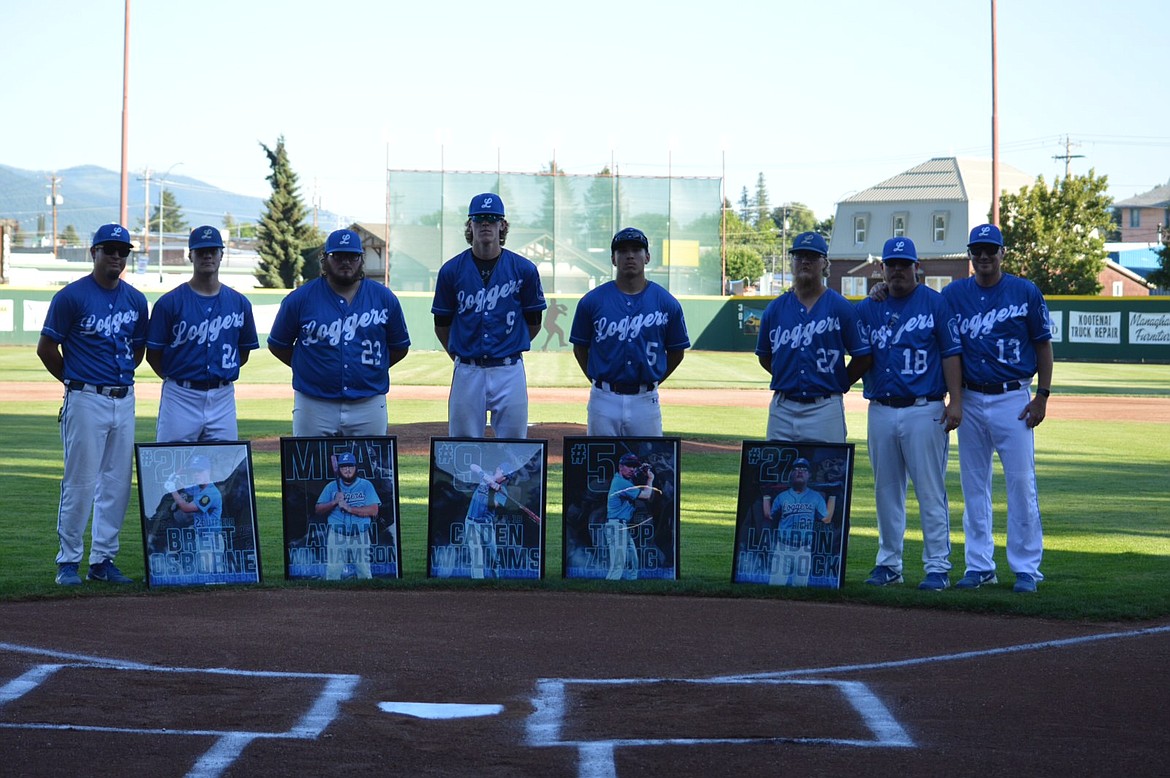 The Libby Loggers celebrated Senior Night with a 12-2 win over Missoula Saturday night. The seniors are Landon Haddock, Brett Osborne, Caden Williams, Aydan Williamson and Tripp Zhang. Their coaches are Kelly Morford, Micah Germany and Joe Flores. (Photo courtesy Mandy Rose)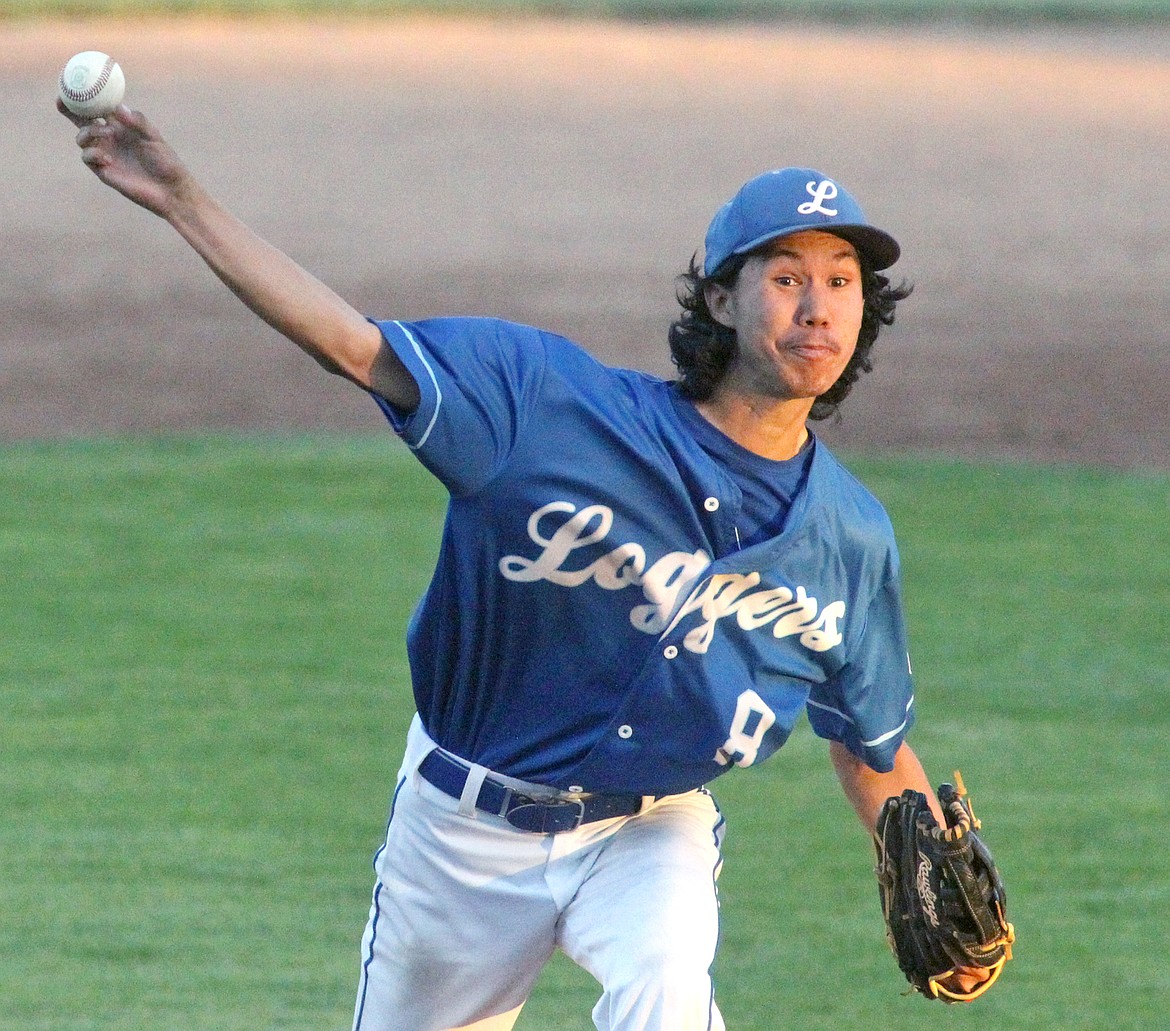 Libby Loggers pitcher David Bailey takes the mound in relief of Caleb Moeller in the top of the fifth. The Loggers beat Missoula, 12-2, in the second of a doubleheader Saturday night. (Paul Sievers/The Western News)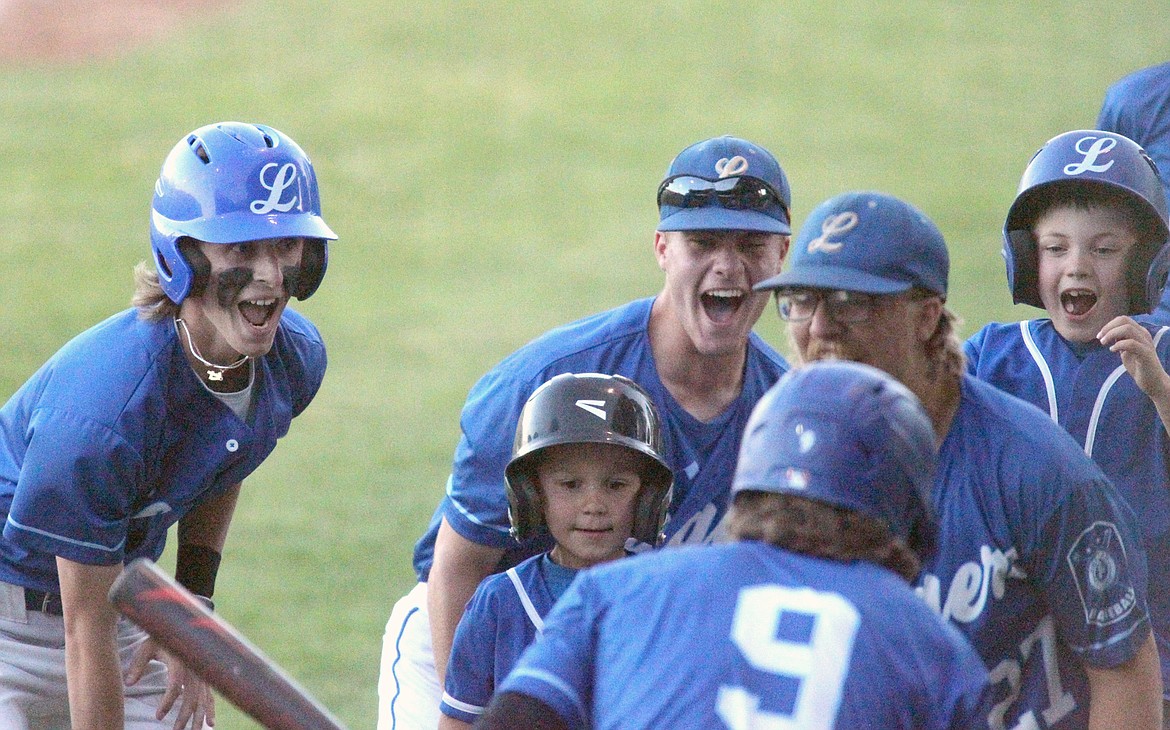 Libby Loggers Caden Williams, No. 9, is greeted by the dugout after smacking a 2-run homer bottom of the fifth inning Saturday evening. (Paul Sievers/The Western News)
Previous
Next
by
SCOTT SHINDLEDECKER
The Western News
|
July 19, 2022 7:00 AM
The Libby Loggers Post 97 American Legion baseball team closed out their 2022 regular season with a bang Saturday night at the Lumber Yard.
Centerfielder Tripp Zhang's bases-clearing triple put the cherry on top of a Libby 12-2 win in six innings over the Missoula Mavericks.
Zhang was one of five seniors, including Caden Williams, Landon Haddock, Aydan Williamson and Brett Osborne, who were honored between the doubleheader.
Zhang, who will play Division I college ball at Southern Illinois Edwardsville and major in Pre-med, had a monster doubleheader against Missoula. He was 4-for-8 with two doubles, one triple and three runs batted in. Hitting in the leadoff spot, he scored four runs and stole three bases.
"Tripp is the first Division I player I've coached and his triple to end it was a fitting way to close out his career here," Loggers head coach Kelly Morford said. "He is our all-time leader in most slugging categories.
"He isn't great because the games comes natural to him, he works very hard to make it look easy."
Williams is another senior who will play at the next level. He also had a huge performance in the twinbill. Williams, who is headed to Miles Community College in Miles City, was 4-for-6 with two home runs and six RBI.
"Caden is one of the special kids who also works very hard to get where he's at. I wish him nothing but the best," Morford said.
Williams nearly got the win in Saturday's opener, but some ill-timed errors in the seventh inning led to a Missoula rally and a 6-4 Loggers loss. Williams threw a 4-hitter with nine strikeouts in 6 2/3 innings.
His 3-run homer in the fifth gave the Loggers a 9-2 lead.
Haddock also had a top-notch game in his final game at Lee Gehring Field. Haddock was on base three times, singled in two runs in the first to give the Loggers a lead they never relinquished. He pushed home another run with a bases-loaded walk in the third.
Williamson also went out with a bang as he doubled and walked while scoring two runs.
Osborne, the teams' lone representative from Troy, also gave the home fans plenty to cheer about. After two tough plate appearances, he collected two singles and scored a run in his final two at-bats.
"That was a great sendoff for Brett," Morford said. "He's another kid that works hard and is good person."
Next year's Loggers team will have work to do to match what the outgoing seniors accomplished.
"Big shoes to fill for sure," Morford said. "They are great teammates and it's been a pleasure for me to work with them."
According to montanalegionbaseball.org, the Loggers are a No. 7 seed in the upcoming West A playoffs which begin Thursday in Kalispell. They will take on No. 2 seed Mission Valley. 
Despite some of the difficulties of the season, Morford remains optimistic.
"It's the basics, throw strikes and play good defense and we have a shot. Everyone is so event, so we'll see," he said.
The top two finishers will advance to the state tournament.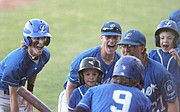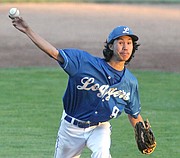 ---