Caution urged for fireworks users, recreationists during holiday weekend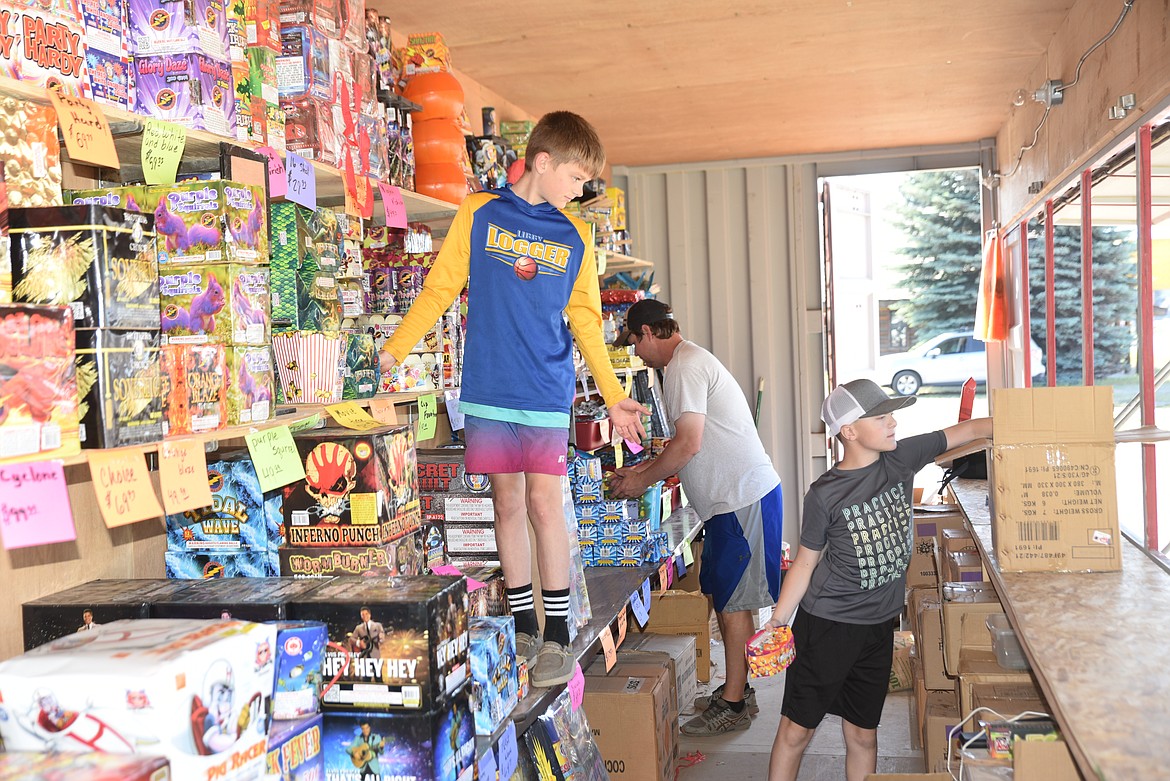 Noah Scofield hands fireworks to Hudson Hannah while Kyle Hannah stacks merchandise on Tuesday at the Black Raptor fireworks stand in Libby in preparation for the upcoming July 4 holiday, recognizing our nation's 222nd year of independence. (Scott Shindledecker/The Western News)
by
SCOTT SHINDLEDECKER
The Western News
|
July 1, 2022 7:00 AM
The outlook for the July 4 holiday weekend is quite a bit different in Lincoln County than it was in 2021.
A much wetter spring, higher humidity and cooler temperatures in the region have officials feeling much more optimistic, but they are still urging caution when it comes to having a good time outdoors or with fireworks.
The current weather forecast from the National Weather Service for Libby and Troy says there will be some warm days but a chance of rain or thunderstorms is possible from Saturday through Monday.
Last year, with bottle rockets, Roman candles and sky rockets legal after a decades-long ban and hot, dry weather, many were concerned about the potential for fires.
While the South Yaak and Burnt Peak fires that began in the first few weeks of July near Troy were troublesome with more than 16,000 total acres burned, both were caused by lightning and both began after July 4.
"Lincoln County is not currently under any heightened fire restriction," said Thomas Lane, county Emergency Management Director. "That said, extra caution should be used as the area is drying out and warming up.
"Safety is key, be responsible and don't wait to notify public safety if there is an accident or fire. Sensibly enjoy Independence Day!" Lane said.
But firefighters from the state, Marion and Fisher River departments did battle a six-acre blaze five miles west of Marion on June 26-27.
"We were impressed with how fast this fire grew in size today, even after such a cool and rainy spring!" was a statement on the Marion Fire Department's Facebook page.
With the exception of New Year's Eve, it is illegal to set off fireworks within Libby city limits. It is also illegal to set off fireworks on state or federal land.
"So far, we haven't had any complaints, but I'm sure there'll be some on July 4," Libby Police Chief Scott Kessel said. "We just ask people to be careful and considerate of other folks."
In Troy, the use of fireworks is allowed from 8 a.m. to 10 p.m. on July 1, from 8 a.m. and 11:59 p.m. on July 2-3, and from 8 a.m. July 4 and 10 p.m. on July 5.
Officials say when setting off fireworks, users should have a bucket or fire hose handy and be aware of their surroundings. Users should always follow the instructions on the fireworks packaging.
Officials are also urging safety when spending time in and around the water.
Montana has already experienced six boating fatalities in 2022 and Fish, Wildlife & Parks is urging people to take care while enjoying water recreation.
Even with summer temperatures, Montana has cold water year-round and it's important to remember that cold water can be deadly.
Officials say it's a good idea while recreating on or around water, to wear a life jacket and always tell someone where you are going and when you plan on returning.
Accidents on the water can happen much too fast to have time to reach and put on a stowed life jacket. A life jacket that is too large or too small does not do a good job of keeping you safe. Also remember that just wearing a life jacket does not protect you in all circumstances.
---