Man involved in 2020 police chase admits probation violations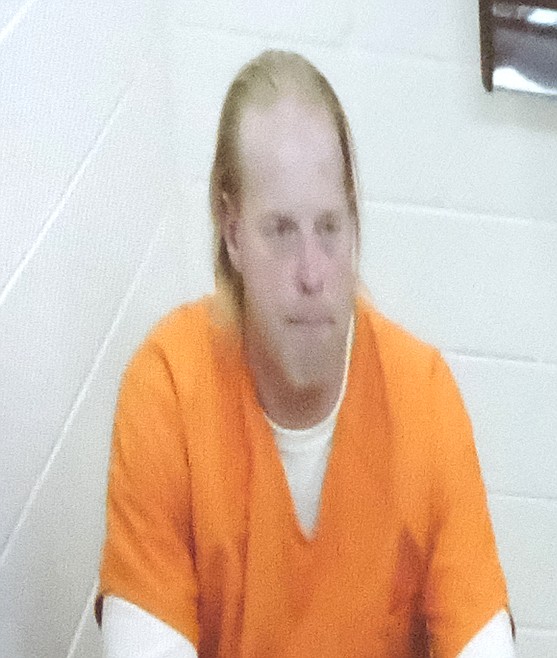 Jason William Garberg appears in Lincoln County District Court via videoconferencing software in January. (Paul Sievers/The Western News)
by
DERRICK PERKINS
Daily Inter Lake
|
January 28, 2022 7:00 AM
A Great Falls man on a suspended sentence for partner assault and for leading law enforcement on a high-speed chase in 2020 admitted to multiple probation violations earlier this month.
Jason William Garberg, 45, was back in Lincoln County District Court on Jan. 10 for a revocation hearing after prosecutors sought to see his five-year suspended sentence revoked. Among the seven violations, authorities alleged that Garberg stole a debit card, trespassed, traveled without permission and returned to drug use on multiple occasions.
Earning his suspended sentence in January 2021, Garberg moved from Libby to Great Falls, which is where the alleged violations began cropping up. Garberg's probation officer, Mark Hilyard, wrote in a report that he failed his first drug test on June 3. Garberg tested positive for methamphetamine, amphetamine and ecstasy, court documents said.
In response, authorities decided to test Garberg twice a week for drugs and issue him a remote breath test device. He allegedly showed up for just one test and stopped using the remote device in early July. According to the report, he earned three days in jail for the infraction.
In September, Garberg made an unannounced trip to Libby to see a woman he had texted more than 100 times.
"Garberg informed [the woman] that he wanted a relationship with her, which she indicated that [she] was not interested," Hilyard wrote in his report. "He arrived at the home anyway."
Investigators later learned that Garberg made the journey without a valid driver's license, according to the report.
Garberg allegedly took another trip on short notice that same month. According to court documents, he text messaged Hilyard about 7:15 p.m., Sept. 20 regarding an upcoming flight to Texas. In the note, Garberg wrote that his mother had bought him a plane ticket. He asked Hilyard how to proceed.

Hilyard saw the text the next morning and, after consulting with colleagues, decided to put Garberg on a drug patch. At 9:18 a.m., he sent a message to Garberg asking him to come by the office.
That's when Hilyard realized that the image of the ticket Garberg sent showed the plane departing two hours earlier.
In his report, Hilyard wrote that they arranged an intervention hearing for Garberg in October. Garberg was made to reread and resign the conditions of his release. He went on GPS monitoring and was made to wear a drug patch for 60 days. He also agreed to undergo a chemical dependency evaluation.
At the same time, he admitted using methamphetamine in recent days, court documents said. Garberg also had fallen behind on his court ordered restitution of $11,671.13.
In early December, Hilyard learned that Garberg missed his appointment to get a drug patch the month prior. Garberg never made arrangements to reschedule. Hilyard recounted unsuccessfully telling Garberg "to take care of the situation."
But by then, Hilyard was looking into a theft investigation potentially involving Garberg. A newcomer to Great Falls told Hilyard he hired a moving company to get his belongings to town. After the move, he got several alerts from his bank regarding unusual activity on his business debit card account amounting to $550 in charges.
The man told Hilyard he had asked around and learned that Garberg was one of the movers working on the job. Reviewing surveillance tape, police officers in Great Falls identified Garberg as the man caught on camera making one of those charges, court documents said.
Garberg admitted using the card after investigators presented him with the video evidence, according to Hilyard's account.
"The defendant continues to use narcotics and is having communication problems with his probation officer when it comes to reporting law enforcement contact," Hilyard wrote. "He continues to violate his conditions and when he is confronted with sanctions he does not follow through by attending [drug tests] or meetings to address his chemical dependency."
Hilyard recommended the court revoke his suspended sentence and place him with the care of the state Department of Corrections for five years.
Garberg initially came to the attention of local authorities after he and his then-girlfriend got into an argument during a lunch outing in March 2020. The incident turned into a police pursuit, which saw Garberg leading Libby Police officers and Lincoln County Sheriff's Office deputies down U.S. Highway 2 at 90 miles per hour.
Garberg later sought to make amends for his behavior.
"I want to apologize to you, the town of Libby and Lincoln County for my actions that day," Garberg told the court last year.
---