Health officials see jump in flu, COVID-19 immunizations at year's end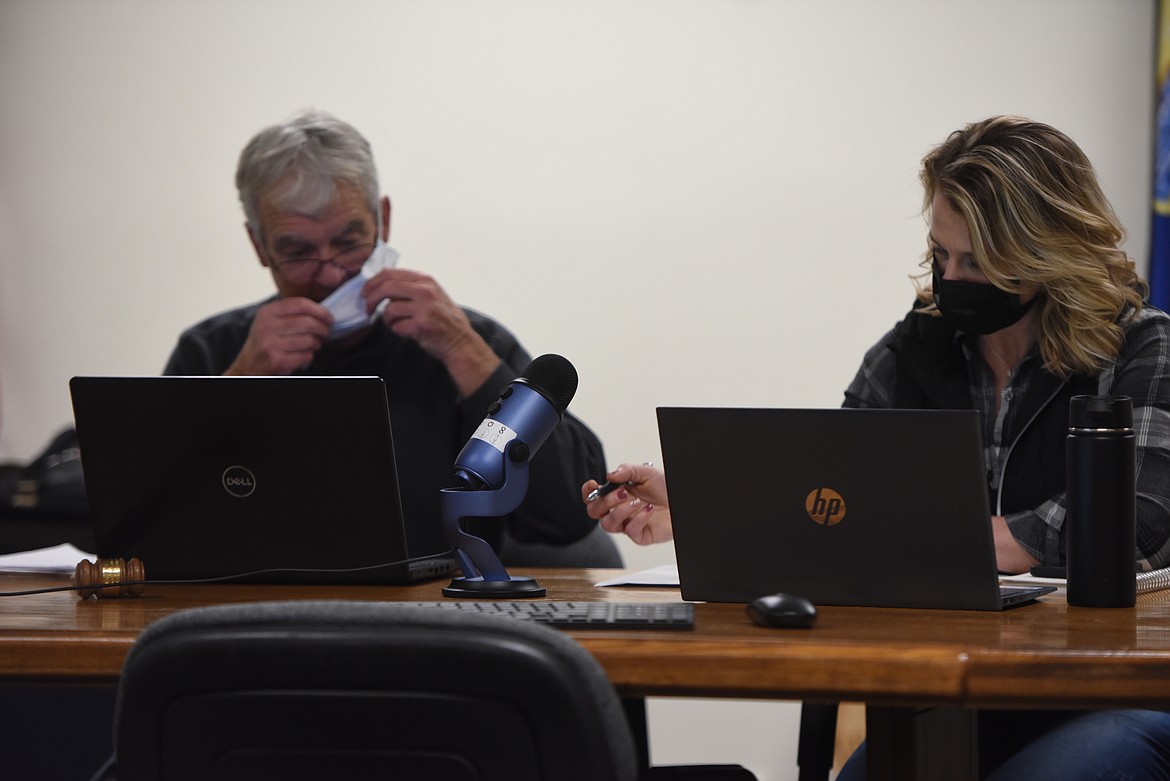 Amy Fantozzi, right, and Jim Seifert host a Zoom meeting of the Lincoln County Health Board inside the county courthouse on Jan. 11. (Derrick Perkins/The Western News)
by
DERRICK PERKINS
Daily Inter Lake
|
January 18, 2022 7:00 AM
The number of flu shots administered by the county health department increased in the last quarter of the year, officials said last week.
County workers doled out 689 influenza vaccines since October, said Public Health Manager Jennifer McCully at a Jan. 11 meeting of the county health board. That's up from five between July and September and 0 between April and June, according to department statistics.
The jump is a nod to the looming flu season, McCully said. Typically, more residents seek flu shots in the fall and early winter. But she reported that the department doled out 150 more than their previous record high this year.
"We're rocking it on flu shots," McCully told health board members.
The increase in interest in both flu and COVID-19 vaccines had led to a bump in other immunizations, she said.
"That's due to folks being in the [health department] office and us being able to review their records and see what they need," McCully said.
As for COVID-19 vaccines, department records show 1,400 doses administered since October. That's up from 565 from July to September, but down from 2,202 from April to June and 5,619 from January to March.
County Commissioner Josh Letcher (D-3), that board's representative to the panel, asked whether officials could breakdown COVID-19 vaccination data further, specifically whether the increase represented second doses or booster shots. McCully said coming up with that information would require going back through thousands of immunization records.
As for communicable diseases present in the county, McCully took health board members through COVID-19 numbers, which initially dropped from 414 infections in the first quarter of 2021 to just 94 between April in June. Cases jumped up to 1,430 from July to September, which is when the delta variant rolled through the county, before sliding back to triple digits in the final quarter.
The county saw one influenza case in the final three months of the year. McCully told health board members that a second case had popped up since the data was compiled.
"We usually start in the middle of January and we expect to see an uptick on that, just based on history," she said.
One area of particular worry for health officials was the presence of syphilis in the community. The department reported one case in both the second and third quarter of 2021, and three in the final three months of the year.
"We hadn't seen it for years and we have three this quarter — that's concerning," McCully said. "We're really focusing on that."
She also noted the presence of the omicron variant of COVID-19 circulating in the county. Officials received word of the region's first omicron confirmation earlier this month.
McCully told health board members that while the officials could not track the spread of omicron — the antigen tests used by the county for confirming COVID-19 do not allow for variant identification — she expected it to account for most if not all cases within the next few weeks.
"What I am hearing and feeling: It is different, it is lighter symptoms," McCully said after board member Jim Seifert asked for her analysis of the variant's effect in Lincoln County. "We still have many people sick, but not like with delta."
Dr. Dianna Carvey, the latest addition to the health board, offered a similar view.
"It's more a sore throat type thing," she told her colleagues.
As of Jan. 14, the county had 174 active cases and four residents hospitalized with the disease.
"We are still [seeing] hospitalizations," McCully said. "It's still happening, but definitely not like it was during delta."
---