Barbara Brown Tripp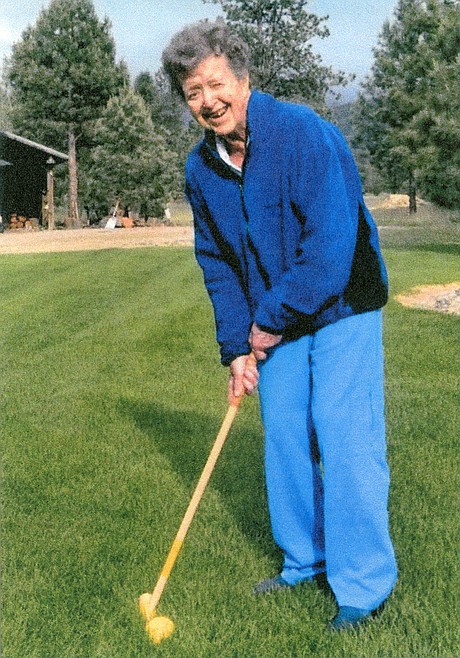 |
January 14, 2022 7:00 AM
Barbara Brown Tripp, 102, of Libby passed away peacefully in the evening of Christmas Day, Dec. 25, 2021, in her home at Generations Assisted Living in Rathdrum, Idaho. Barb's lifelong friend, Joy Skogas, was by her side, along with the caring staff at Generations.
Barb was the eternal optimist who never let life's challenges get her down. She trusted people to do the right thing all her life. Her friends and family will remember her smile. Whether still skiing in her 80s or hot air ballooning for a birthday in her 90s, she was ready to experience life at its fullest.
Barbara was born in Melrose, Mass., on June 6, 1919, the daughter of Chester and Carrie Brown. She was a graduate of Melrose High School. After college she served with the Red Cross and was a recreations director for military service clubs in Iceland, Korea and the U.S. She later became the first female recreation director for the Strategic Air Command, teaching GIs in Alaska to ski. Barb met her future husband, Master Sgt. Harry Tripp, in New Hampshire and they married in 1962.
Barb and Harry lived in Massachusetts until job choices moved them to Idaho and Montana. In the late 1950s, they purchased land on Lake Mooselookmeguntic in Rangeley, Maine, and spent summers camping on the lake. The cabin is still enjoyed by Barb's family.

After Harry's retirement, they moved back to Libby. Barbara and Harry enjoyed many active years in Montana, skiing, camping, fishing, gardening as well as becoming avid golfers, including holding many offices both in the Ladies League and Couples League. Barb was an outstanding golfer and drove her golf cart down the street to the Cabinet View Golf Course even into her 90s.
After Harry's passing in 2006, Barb was active in the Libby Community Center, the Hospital Auxiliary, VFW and with her bridge clubs and Friday Night Ladies Special Club. She felt honored to be parade marshal for Nordicfest.

Barb also enjoyed her United Methodist Church and Pastor Karen along with her dear friends, John and Bobbie Knudson, Bill and Nancy Chalgren and Jo Gilden, who got her back and forth from church safely.

Thank you also to Dr. Pyle for her excellent, loving and compassionate care. She especially enjoyed time spent with her cherished friends and caregivers, Lillian Martin and Arlen Magill. Lilian was her guardian angel; she put endless time and loving care into Barb's welfare, to her very last day. They had a very special friendship that Barb and her family are most grateful for.
Barb leaves her niece and nephew, Nancy and Stephen Coombs of Vermont and their families, and Harry's granddaughter, Dawn Hunt. She also leaves her beloved friends, Lilian Martin, husband Ray and their devoted dog, Meg, as well as many loyal friends in Libby. Her sister, Janet Coombs, and husband, Gordon Coombs, and nephew, Douglas Coombs, predeceased Barb.
She will be greatly missed by her family and friends.

Funeral arrangements are in the care of Schnackenberg Funeral Home in Libby. Due to COVID-19, there will be an intimate celebration of her life in Libby at a later date.

In lieu of flowers, memorial donations may be made to the Doug Coombs Foundation, American Ex-Prisoners of War Association, Cabinet View Golf Course or Turner Mountain Ski Area. A special thank you to the Generations Assisted Living staff of the past 10 months and to Lilian, who gave so much joy, loving care and genuine compassion to Barb for many years.
---