Montana to 'keep up the good fight' against aquatic invaders, wasting disease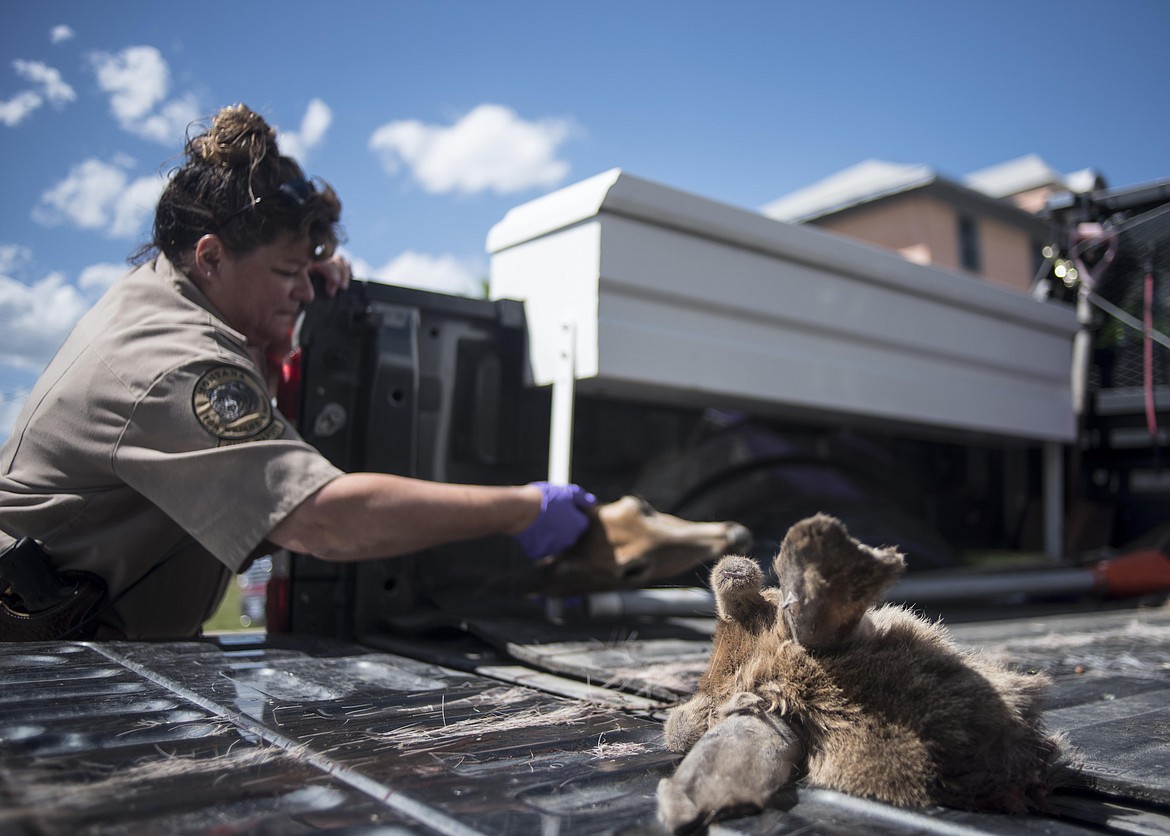 Former Libby area game warden Tamie Laverdure-Fitchett pulls out two white-tailed deer heads she collected to be tested for Chronic Wasting Disease in this file photo. (Luke Hollister/The Western News)
by
MATT BALDWIN
Daily Inter Lake
|
January 7, 2022 7:00 AM
Local fish and game officials can consider 2021 a success in the effort to combat the threat of aquatic invaders and chronic wasting disease, and will look to stay on a similar course in the year ahead.
Invasive aquatic mussels were not detected in any Montana water bodies, despite an incredible influx of boat traffic to the Flathead Valley last summer. Meanwhile, wildlife infected with chronic wasting disease were contained to the districts near Libby where the disease was first detected in deer two years ago.
According to Dillon Tabish, spokesman for Montana Fish, Wildlife and Parks Region 1, the programs put in place to address the two threats have become more efficient and convenient for recreationists, helping create positive results.
"We have really hit our stride," Tabish said when talking about the state's program to test for and cull wildlife afflicted with chronic wasting disease.
THE TERM chronic wasting disease comes from the appearance of stricken animals, which get very skinny and sickly before they die. While it's a slow-moving disease, officials say that if it is left unchecked, it could result in long-term population decline of herds.
The disease was first detected in Montana in eastern and northern areas of the state. It eventually made its way west, crossing the Continental Divide for the first time in 2019 and taking root in the population of urban deer within Libby's city limits.
Discovery of the infected doe in Libby set off a swift response. An incident command team was deployed to the area and officials began culling the herd. A number of hunting districts in that region were identified as "priority sampling zones," and the state began offering antlerless white-tailed deer B licenses as part of the ongoing effort to increase harvest in the zone.
Those actions appear to be working.
While Northwest Montana saw a total of 24 positive cases during the 2021 hunting season, the disease was not detected in any new hunting districts in Region 1.
The only positives were found around Libby: 10 were in Hunting District 100, five in HD 103, and six in HD 104. Of the total, 20 were white-tailed deer and one was a mule deer.
"That's good news," Tabish said about keeping the disease confined. He also notes that the total positives in Region 1 is lower than last season as well.
"The fact that we are seeing fewer positives is encouraging. What we are doing is working," he said.
Testing for the disease is voluntary throughout Montana and is done at no cost to the hunter. The turnaround time for results has been about 11 days.
Statewide in 2021, preliminary data shows 8,146 samples have been collected, of which 4,323 were from priority zones. That total is above the 2020 benchmark by about 800 samples.
Tabish suspects participation in providing samples is increasing because hunters are more familiar with the disease and because the testing process itself has been streamlined.
In prior seasons, "there was confusion on where and how to get an animal tested," Tabish said. Now, it's "convenient and efficient."
Funding for additional staff to assist at sampling stations has helped, as well.
"Credit to the Legislature for authorizing us to hire seasonal staff," Tabish said. "It takes a lot of work to collect thousands of samples."
Another change the state Legislature made in 2021 came in House Bill 353, which allows a hunter to replace their license if an infected animal is harvested.
The strategy for containing and eradicating the disease going forward is still up for discussion, Tabish said, as is whether the districts around Libby will remain priority zones.
"We will review all the information and look at harvest and sampling rates," he said.
THE STATE'S program to snuff out aquatic invaders also showed promising results in 2021.
While the total number of mussel infected boats intercepted at Montana inspection stations reached a new high mark at 61 — the previous high was 35 — there were no newly infected waterbodies in the state.
That's the stat that matters, Tabish said.
"The fact that we don't have any new detections is a really good sign," he said.
Once established, it is very difficult to control invasive aquatic mussels, which can damage water pipes, hydroelectric facilities and push out native species. Control efforts are very expensive and total eradication is unlikely.
A 2019 study by the Flathead Lake Bio Station pegged the potential economic damages in Montana at up to $122 million in mitigation costs, $112 million in lost revenue, and as much as $497 million in property value losses.
Efforts to keep invasive mussels out of Montana ramped up after mussel larvae was first detected in the state in 2016 at Tiber Reservoir.
Today, there are more than 40 boat inspection stations across the state, where all motorized and non-motorized vessels coming into Montana must be inspected before they are launched. Failing to stop at a station can result in a fine of up to $500.
Preliminary data shows that more than 116,000 vessels were inspected at check stations across the state in 2021. Northwest Montana accounted for over 42,500 of those inspections.
If Clearwater Junction south of Seeley Lake is included, around 63% of watercraft inspections performed this season took place in and near the northwest part of the state.
"This is the busiest boating area in the state," Tabish said about the Flathead Basin.
The majority of out-of-state boats this year came from Washington, Idaho and Wyoming.
About 1,700 boat inspections took place at stations on Whitefish Lake, with one mussel-fouled vessel detected. Kalispell's station performed 644 inspections and found one mussel-fouled boat.
Along with Montana Fish, Wildlife and Parks, the effort to stop aquatic invaders is also supported by Glacier National Park, Whitefish Lake Institute and Confederated Salish Kootenai Tribes, among other local partners.
"It's an effort that takes a village to succeed," Tabish said. "We're holding the line the best we can."
Tabish doesn't foresee many changes to the inspection program in 2022, given recent results.
"This program has really hit its stride and proven to be effective," he said.
The state's annual inspection station report with final data will be available later this year.
Editor's note: This article first appeared in the Daily Inter Lake as part of a series of stories that look ahead to what's on tap for northwest Montana in 2022.
---