Grayce Thatcher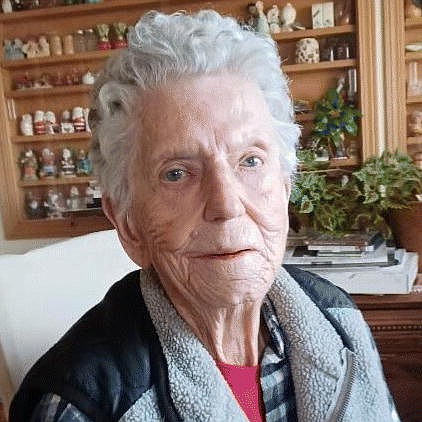 |
January 7, 2022 7:00 AM
Grayce was born in Red Lodge, the sixth child to George E. Resser and Lillian Frances Adams Resser.
Her siblings were Clyde E. (Lydia), George (Laurie), Charles (Margie), Clarence (Hilda), Fanny Alberta (Charles Perkins), Paula (Penny Adams), Joyce (Gilbert Cook) and James (Barbara).
Grayce graduated from senior high in Billings. She wanted to go to Seattle to learn telegraphy but was told "No" by her older brother. So she worked for the railroad, calling out workers and running errands. At that time, her folks were living out of Laurel near where the horses are by the river.
The war was on, so women were working many jobs. One day her brother, Clarence, came home bringing a friend, Ross Thatcher. It must have been love at first sight as they were married soon after dad's discharge, on Feb. 13, 1946. They shared almost 50 years together.
Their marriage produced six children: Timothy Norman (Ha), Lillian and Lydia (deceased), Terri (George), Trudy and Randolph George (deceased). During their marriage they lived in Montana, Wyoming, Oregon, Utah, Nevada and Idaho, following mining jobs.
They moved to Troy. Ross worked in a gold mine, then asbestos and then helped build Libby Dam for the great Lake Koocanusa. Getting some property again, Grayce had chickens, pigs and a horse. She started working for the Forest Service: planting trees, clearing trail, maintaining roads and trails, and mapping. She planted 1,500 trees a day at the most over terrain where trees had fallen.
She also gave her time to the volunteer fire department and ambulance service. They lived in Troy more than 25 years.
She planted trees in three different states. When not busy with the Forest Service, she cooked at the grade school and painted (pictures, quilts, shoes, hats, shirts and rocks). She was a great storyteller.
Grayce was vivacious and independent. She was always ready to help, plan, do or support. She enjoyed adventure and when she could not do it, she listened to it via Talking Books. She flew in planes, a helicopter and rode a hot air balloon. She went deep-sea fishing. She traveled to Canada and Mexico. She loved music and enjoyed the music at the hospitality house.
Hiking the Appalachian Trail was on her bucket list. She may be there now, singing, "Oh, here I go a wandering …"
Grayce was preceded in death by her parents, her daughters, her husband, her son, and her sisters and brothers. She is survived by her son, Timothy (Ha), and their family, Timothy Ross, Dvante and Jevon; William Randolph and daughter, April, and sons, William and Gabriel; a daughter, Terri (George) their family, George Jr. and Cade; Susanna (Tom) Ashley (Jose) and children; Christopher and Nicholas; Maria and son, Timothy; Clarence (Emilee) and sons, Chace and Jacob; Donald (Sarah) and sons, Jiraiya, Jasper and Elijah; Trudy Deon and son, John; daughter, Laurie, Mykayla and Kyle; son, Ben (Sherry) and Jarred; Randy's son, Jimmy Guinard (Lori) daughters Hailey and Violette and granddaughter Lainey. And numerous nieces, nephews and friends. Cremation has taken place. Inurnment is scheduled for a later time in Laurel. Memorials may be sent to the Senior Center, P.O. Box 298, Big Timber, MT 59011; Hearts and Hands Hospice, P.O. Box 1337, Big Timber, MT 59011 or to your favorite charity.
For the full obituary, or to leave condolences for the family, please visit www.stenbergfuneralhome.com.
---