Three more graduate from county's treatment court program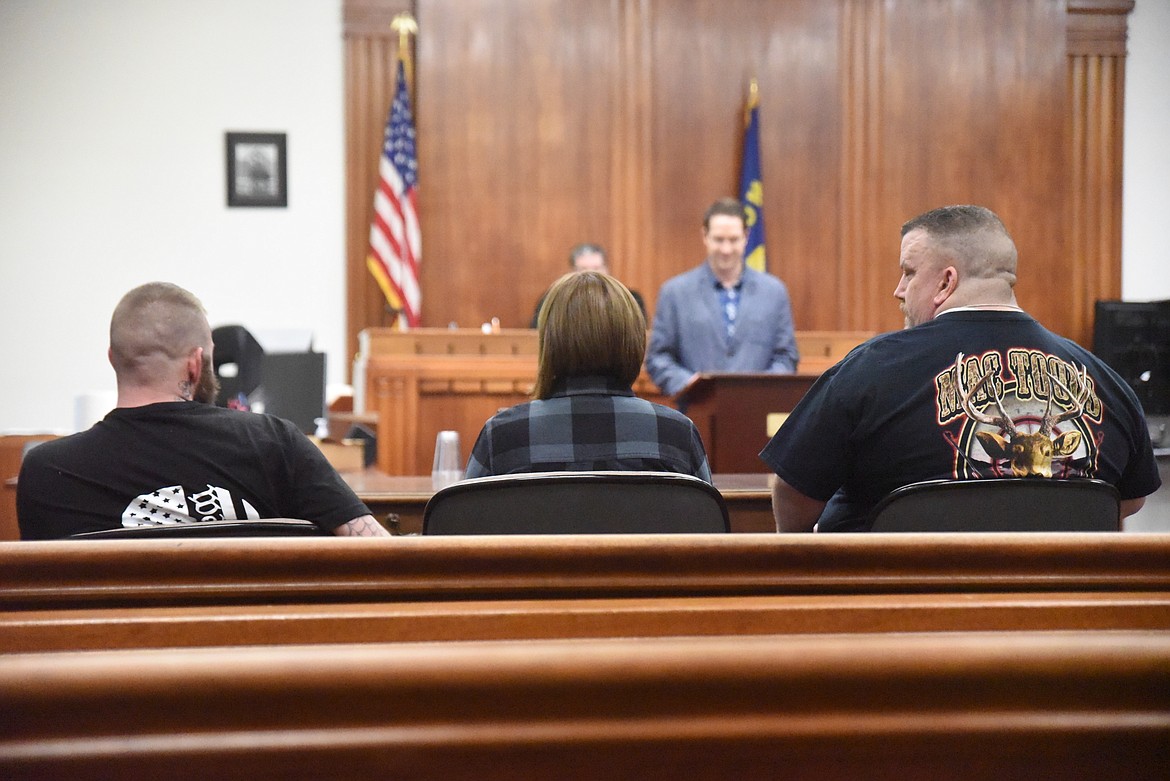 From left, Thomas Eaker, Chelsea Faber and Marvin McKeever sit at the defendant's table in Lincoln County District Court ahead of their graduation from the county's treatment court program on Feb. 18. (Derrick Perkins/The Western News)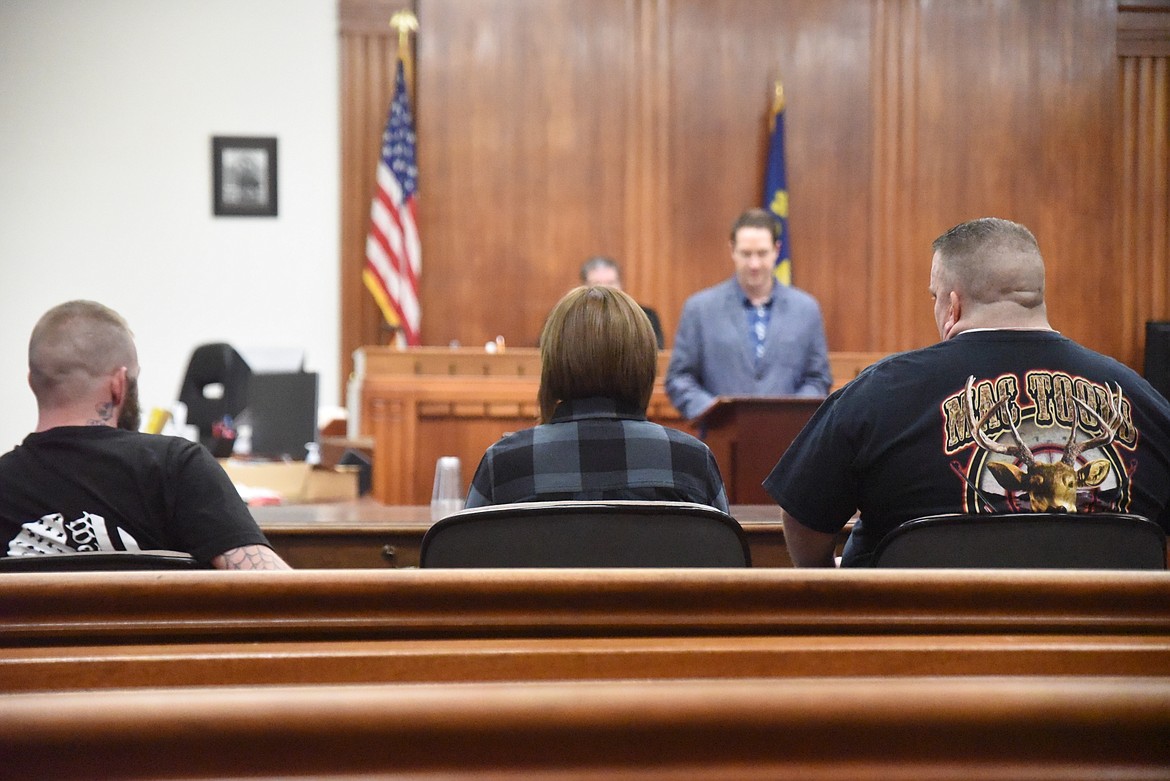 (Derrick Perkins/The Western News)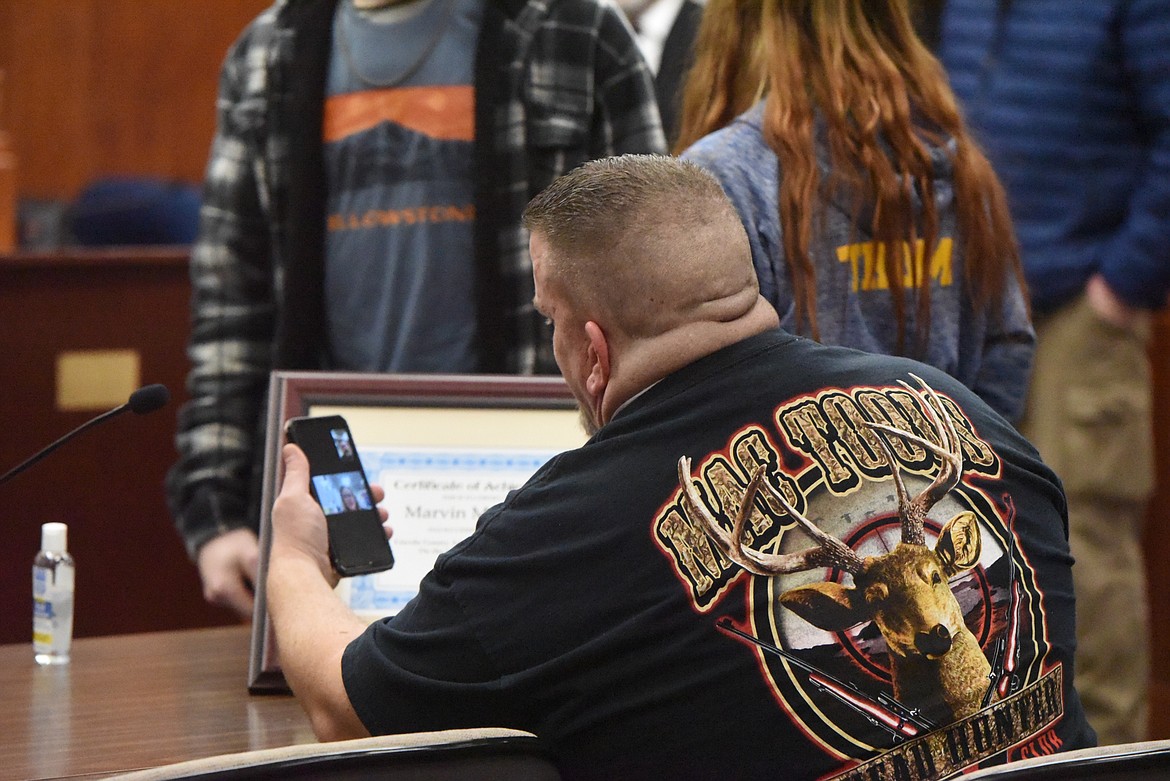 Marvin McKeever celebrates with a relative via Facetime after graduating from Lincoln County Treatment Court on Feb. 18. (Derrick Perkins/The Western News)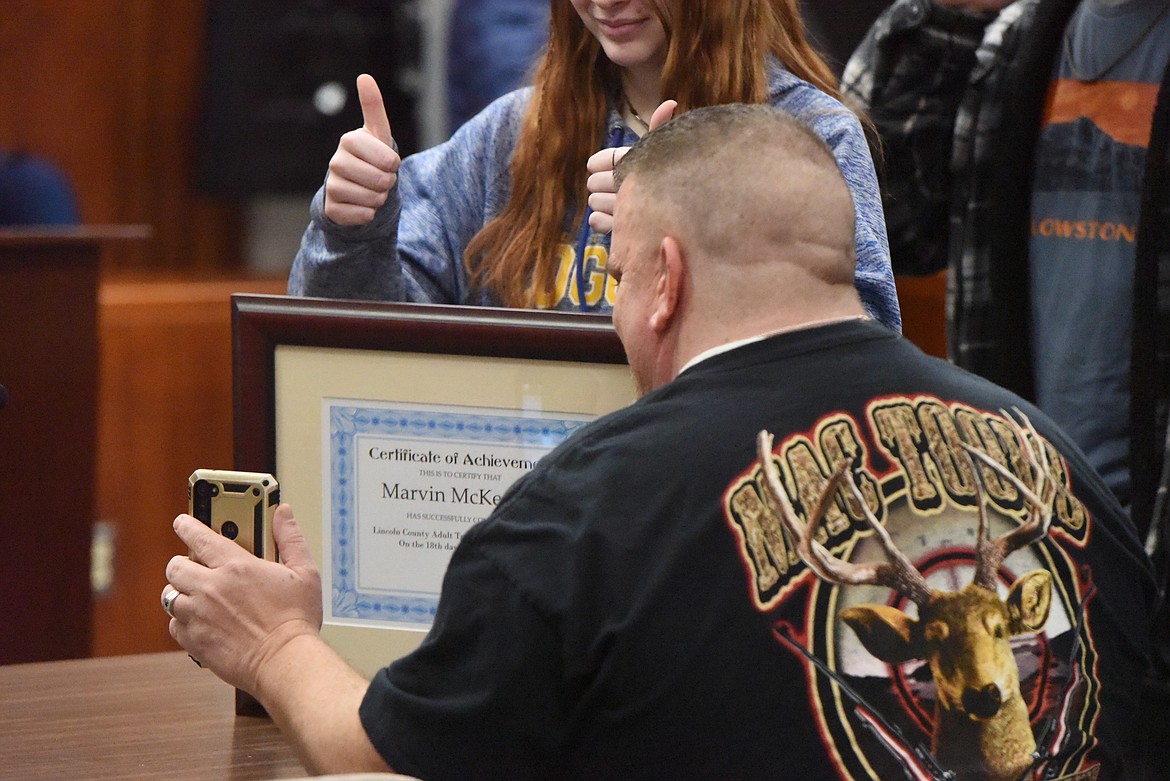 Marvin McKeever shows his treatment court completion certificate to a relative via Facetime. (Derrick Perkins/The Western News)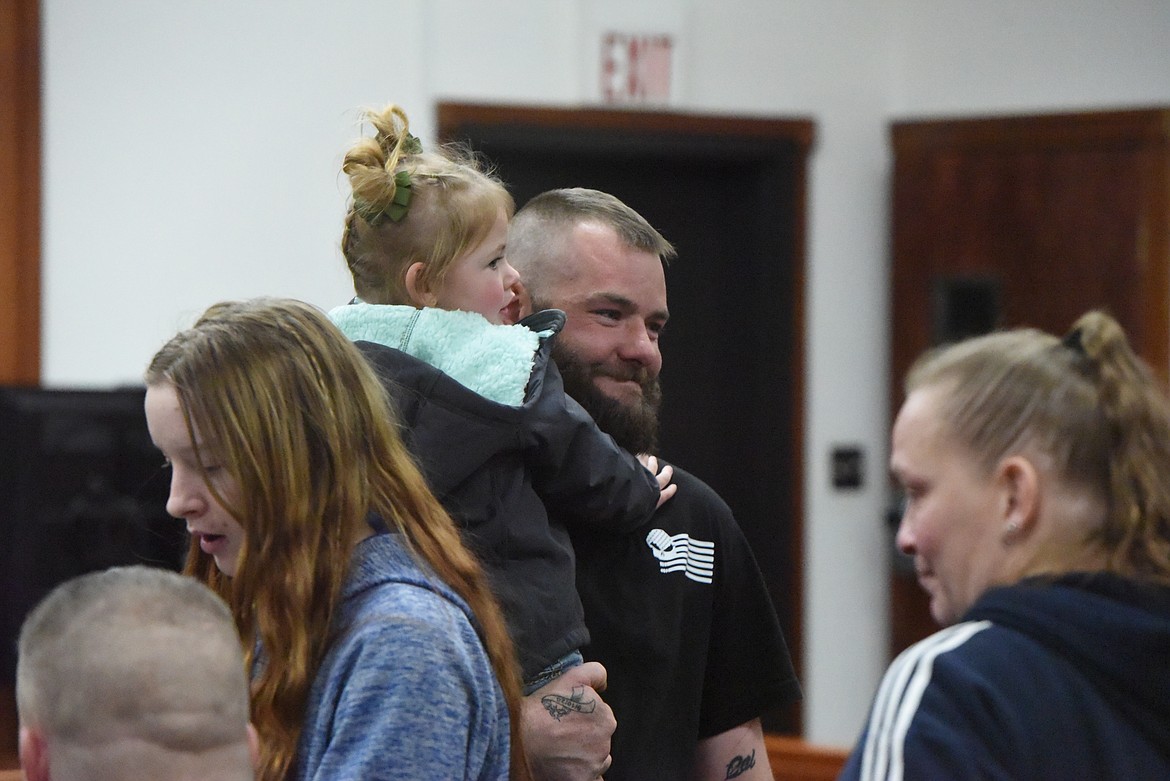 Thomas Eaker celebrates with his daughter after graduating from Lincoln County District Court on Feb. 18. (Derrick Perkins/The Western News)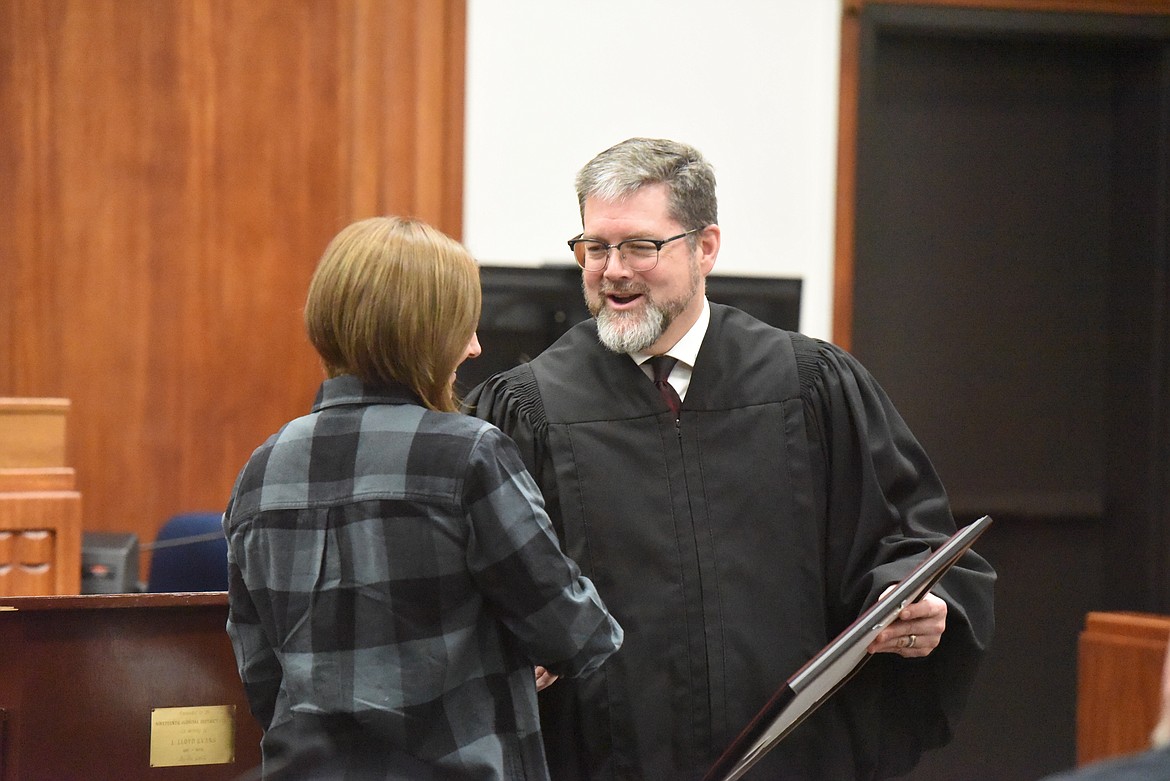 District Judge Matthew Cuffe congratulates Chelsea Faber on Feb. 18. (Derrick Perkins/The Western News)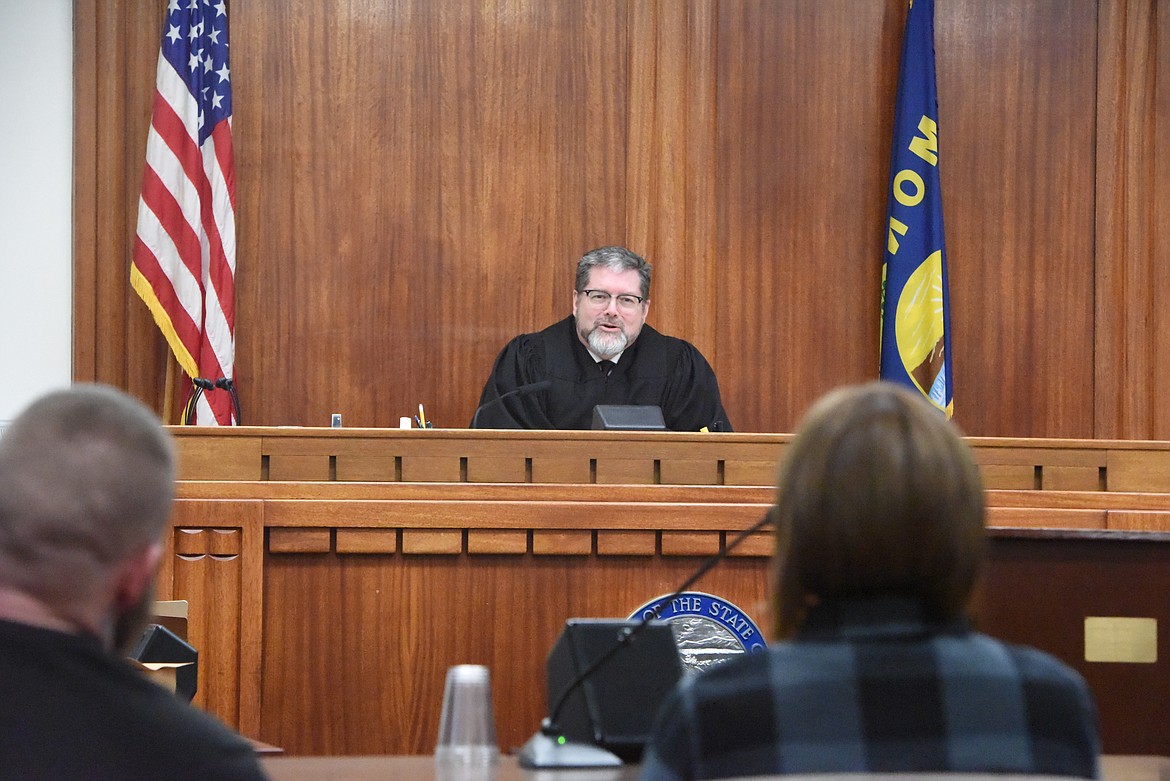 District Judge Matthew Cuffe speaks to the three members of Lincoln County Treatment Court's second graduating class on Feb. 18. (Derrick Perkins/The Western News)
Previous
Next
by
DERRICK PERKINS
Daily Inter Lake
|
February 25, 2022 7:00 AM
Thomas Eaker, Chelsea Faber and Marvin McKeever sat at the defendant's table, looking up at District Judge Matthew Cuffe on Friday afternoon — and not for the first time.
All three had appeared in district court before. All had gone before a stern-faced Cuffe, waiting to hear his pronouncement.
They had done this many times, fighting not to fidget across from the sharp-dressed county prosecutors and under the watchful gaze of probation and parole officers, uniformed deputies sitting in the back row.
This time, though, there would be cake.
"Congratulations," said a smiling Deputy County Attorney Jeff Zwang from a lectern situated between the robed judge and the defendant's table. "We're very proud of you."
Then the assembled deputies, attorneys, probation officers, friends and relatives burst into applause, the noise of it filling the usually muted atmosphere of the courtroom.
Eaker, Faber and McKeever comprise Lincoln County Treatment Court's second graduating class, earning their certificates in a short ceremony in district court on Feb. 18. For months, the three met regularly with criminal justice officials and addiction counselors, undergoing substance abuse treatment while meeting the requirements of probation. They juggled jobs and families with drug tests, house visits and 12-step meetings. They weathered personal setbacks and family crises while trying to keep a hold on recovery from addiction.
"[Treatment court] provides a pathway for meaningful, long term change," Zwang said. "It's also a sacrifice on your part. … It's not an easy thing to do. You've got to work on yourselves every day."
Cuffe, Zwang and County Attorney Marcia Boris make up a small part of the team that oversees the burgeoning treatment court program in Lincoln County. On hand to offer congratulations were Justice Court Judge Jay Sheffield, probation and parole officers Steve Watson and Vanessa Williamson, and treatment court coordinator Zach Sherbo.
"I deal with a lot of negative stuff in my job," Watson said during his turn at the lectern. "Today makes me really happy."
Boris offered similar sentiments, telling the trio she had enjoyed their weekly meetings with the program team.
"On Tuesdays, when we see all the progress you've made, it's the best part of our week," she said.
The county launched the treatment court program in early 2020. Facing a slew of cases involving drugs or alcohol, officials saw what is colloquially known as drug court as a way to intervene in the cycle of addiction for non-violent offenders. Sparing the county the expense of housing and then trying repeat offenders multiple times over also proved a selling point.
Participants are required to undergo intensive outpatient treatment for their addiction as part of the five-phase program. Later stages focus on employment and life skills. In return, criminal charges often are lessened or dismissed.
"The program works, if you're willing to work it and you take what everybody says seriously," McKeever said.
Cuffe, who expressed his pride in the graduates, said all three came in with varying levels of resistance to the idea of change — and the requirements of the program.
"Each one of you, at one point or another, have had a pretty blunt, straight conversation with me," he said.
With McKeever, that occurred quickly, he said.
"We got squared away right off the bat," Cuffe said, drawing laughter from the ceremony's attendees, before describing McKeever's transformation as "impressive."
He reminisced similarly about Eaker and Faber.
"Chelsea really thought I was a jerk," he deadpanned. "Perhaps she still does. She's not the only one."
As for Eaker, he remembered a manipulative streak.
"Thomas is a very personable individual, too personable," Cuffe said. "He's pretty good at figuring out what you want to hear."
But, like Faber and McKeever, Eaker proved willing to change.
"He is a dutiful father, a dutiful family man," Cuffe said. "His biggest flaw was trying to do stuff for other people before getting himself squared away. Well, he's squared away."
"What I have seen in the last several months — each one of you has the skill sets to handle [what life throws at you]," Cuffe told all three.
After handing off his young daughter to receive his certificate, Eaker acknowledged the rough path he navigated while undergoing treatment court. While the program allows for slips — a nod to the cycle of relapse common to addicts undergoing treatment — it only comes with so much flexibility.
"I thank all you guys for not giving up on me," Eaker said. "Thank you for giving me structure."
Then he went to celebrate with his family. Behind him, Cuffe — still wearing his robes — served up slices of cake.
---