Sonju sentenced on criminal endangerment charge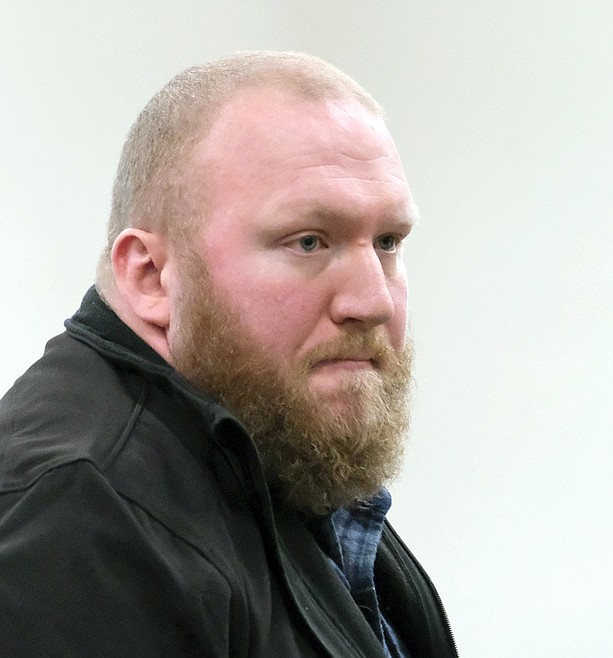 Jared Sonju at his Feb. 7 sentencing in Lincoln County District Court. (Paul Sievers/The Western News)
by
DERRICK PERKINS
Daily Inter Lake
|
February 18, 2022 7:00 AM
Jared Sonju earned a deferred, four-year sentence last week after pleading guilty to criminal endangerment for firing a gun at a popular campground last summer.
District Judge Matthew Cuffe handed down the sentence on Feb. 7. Sonju, 34, also must pay $1,000 in court fines.
Prosecutors initially filed assault with a weapon, criminal endangerment, carrying a concealed weapon while intoxicated and assault charges against the Libby man. They struck a deal with him late last year and he entered a guilty plea on Dec. 20.
Deputies with the Lincoln County Sheriff's Office arrested Sonju on July 3 after responding to Warland Creek Campground for a report of a drunken man firing a gun. Deputies meeting with area campers learned the man, later identified as Sonju, went between campsites, picking fights and asking for drugs. A witness accused Sonju of punching a friend in the face and waving a gun around, court documents said.
Fearing the gun, the other campers fled. They later heard a gunshot, according to an affidavit.
Deputies James Derryberry, Derek Breiland and Ben Fisher later came across Sonju sleeping at another campsite. They found him armed with a Smith and Wesson M&P 9mm, which was concealed on his hip. He had a full magazine in his pocket, court documents said.
Sonju initially struggled with the deputies, according to Breiland's account of the arrest. He eventually complied with the lawmen, but not before a Taser was drawn. Breiland described Sonju as "highly intoxicated."
Fisher and Derryberry later located a casing matching Sonju's handgun at the campsite where he reportedly fired the weapon, according to court documents.
Cuffe described the sentence as appropriate on Feb. 7. He noted that Sonju would spend the near future under supervision.
---