Farm roots, life outdoors helped groom Amy Pearson For Yaak Valley leadership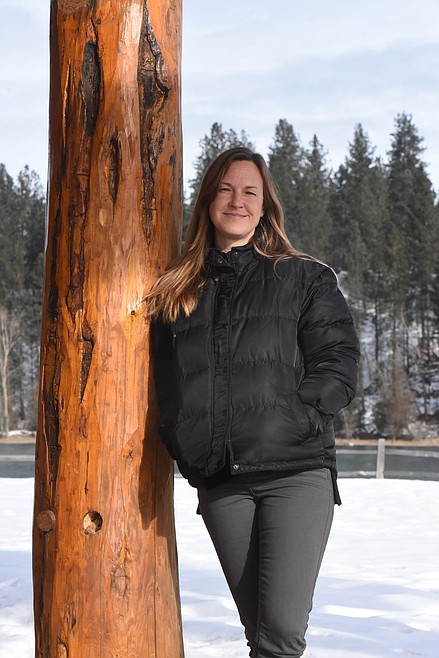 Amy Pearson has taken over as the new executive director of the Yaak Valley Forest Council. (Derrick Perkins/The Western News)
by
JOHN MCLAUGHLIN
|
February 18, 2022 7:00 AM
A youth spent on a grain farm north of Conrad had rooted Amy Pearson to life attuned with the seasonal shifts of the environment and landscape.
Grown, she held close to those roots during seasonal bids outdoors with the National Park and Forest services in Big Sky mountain country, where among other roles, she dug into trails, backcountry coordination and wildland fire.
The farm now afar, the seasonality of Pearson's past remains a major part of her.
"There's the different seasons of life," she recently explained. "You're doing something different depending on what's going on with the weather and outside."
"It's just a different way of living," she said.
And her roots still serve up unique life — now in a new role as executive director of the Yaak Valley Forest Council.
With an academic background in communications and philosophy that later included a research focus largely centered on the people and landscapes of Glacier National Park, it's a suiting position for her.
People tend to agree.
"Amy Pearson is the right person at the right time for the Yaak," council board chair Rick Bass said in announcing her hire. "We're so lucky and happy to have her on our team."
Pearson brings to the organization a varied background that also includes time teaching English in Japan, service as board president of Wild Montana's Flathead chapter and a five-year run as a professor at Flathead Valley Community College.
Pearson attended Rocky Mountain College, studying communication and philosophy.
She went on to earn a master's degree in organizational communication from the University of Montana, before achieving a doctorate in the discipline from Arizona State University.
Fast forward, Pearson was back on the farm near Conrad when the Covid pandemic hit.
Somewhat out of the blue, she said, a call and opportunity beckoned her to the nonprofit Friends of Scotchman Peaks Wilderness.
After a short but diligent round with the organization — named 2022 Volunteer of the Year by the Libby Chamber of Commerce — a nudging from peers helped lead her to the Yaak.
"I love it over here," Pearson said. "I just worked really hard, you know, and I think people noticed that, and I kind of got tapped for this job."
Her leadership focus now remains three-pronged for the council in terms of main initiatives.
First, the group has been working to stop the Kootenai National Forest's Black Ram timber project that includes plans for clearcutting about 2,000 acres that she said would only further hinder the land.
"If you go walk on that landscape right now, you can tell it's already pretty damaged," Pearson said. "That's one of our major projects, is to stop that sale."
Pearson said a recent legal win against the Forest Service highlights a second standing initiative for the group: rerouting the Pacific Northwest Trail to a more southern route.
It would help protect the Yaak and its bears, Pearson said, while potentially helping promote economic activity in Troy and Libby.
Thirdly, a newer initiative, she said the council is starting a climate refuge project that includes mapping the valley to gauge and promote its unique natural characteristics and qualities.
"I'm really excited about this opportunity," Pearson said overall of her new council directorship. "I think it's a really big challenge to be an organizational leader, but also working to be a leader in this community in terms keeping an environment protected."
---