Omicron wave less lethal than delta as it passed through county, officials say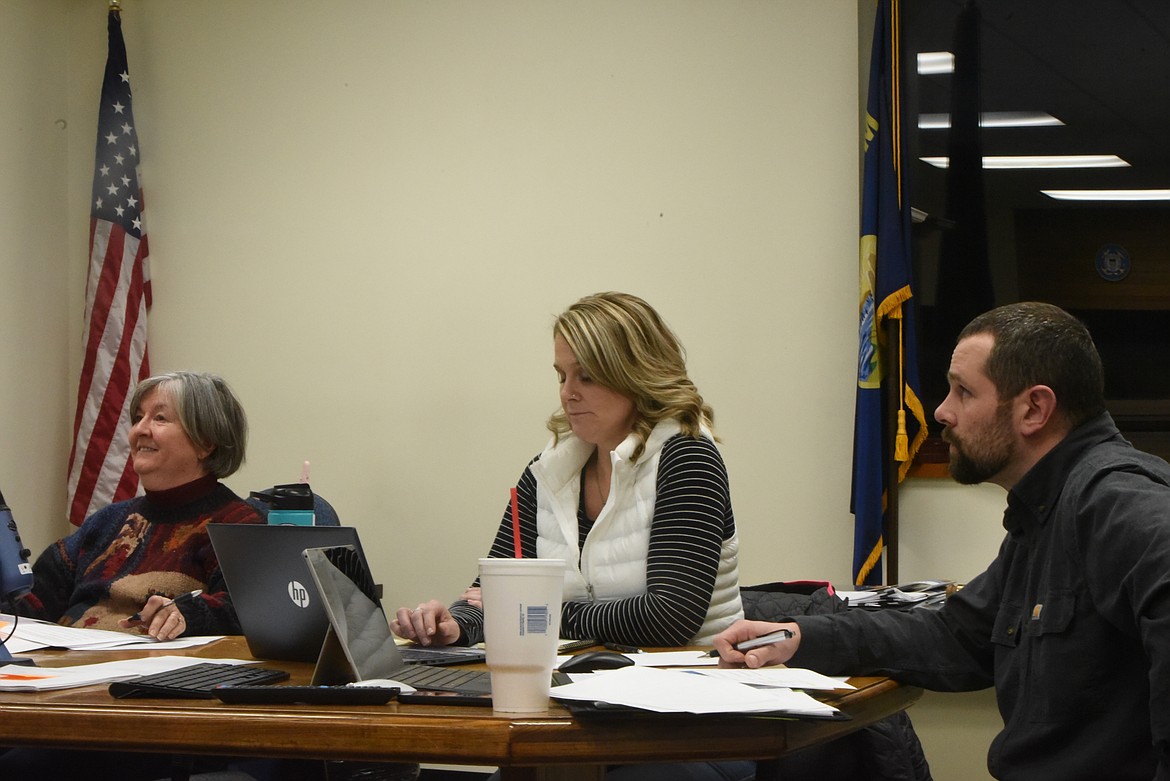 Health board members Patti Kincheloe, left, Amy Fantozzi and Josh Letcher listen to speakers on Zoom during a Feb. 8 meeting in the Lincoln County Courthouse. (Derrick Perkins/The Western News)
by
DERRICK PERKINS
Daily Inter Lake
|
February 15, 2022 7:00 AM
The surge of the omicron variant of COVID-19 kept health officials busy through January, but proved less deadly than the delta wave locally.
"One thing we noticed with omicron in our community: It has been far less lethal than the delta variant where we lost maybe 50 people from our community," said Dr. Brad Black, county health officer.
His assessment came at the tail end of a Feb. 8 meeting of the county health board. He said he hoped the trend continued.
"With omicron, so far, deaths are down considerable from what delta was doing and hopefully it will remain that way," he said.
According to statistics compiled by the health department, the number of COVID-19 tests given hit its highest point of the pandemic in the week of Jan. 29. That same week saw an increase in positive test results last seen in September.
The percentage of positive tests also rose in January, though not to the level recorded during the height of the delta wave. The percent positive has since dropped off locally.
As of Feb. 11, the county reported 167 active cases, though officials believe that many are going missed. Public Health Manager Jennifer McCully said she believes that many residents were not reporting their illness. She suggested the comparatively milder symptoms associated with the omicron variant and the availability of take-home tests combined to make reporting less likely.
Local officials recently halted universal contact tracing efforts as a result, which McCully touched upon at the health board meeting.
"This is mostly because of the large number of mild and asymptomatic cases and, of course, the shorter incubation of omicron," she told health board members. "We see a lot of infections that are never reported."
As for influenza, health department officials reported a handful of cases in January. According to Trista Gilmore, county public health nurse, cases just recently entered double-digits for the year. Black said he expected the low influenza numbers likely reflected still ongoing COVID-19 mitigation efforts.
"Last year, influenza was not an issue in Montana because of the activities related to COVID-19," he said. "I suspect we're still seeing carryover."
Typically, influenza cases peak in late January and February, McCully said. Black said that perhaps the virus would boom later in the winter, but expressed optimism.
"Hopefully, we'll have a good winter the rest of the way," he said.
---