Loggers send Bulldogs to the doghouse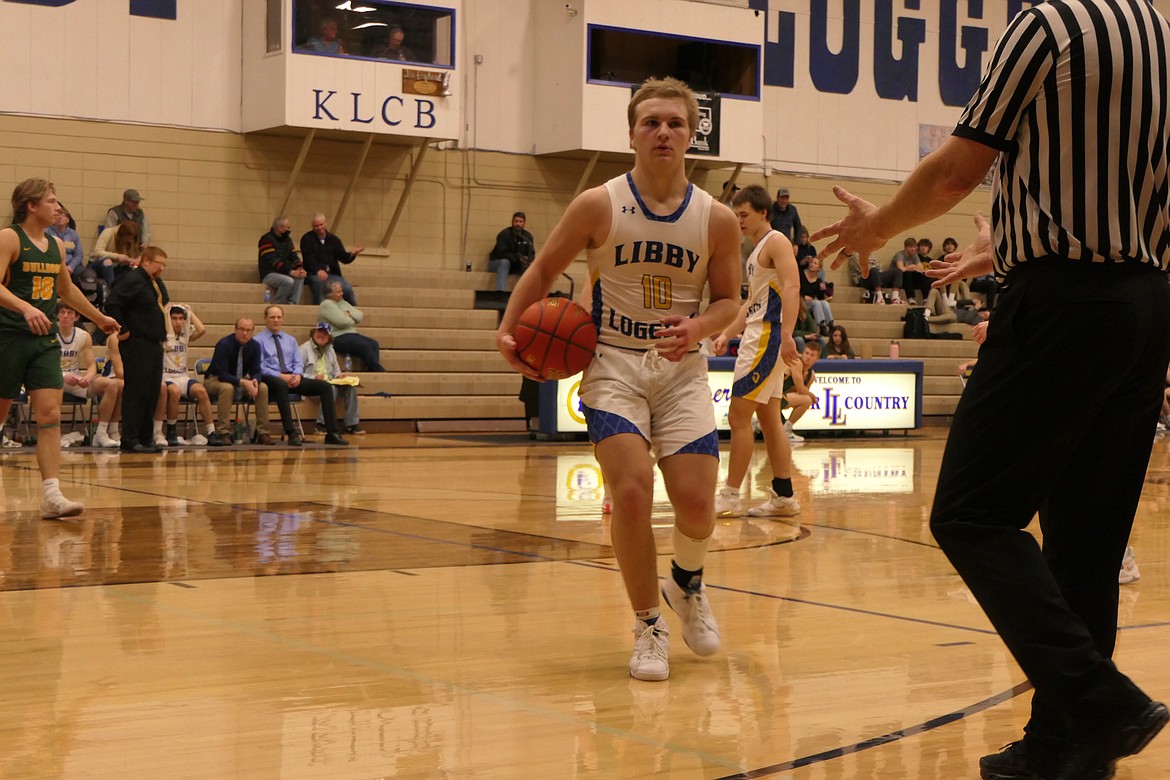 Ryder Davis scored four points for the Loggers in Libby's 48-31 win over Whitefish on Feb. 10. (Jim Dasios for The Western News)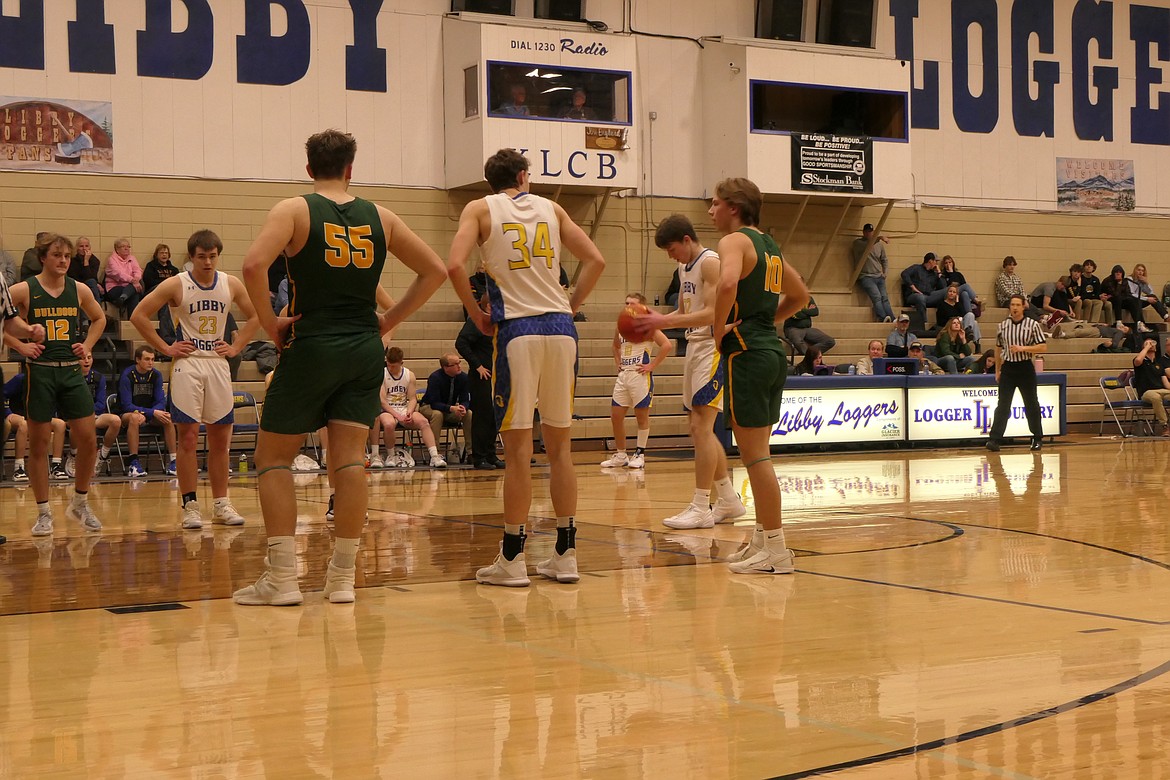 The Libby Loggers cruised to a 48-31 win over conference rival Whitefish on Feb. 10. (Jim Dasios for The Western News)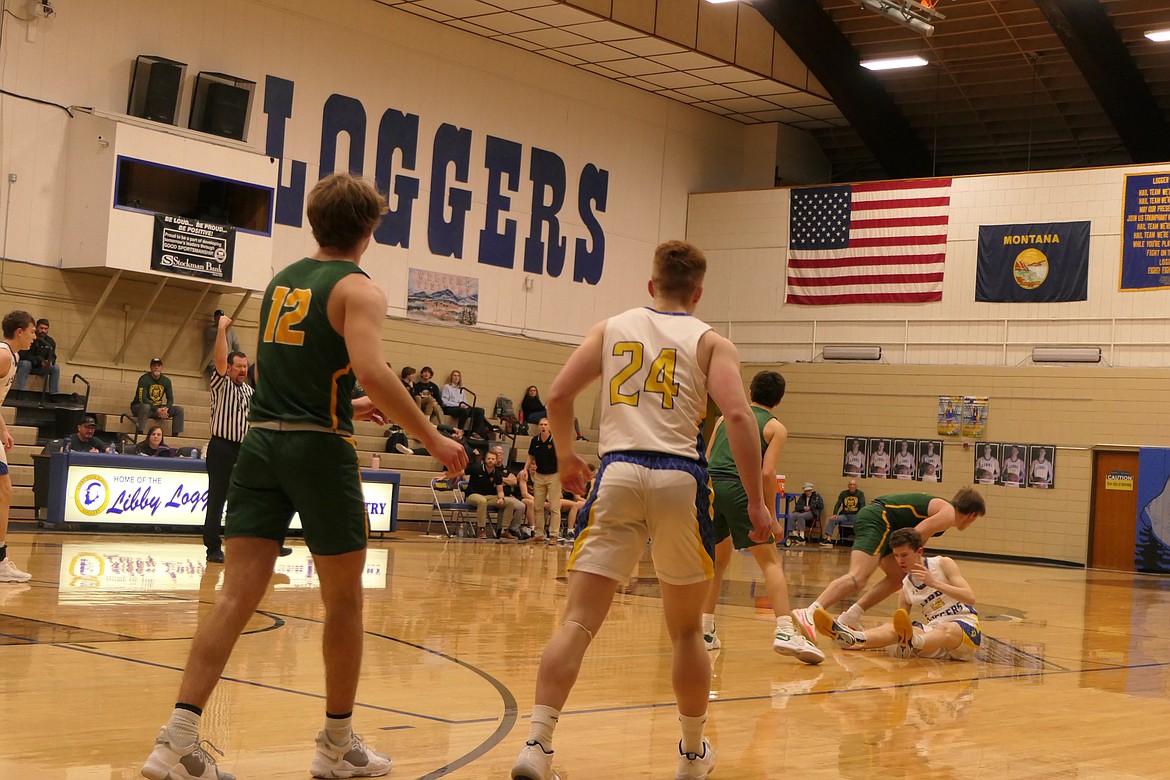 The Libby Loggers bested conference rival Whitefish in a 48-31 win on Feb. 10 (Jim Dasios for The Western News)
Previous
Next
by
JIM DASIOS
|
February 15, 2022 7:00 AM
With the season coming to an end this weekend, the Libby Loggers hoped to build momentum heading into the conference tournament.
Their final test came in a matchup with conference rival Whitefish on Feb. 10. The Loggers wrapped up conference play by overcoming a slow start to cruise by the Bulldogs, 48-31.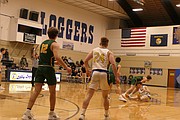 Early in the first quarter, a Caden Williams dribble drive coupled with an Ivan Cano three-pointer gave Libby a 5-3 lead.
Whitefish countered. Finding gaps in Libby's 2-3 zone, the Bulldogs scored. A three-point shot propelled the Bulldogs to a 13-7 lead. Williams responded with a pair of free throws, but Whitefish saw the first quarter end with a 13-9 lead.
"They were able to get off some good shots against our zone," said Libby coach Josh Bean. "So we decided to go man late in the first quarter."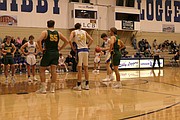 The Loggers stayed in man defense for the rest of the game.
The second quarter saw T.J. Andersen score off of a backdoor cut. At about the five-minute mark, Andersen was fouled going to the hoop. He converted both free throws.
A blocked shot and a steal led to more Logger points. Libby's defense meanwhile held the Bulldogs to two second quarter points. At halftime, the scoreboard read 19-15 with Libby in the lead.
Williams' hot hand led the Loggers' offense in the third quarter. Williams feathered in two turnaround jumpers from the elbow. He also scored off an offensive rebound and then connected on two free throws.
Williams scored 10 of Libby's 12 points in the quarter. At the buzzer, Libby had built on their halftime lead to pull away from Whitefish, 31-24.
"Caden's scoring binge in the third quarter allowed us to stretch our lead to seven," Bean said. "He'd been having some trouble hitting those shots from the elbow. Not tonight."
With one quarter left, the trailing Bulldogs stepped out of their zone and put full court pressure on Libby's ball handlers.
"Our guards did a great job of protecting the ball against full court pressure," Bean said. "They didn't allow Whitefish to climb back into the game."
Libby's guards fired off passes to open teammates with seconds left in the game. Andersen laid one down. Ryder Davis hit a pair of free throws and Libby cemented the victory.
Bean credited the transition to a man defense with lighting the Loggers' fire.
"We switched defenders on their dribble weave offense and kept everything in front of us," Bean said. "Ryan Collins' defensive pressure gave us a spark in the third quarter."
Bean also highlighted Andersen's performance.
"T.J. did a nice job of holding Talon Holmquist in check," Bean said, referring to Whitefish's 6-foot-6 post. "Holmquist is a load. What T.J. lacked in girth he made up for in length."
The Loggers continued to excel at the free throw line, converting 15 out of 20.
"When I saw that, I thought it was a mistake," Bean said. "I rechecked the scoreboard. It was correct. We'll take that."
Libby finishes conference play with a 6-4 record and overall record of 12-5 with one game remaining. Their in-conference performance locks them in as the No. 3 seed heading into the tournament. Browning and Polson will play to determine the No. 1 and No. 2 seeds. Ronan, Columbia Falls and Whitefish are in contention for the fourth, fifth and sixth seeds.
With the No. 3 seed, Libby is guaranteed a first round home game against an as yet undetermined opponent. That matchup is scheduled for Feb. 19.
Libby: 9 10 12 17 - 48
Whitefish 13 2 9 7 - 31
---